25 sparkling sequin dresses on Amazon. Because you can NEVER have too much bling clothing in your wardrobe, luvbugs.
Sequin fabric technology is improving all the time.
Yes.
That may sound like an odd thing to say about embellished clothing.
After all we're not talking about a feat of engineering here.
Or are we?
Not so long ago sequins were hand sewn onto dresses after the whole dress had been cut and sewn together.
In fact at SQSequinDresses they still make dresses that way to this selfsame day.
And with DIVINE results.
Though Miss Cee is a touch biased on that front, poppets.
SQSequinDresses is our sister website.
But I digress.
Where were we?
Sequin fabrics.
Sequin are now stitched or woven into their fabrics on IMMENSE machines in enormous factories.
The fabric is made quickly and strongly.
That means it is made in bulk and costs less.
PLUS the sequins themselves are usually colorfast.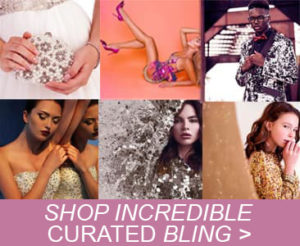 Which wasn't always the case in the past.
Happily the latest sequin fabrics can usually be machine washed.
Here at the SequinQueen Sparkling Life Magazine that's something we LOVE to hear.
Because no one needs to go through the trouble of handwashing.
Or of sending something to the drycleaners.
Just throw your sequin dress in the washing machine and ALL the evidence from that party will be gone.
But the BEST quality of modern sequin fabrics is they can be cut and the machine sewn just like normal fabric.
Sure. If you're doing this at home there are a few tips and tricks.
And one BIG secret to get the perfect sequin dress as a result.
Overall it means that manufacturers can make sequin dresses in all sorts of cuts and styles
ALL sorts.
And where do you think you'll find the biggest variety of long sequin gowns and short sequin dresses online?
Amazon of course.
So, chickadees, check out these ENCHANTING sequin dresses we've curated for you from Amazon.
Or take a look at some shimmering sequin dress inspo on our Pinterest top sequin dresses board.
1. 25 Sparkling Sequin Dresses on Amazon: Women's Embellished Neckline Shift Dress.
2. Spaghetti Strap Mesh See Through Rhinestone Bodycon Party Dress.
3. Glitter Rhinestones See Through Sheer Mesh One Shoulder Maxi Dress.
4. 25 Sparkling Sequin Dresses on Amazon: Plus Size Elegant Homecoming Dress – Sleeveless with Lace Skirt.
5. Off Shoulder Sequined Long Sleeve Party Cocktail Gown.
6. Glitter Sequin Short Dress with Adjustable Spaghetti Strap.
7. Ruched Waist Rhinestone Casual Tulle Semi-Formal Gown.
8. Sequin Tassel Sleeve Mesh Splice Perspective Party Cocktail Bodycon.
9. Long Gold Sequin Gown with Short Sleeves and V-Neck with Embellished Rhinestones.
10. 25 Sparkling Sequin Dresses on Amazon: Long Sleeves Deep V-Neck Sequins Split Evening Dress.
11. Beaded Sequins Long Elegant Night Cocktail Party Dress.
12. V-Neck Long Formal Sequin Chiffon Dress.
13. Tadashi Shoji Women's Mesh and Sequin Gown.
14. Women's Beaded Sleeveless Mermaid Long Dress Sleeveless.
15. 25 Sparkling Sequin Dresses on Amazon: Above the Knee Sleeveless Beaded Sheath Dress.
16. Jordan Plunging Drape Front Sleeveless Long Gown with Slit.
17. Short Sleeve Long Feather Beaded V-Neck Dress.
18. A-Line Skirt with High Classic Neckline, Sleeveless Sequin Gown.
19. Sleeveless Beaded Semi-Formal Long Maxi Evening Gown.
20. Long Sleeve Sequins Glitter Bodycon Midi Dress Tassel Hem.
21. V-Neck Long Sleeve Mini Dress Bodycon.
22. Long Sleeve Backless Sequin Long Gown.
23. One Shoulder Sleeveless Split Tassels Party Long Dress In Gold.
24. 25 Sparkling Sequin Dresses on Amazon: Sequins Sleeveless Tassel Bodycon Mini Strap Dress.
25. Spaghetti Strap Backless Deep Slash Neck Sequin Dress.
26. Cocktail Party Mini V-Neck 1920s Flapper Formal Dress.
27. One Shoulder Sequin Homecoming Dress with Detachable Tulle.
28. Long Off The Shoulder Formal Evening Party Gown A Line.
29. Long Sleeves A-Line Sparkly Sequin Evening Gown.
30. Two Piece Fly Away Jacket Over Beaded Neck Laced Dress.
31. Women Classic One Shoulder Black Sequin Dress.
32. V-Neck Sequin Long Sleeve Plus Size Formal Evening Dress.
33. Off Shoulder Sequin Dress Ruched Slit Tulip Hem.
34. Women's Multi-Color Sequined Knee Midi Dress.
35. Long Sleeves, V-Neck Sequin Party Dress.