Best bling dolls on Amazon. Because there's a little princess in your life who LOVES sparkle.
Here at SequinQueen miniature bling is something we go WILD for.
There is a whole world online featuring exquisite hand beaded collectors' dolls.
All of them embellished with sequins, beads, rhinestones and crystals.
We've written about these incredible doll creations before.
But today we're showcasing simpler bling dolls.
Just think of these shimmering dollies as starters, luvbugs.
Because everyone's love of BLING has to begin somewhere.
So what could be better than a crystal bedecked beginner Barbie?
Quite frankly, that's exactly how Miss Cee, the Queen of All Things Bling got herveryown obsession started.
Well that and Grandma Quin gracing the fambly at dinner time weighed down with a TON of jewelry.
As it seems Quinny is going to live to 150 it'll be a while before those selfsame jewels fall into Miss Cee's greedy clutches.
Such is life.
But I digress. WHERE were we?
Bling dolls.
Some of the most gorgeous dolls for the little princess, or prince, in your life are available right on Amazon.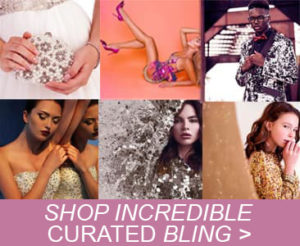 And for a Barbie style doll with a little bling embellishment that means the price will be very affordable.
The issue is going to be the YUUUGE range of bling dolls available.
So to save you BIG time your trusty Glitterists here at the SequinQueen Sparkling Life Magazine have edited together the best bling dolls on Amazon.
Print a couple of your favs out and leave them lying around the house.
Whichever ones your kids pick up and get glazed looks over are the ones to buy.
Or just make it a surprise on a special event.
Such as International Bling Doll Day.
Which is not a real thing.
But dammit, poppets, it should be.
And if you need even MORE bling dolly inspiration check out our Pinterest boards too!
1. Best Bling Dolls on Amazon: Miss Independent Fashion Doll with 20 Surprises and Multicolor Sequins.
2. American Girl Doll with Reversible Sequin USA Flag, Tutu and Headband.
3. Kristal Mermaid Doll with Reversible Sequin Tail.
4. Cupcake Surprise Scented Princess Doll – Rainbow Sequin Edition.
5. Princess Doll Fashion Clothes Costume Rainbow Sequin Tutu Dress.
6. Barbie Doll with Blonde Hair, Blue Eyes, and Short Blue Sequins Mini Dress.
7. Barbie Doll Blonde, Wearing Sparkling Pink Party Dress with Present.
8. Meri Meri Lila Doll with Long Sleeves Top and Sequin Mesh Skirt.
9. Princess Caroline Tooth Fairy Pillow Stuffed Plush Doll with Sequins and Pocket.
10. Best Bling Dolls on Amazon: Lady Thai Traditional Dancing Dolls/Vintage Lady Costume White Sequin Silver Silk Clothes.
11. Halloween Headless Pumpkin Dolls Sequins Cloak Standing Status.
12. 1959 Doll African American Doll with Black and White Sequin Swim Suit.
13. Hairdorables Hairmazing Prom Perfect Fashion Dolls.
14. Barbie Dream Date Superstar Forever Collection Doll with Bling Sequin Tops.
15. Best Bling Dolls on Amazon: Golden Dream Barbie Doll with Sequin Jump Suit.
16. Barbie Doll in Gold Fashion and Accessories, with Doll Stand.
17. Barbie Collector The Blonds Blond Gold Barbie Doll.
18. Reem Acra Bride Barbie Doll Glamour to Walk Down the Aisle.
19. 50th Anniversary Barbie Glamour Doll.
20. Best Bling Dolls on Amazon: Barbie Oscar De La Renta Gold Collector Doll.
21. The Gala's Best Doll with Silkstone Body in Blue Gown.
22. Barbie Midnight Glamour Doll with Shimmering Silver Sequined Stars.
23. Barbie Fashion Model Collection Doll, Glam Gown with Pearls.
24. Barbie Fan Club Exclusive Pinch of Platinum Barbie Doll with Embellished Waistline.
25. Best Bling Dolls on Amazon: Fashion Model Collection Mermaid Gown Doll.