Best bling sunglasses on Amazon. Because you KNOW you need some!
Here at SequinQueen we go NUTS for sunglasses with bling on them.
Even for sunglasses with just a touch of bling.
But especially for sunglass with BIG bling.
We've written about how bling sunglasses are THE ultimate facial accessory before.
Now we show you how to BUY them.
All in one convenient place, of course.
AMAZON, poppets.
Because what could be simpler.
Quite frankly, Miss Cee hasn't got the patience to go between physical stores dealing with all kinds of shop staff.
Better to let your fingers do the bling shopping.
Spesh for bling sunglasses.
They aren't the kind of thing you need to try on for fit.
You just buy ALL the ones you like.
Because you can wear a different pair each day!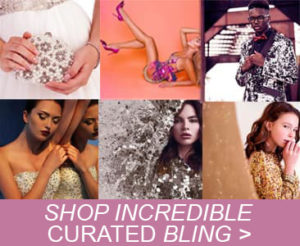 And YES, that's prolly going to cost a pretty penny.
But isn't that what you go to work for?
Or are you saving so you can leave your kids something when you kark it . . .
. . . so then THEY can go shopping for bling.
It's noble. Really. But treat YOURSELF, gurlz.
Here at the SequinQueen Sparkling Life Magazine we believe the VERY worst thing in life is Regretted Non-Purchase Syndrome.
The solution?
Buy EVERY darn piece o' bling you like. Starting with shimmery sunglasses on Amazon.
Which we just so happen to have curated for you below.
AND you can find even more DIVINE sunglasses on our Pinterest boards too!
1. Elton Square Rhinestone Sunglasses Oversized with Diamond Bling Frame.
2. Crystal Cat Eye Sunglasses UV Protection with Rhinestones.
3. Crystal Transparent Cat Eye Sunglasses Frame with UV Protection and Rhinestones.
4. Retro Style Sunglasses for Women in Round Shape Fashion Festival Sunglasses.
5. Shining Oversized Round Rhinestone Sunglasses with Multi-Color Rhinestones.
6. Large Crystal Pearl Sunglasses Shine Style with Diamond UV400 Protection.
7. Six Pairs of Crystal Oversized Sunglasses in Square Shape with Embellished Diamond Frame.
8. Oversized Diamond Sunglasses with Baroque Pearl Beach Wear Frame.
9. Women Retro Square Crystal Sun Glasses with Rhinestones Embellished Frame.
10. Best Bling Sunglasses on Amazon: Rhinestone and Crystals Embellished Cat Eye Sunglasses Frame in Vintage Style.
11. 2 Pairs Oversized Cat Eye Jeweled Sunglasses with Butterfly Shaped Frame.
12. 2 Pair Retro Vintage Heart-Shaped Bling Rhinestone Sunglasses.
13. Crystal Unique Small Tears Shape Punk Sunglasses.
14. Stylish Square Vintage Oversized Unique Shades with Rhinestones.
15. Vintage Cat Eye Diamond Crystal Sunglasses.
16. Retro Cateye Sunglasses with Blue and Silver Rhinestones.
17. Leopard Turquoise Decor Crystal Sunglasses.
18. Jeweled Large Butterfly Shaped Oversized Frame with Rhinestone Sun Glasses.
19. Cat Eye with Flower and Butterfly Design Sunglasses with Colourful Gems.
20. Best Bling Sunglasses on Amazon: Metal Flower Vintage Chains Eyewear Sun Glasses with Pearl and Rhinestones.
21. Fancy Rhinestones Fashion Women's Sunglasses with Metal Top.
22. Crystal and Rhinestones Frame Sunglasses for Women Western Collection.
23. Lone Star Texas Flag USA Patriotic Sunglasses with Rhinestones.
24. Oval Metal Frame Diamond UV400 Punk Style Sunglasses with Rhinestones.
25. One-piece Crystal Shades Oversized Square Sunglasses.