Best sequin dresses with sleeves on Amazon. Because sleeves give sequin dresses an extra layer of style and class.
Of course, here at SequinQueen we still adore sleeveless sequin dresses or tops.
But sleeveless anything is best for casual wear. Think a summery sequin tank top.
Or for vamping your look up a touch. Cocktails in your local and swankiest bar.
Add a sleeve, or two sleeves, though.
And now you've got a long or short sequin dress you can wear almost anywhere.
Though there are still a few spots you may not want to sport sequin apparel.
Fortunately we've nailed those down for you.
But for everywhere else you can't go wrong in a sequin dress with sleeves.
Cap sleeves are the most popular kind of short sleeve for sequin dresses.
Whether the dress is long or short, the cap sleeves gives more structure. They make a sequin dress more substantial than halter neck or spaghetti strap dresses.
For long sleeves, the varieties seem endless.
Three quarter sleeves impart a sleek silhouette to a sequin dress.
Especially to short sequin dresses.
And for a more whimsical, lighter look a voluminous full sleeve imparts glamour.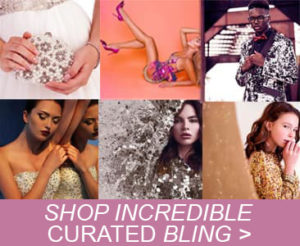 Here at the SequinQueen Sparkling Life Magazine we've searched Amazon for the best sequin dresses with sleeves.
Whatever event you've got coming up browse our edited selection below for ideas.
Or maybe even a purchase.
Perhaps it will even be your first sequin dress.
But as Glitterists the world over know, you'll get hooked.
On the bling.
And if you need some more ideas head over to our Pinterest board of incredible bling dresses with sleeves!
1. Short Cap Sleeve Plunging Sequin Mini Dress.
2. Short Sleeve Deep V-Neck Plunging Sequin Mini Dress.
3. Long Sequin Dress with ¾ Sleeves and High Neck.
4. Long Sequin Gown with V-Neck Dress with Flutter Sleeves.
5. Lourdes Flutter Short Sleeve Sequin Lace Long Gown.
6. Long Sleeves Sequin Mermaid V-Neck Tea Length Evening Dress.
7. Short Cap Sleeve Sequin Sheath Short Dress with High Neckline.
8. Plus-Size Sequin Beaded Cocktail Dress with Flutter Sleeves Dress.
9. Long Sleeve Slim Soft Lining Casual Jumpsuit Dress with Sequins.
10. Lola Multi-Color Sequin Long Sleeves with High Neck Short Dress.
11. Long A-Line Illusion Sweetheart Neck Dress with Long Sleeves.
12. Callista Sequin Lace Dress with Long Sleeves and High Neck Short Mini Dress.
13. Sequin Dress with Ruched Long Sleeves and V-Neck Short Dress.
14. Long Sleeve Retro Party Sequin Formal Maxi Dress.
15. V-Neck Long Sleeve Sequined Cocktail Mini Dress.
16. Luxury Beaded and Sequined Puff Sleeve Short Dress with V-Neck.
17. Asymmetrical Sequin One Shoulder Sleeve Long Gown.
18. Gia Split 3/4 Long Sleeve Sequin Short Dress with High Neckline.
19. Long Sleeve Stretch Sequin Midi Sheath Dress with Slit Hemline.
20. Mid Sleeve Sequin Sheath Short Dress with A Classic Neckline.
21. Long Sleeves with V-Neck Stripe Beaded and Sequin Sheath Dress.
22. Stretch Sequin Wrap Dress with Long Sleeves and Deep V-Neck.
23. Off The Shoulder 3/4 Sleeve Sequin Lace Gown.
24. V-Neck Long Sleeve Bodycon Sequin Cocktail Dress.
25. A-Line Empire Waist Short Sleeves Sequin Embroidery Evening Prom Dress.