Best USA Amazon bling 2021. Because after apple pie there is nothing more American than Amazon.
Well, maybe a couple things. But Amazon is right up there.
It's a quintessential American success story.
Not surprisingly there is a plethora of USA-themed bling you can shop on Amazon.
From jewelry to Stars and Stripes dresses and fashion to bowties and embellished baseball caps.
All of these items are perfect for Fourth of July.
Or a baseball match.
Or any time you want to sparkle patriotically.
So browse SequinQueen's selection of USA bling on Amazon, curated especially for you.
You'll be sure to find shimmery American glitter your grandma never had.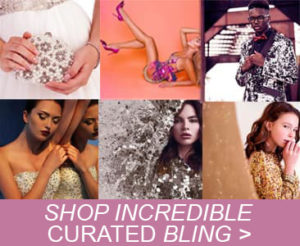 In fact, you can probably knock over all your birthday and holiday shopping for family and friends in one go.
USA bling ticks all the boxes for gift solutions.
But should you need other sparkling gift ideas our edited selection of perfect gifts is online now.
1. Spaghetti Strap Sleeveless USA Flag Sequin Dress.
2. USA Sequin Long Sleeve Front Zip Jacket with Ribbed Cuffs.
3. USA Flag Sequin Cami Shirt Blouse Tank Top.
4. USA Patriotic Stars and Stripes Sequin Hot Shorts.
5. BEST USA Amazon Bling 2021: Sequin Bow Headband Patriotic American Flag.
6. USA Flag Blue Satin Sequins Goth Waist Training Overbust Corset.
7. Red White Blue Sequin 4th July American Flag Dress.
8. USA Bling Baseball Cap Sparkle American Flag Hat.
9. BEST USA Amazon Bling 2021: USA Flag Rhinestones License Plate Frames.
10. American Flag Bling Rhinestones Car Bumper Stickers and Decals.
11. USA Flag Silver 3D Sparkling Charm Rhinestones Metal Alloy Durable Key Ring.
12. USA Crystal Ball Car Rear View Mirror Charm with Rhinestones.
13. Silver-Tone USA American Flag Austrian Crystals Brooch.
14. 4th of July American Flag Design Bow Ribbon Brooch Pin.
15. BEST USA Amazon Bling 2021: Bling Rhinestone American Flag Baseball Cap.
16. Bling USA Flag Golf Ball Marker with Standard Hat Clip.
17. American Flag Stars and Stripes Concealed Carry Purse with Rhinestones.
18. BEST USA Amazon Bling 2021: USA Flag Studded Concealed Carry Tote Bag.
19. American Flag Bright Silver Plated Oval Inside Out Earring Jewelry.
20. Bling Crystal USA Flag Design License Plate Frame.
21. Glittering iPhone 6s Case USA American Flag with Studded Rhinestone.
22. Reversible Sequin USA Flag Patriotic Doll Clothes.
23. BEST USA Amazon Bling 2021: USA Heart Puppy Dog Dress with Sequins.
24. American Flag Sequin Strap Short Dress.
25. Patriotic USA Flag Sequin Bow Tie with Elastic Band.
26. Knit American Flag Cuffed Skull Beanie Cap.
27. Patriotic USA Flag Sequin Bow Tie with Elastic Band.
28. American Flag Rhinestone Tank Top without Sleeves T-Shirt In Black.
29. Bling Patriotic Centerpiece Glitter Rhinestones USA Wooden Table Signs.
30. Patriotic Wedge Sandal Western Embroidered Thong Slippers.
31. Bling Patriotic Visor with Rhinestone for the Beach.
32. Patriotic USA Lips Rhinestone Transfer Iron On Hot Fix.
33. Patriotic USA Western Bling Collection Satchel Handbag Top Handle Purse.
34. Patriotic USA Flag Blinky Lights Red White and Blue Sequin Light Up LED Cowboy Hat.
35. Brooch Pins American Flag Patriotic Crystal Rhinestone Heart Lapel.