SHOP Bling HEADBANDS today. Right NOW poppets.
Why the urgency?
Why is Miss Cee all a-twitter?
Simply because there are an INCREDIBLE number of sequin, bead and crystal headband styles to choose from. So you'd better start shopping for your bling headbands immij.
Miss Cee admits that until recently she'd never given much thought to headbands in general. Or to bling headbands specifically.
Obviously a lot of lost time needs to be made up.
What better way could there be to tame your unruly mop AND add just the right touch of sparkle to a non-bling outfit.
Like jeans and a plain white tee.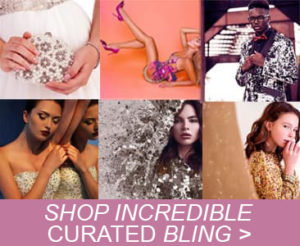 Or a color block blouse and short skirt.
Or even at the beach with a black one-piece.
You see? ENDLESS possibilities. So get shopping luvbugs with SequinQueen's best curated bling headbands!
1. Vintage Baroque Simulated Pearl Hair Band.
2. SHOP Bling HEADBANDS: Velvet Pearls Headband Vintage Twisted.
3. Vintage Knotted Headband with Rhinestones and Mesh.
4. Crystal Beaded Glitter Hairband Wide Edge Bejewelled.
5. SHOP Bling HEADBANDS: Fashion Diamond Crystal Wide Embellished Headband.
6. Embellished Crystal Headband Velvet Padded Wide Hairbands.
7. Mixed Color, Light Blue Crystal Velvet Padded Wide Hairbands.
8. Sparkling Crystal Padded Rhinestone Wide Bejeweled Hairband.
<
9. SHOP Bling HEADBANDS: Royal Blue Crystal Embellished Thick Wide Headband.
10. Blue and Water Drop Diamond Velvet Padded Pearl Embellished Headband.
11. SHOP Bling HEADBANDS: White Padded Pearl Headband with Crystal Embellishments.
12. No-Slip Jeweled Head Wraps with Rhinestones and Beads.
13. Jeweled Sparkly Crystal Headbands Bling with Rhinestones.
14. Antique Style Flower Side Accented Tiara Headband.
15. Elegant Ethnic Style Rhinestone Headband Handmade.
16. Flower Rhinestones Metal Head Jewelry.
17. Set of Four Crystal Flower Metal Wire Headband.
18. Handmade Bridal Pearl Crystal Flash Headband.
19. Jewelry Crystal Rhinestone Pearl Duo Flowers headband.
20. Austrian Crystal Wedding Flower Cluster Hair Band.
21. Crystal Flower and Leaves Crown Headband Handmade.
22. Big Pearl Handmade Embroidery Headband.
23. Bling Pearl Crystal Rhinestone Wide – Edge Headband.
24. Rhinestone Leaf Wedding Tiara Headband.
25. SHOP Bling HEADBANDS: Retro Print and Knot Design Headband with Crystal Rhinestone.