Best Instagram baseball cap bling 2021 is going to give ALL you luvbugs the sparkly feels.
Any why?
Well, mainly because shimmering caps will make you thankful such bling beauty exists in the world.
And also because you can cover up ANY epically bad hair day with a bling baseball cap of your own. Just as Miss Cee has pleaded with you all to do before.
Who wouldn't have a little tear in their bling-blinded eyes at that thought?
Certainly no self-respecting Glitterist.
Do a deep bling dive into baseball caps bedecked with sequins, beads, crystals and rhinestones.
Know what you'll find?
A COMPLETELY overwhelming number of bling cap choices.
But defer that bling breakdown for another day, poppets. Miss Cee had her minions trawl through the astounding number of glamour baseball cap lewks on Instagram so you don't have to.
Get ready to lose control of your senses, spesh your site, as you're blinded by the curated beauty we've served up for you.
You're welcome, chickadees.
Bling on!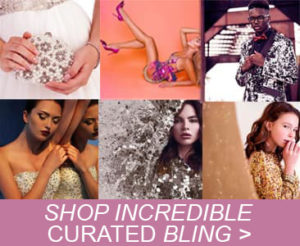 Oh, and don't forget Miss Cee's Skool of Bling. Follow SequinQueen's bling style rules to make sure you do not embarrass yerownself with poorly chosen bling clothing and accessories.
You're also welcome.
1. All Red Baseball Cap with White Pearl Beads.
2. Grey Cap with Black and Yellow Rhinestones Designed Band with Logo.
3. Customized Black Rhinestones Baseball Cap.
4. BEST Instagram BASEBALL CAP Bling 2021: Camouflage Colour Baseball Cap with Rhinestones.
5. Say "Yes" with a Customized Baseball Cap with Glittering Sequins.
6. Grey Baseball Cap with Clear Jumbo Rhinestones.
7. Yellow Baseball Cap with Chunky Rhinestones.
8. Denim Black Bling Baseball Cap with "LOVE" Rhinestones.
9. Black Cap with Black Beads and Rhinestones.
10. All Pink Baseball Cap with Glittering Rhinestones and Bride Logo.
11. Customized Multi-Color Rhinestones Baseball Cap.
12. Baseball Cap with All Glittering Rhinestones Belt and Buckle.
13. BEST Instagram BASEBALL CAP Bling 2021: All White Baseball Cap with Glittering Sequins in Front.
14. Multi-Color Rhinestone Glitter Sequin Baseball Cap.
15. Glitter Rhinestones Brim On Black and Gold Baseball Cap.
16. DIY Rhinestones Blinged Out Baseball Cap.
17. Baseball Hat with Shining Rhinestones.
18. Black Canvas Cap with Silver Glittering Rhinestones.
19. Distressed Look Baseball Cap with Flower Motif Bling.
20. Pink Cap with Glittering Pink Sequins Baseball Hat.
21. White Baseball Cap with Shining Silver Sequins.
22. BEST Instagram BASEBALL CAP Bling 2021: Black Canvas Ballcap with Rhinestone Designed Rose.
23. Red Baseball Cap with Multi-Color Sequins and Badges.
24. Best Bling Red Cap with Handmade Rhinestone Symbol.
25. Black Cap with Sparkling Red and Black Rhinestones Handmade Symbol.