Best pet bling 2023. Because all pets know exactly what dressing up means.
That's why dogs get so excited when you dress them up.
And cats want to kill you.
And if you're going to throw a costume on your pet you may as well make sure it's got some bling on it.
Or a lot of bling on it!
The more special the costume the more your dog will love it. And the more your cat will want to rip it to shreds.
If you're not a pet bling aficionado the most obvious place to start is with embellished collars.
Most pet owners collar their dog or cat.
And most dog or cat collars are function but boring.
Spice up your pet's collar with crystal and rhinestone embellishments.
It's certainly possible to add crystals to a plain collar as a fun DIY project. Or you can buy a crystallized pet collar from the enormous range available online.
But don't stop there!
Here at the SequinQueen Sparkling Life Magazine we've discovered that bling is on all kinds of pet accessories.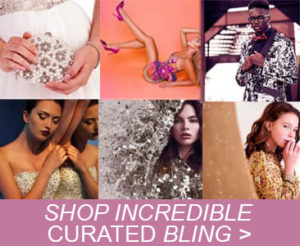 From iced out pet feeding bowls. To sparkling retractable leashes. To diamante encrusted poop bag holders.
And don't get us started on the sequin and rhinestone costumes for cats and dogs.
They are just too cute.
And the range of pet costume bling is incredible.
To see what we mean, scroll down. But be prepared for your pet to be sparkling in a matter of days!
For even more pet bling ideas check out our Pinterest board of shimmering dogs and cats all dressed up.
1. Crystal Rhinestone Pet Bling Collar.
2. Small Dogs Cats Collars Pet Accessories With Paw Pendant with Rhinestones.
3. Luxury Glam Retractable Leash Bedazzled with Rhinestones.
4. Rhinestones Stainless Steel Pet Bowls Removable Double Food Water Feeder.
5. Leather Rhinestone Diamante Dog Collar Soft Bling.
6. Black Embellished Puppy Dog Coat with Crystals and Hat with Sequins.
7. Sequin Wedding Princess Dress Skirt Puppy Clothing.
8. Marilyn Gold Sequin Pet Tutu Dress.
9. Puppy Dazzle Sequins Denim Jacket.
10. Cat/Dog Wedding Dress Bridesmaid Sequin Dress.
11. DIY Personalized Pet Collars Bling Rhinestone Letters Name.
12. Cat Collar with Pearls and Rhinestone Heart Pendant.
13. Mesh Tutu Skirt with Pearl Choker for Cat.
14. Beautiful Pink Sequin Tutu Dog Dress for Small Breed Dogs.
15. Gold Plated Necklace for Cats with Rhinestones.
16. Pug Wearing Diamante Rhinestone Necklace.
17. Silver Pearl Pet Collar Leash Set.
18. Brown Leather with Pink Luxury Gems Designer Dog Collar.
19. Traditional Handmade Dog Collar and Harness with Leather and Beads.
20. Bling Rhinestone Dog Harness Bow Girls Soft Suede Leather.
21. Double Sided Dog Deshedding Brush with Handmade Crystal Rhinestones.
22. Dog Poop Bag Holder Bling Pink Rhinestone with Metal Clip.
23. Bling Pet Carrier with Sequins.
24. Puppy Harness Bling Rhinestone Vest with Bowknot.
25. Tutu Gold Sequin Party Dress for Small Breed Dogs.