Designer Label Bling on Amazon continues to expand.
Not only are designers like Calvin Klein, Prada, Miu Miu, D&G and Kate Spade offering up fashion-forward sequin dresses and glittering tees but also shoes, bags, accessories and perfume.
All with a touch of BLING.
Many designers see Amazon as an outlet store or marketplace to offer up the discounts they steer away from in their high-end bricks and mortar boutiques.
Or blinged-out to the max!
Prices for Designer Label Bling on Amazon tend to be very reasonable too.
Best of all?
You get to shop the cream of the fashion world from the comfort of home.
No need to navigate traffic.
Or find a carpark.
Or deal with sales staff giving you side-eye for still being in your pajamas.
1. Versace
Yellow Diamond Eau De Toilette Spray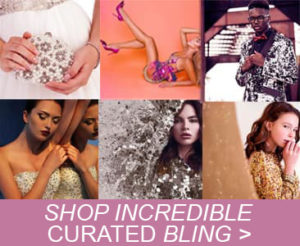 2. Gucci
Women's Urban Pop Square Sunglasses, Black Glitter
3. Versace
Crystal Noir by Versace
4. Calvin Klein
Long Sleeve Sequin Gown with Front V Neckline
5. Miu Miu
Women's Narrow Cat Eye Sunglasses
6. Calvin Klein
Girls Front Pocket Tee-Shirt with Sequin
7. Miu Miu
Crystal Teardrops Black/Pink Shaded Sunglasses
8. Calvin Klein
Sleeveless Sequin Sheath Dress
9. Kate Spade New York
Lady Marmalade Gold Plated Mini Pendant Necklace
10. CARTIER
Tank Francaise White Gold Diamond Watch
11. Prada
Brushed Spazzolato Leather Heels
12. Dolce & Gabbana
Black Sequined Crystal Stud Heels
13. Kate Spade New York
Rose Gold Plated Cubic Zirconia Hoop Earrings
14. Houston Diamond District
White-Gold Huggies Hoop Diamond Earring
15. Dolce&Gabbana
Velvet Pink Crystal Mary Janes Shoes
16. Kate Spade New York
Gumdrop Studs Earrings, Blush
17. Calvin Klein
Big Girls Sequin Graphic Tee
18. Prada
Leather Crystal Decorated Flip Flop
19. Dolce & Gabbana
Crystal Sequined Clutch Bag
20. Kate Spade New York
Pave Princess Cut Stud Earrings
21. Calvin Klein
Sleeveless Multi Color Sequin Sheath with Scoop Neck Dress
22. Chopard
Sport Happy Heart Limited Watch
23. Tommy Hilfiger
Girls' Pullover Fashion Sweater
24. Kate Spade New York
New York Bow Pave Stud Earrings
25. Rolex
Rolex Everose Gold Men's Watch
26. Dolce & Gabbana
Slim Fit 3 Piece Crystal Bee Suit
27. Prada
Saffiano Leather Loafers
28. Miu Miu
Women's Crystal OMU Sunglasses
29. Calvin Klein
Long Sleeve Short Sequin Dress with V Neckline
30. Versace
Bright Crystal Eau De Toilette Spray
31. Tommy Hilfiger
Girls' Tee Shirt
32. Calvin Klein
Big Girls Sequin Graphic Tee
33. Dolce & Gabbana
Black Sequin Dot Cocktail Mini Dress
34. Calvin Klein
Long Sleeve Short Sequin Dress with V Neckline
35. Calvin Klein
Short Lace Sheath with Flutter Sleeves
36. Calvin Klein
Black Multi Cap Sleeve Sequin Sheath Dress
37. Calvin Klein
Buff/Nude Cap Sleeve Sequin Sheath Dress
38. Calvin Klein
Silver/Black Cap Sleeve Sequin Sheath Dress
39. Calvin Klein
Black/Nude Cap Sleeve Sequin Sheath Dress
40. Kate Spade New York
Lady Marmalade Gold Plated Mini Pendant Necklace
41. Rolex
Men's Rolex Day-Date Platinum Watch
42. Prada
Yellow Leather Pumps/Heels
43. Kate Spade New York
Marmalade Rose Gold Stud Crystal Earrings
44. Dolce & Gabbana
Brown Velvet Black Iguana Leather Buttons BOX Bag
45. Tommy Hilfiger
Girls' Core Crew Neck Tee Shirt
46. Calvin Klein Designer Label Bling on Amazon
Red Flippable Sequin Tee Shirt
47. Calvin Klein
White Flippable Sequin Tee Shirt
48. Dolce & Gabbana
Yellow Black Cotton Jewelled Hot Pants
49. Calvin Klein
Black Flippable Sequin Tee Shirt
50. Calvin Klein
Camelia Split Sequin Flippable Sequin Tee Shirt
51. Calvin Klein
Candy Pink Rose Sequin Girls' Flippable Sequin Tee Shirt
52. Calvin Klein
Black Sleeveless Sheath with Rhinestone and Feather Embellishment
53. Calvin Klein
Cream Sleeveless Sheath with Rhinestone and Feather Embellishment
54. Versace
Eros Eau De Parfum Spray for Women
55. Kate Spade New York
Gala Slip-On Loafer
56. D&G
Blue Suede Crystals Loafers
57. Dolce & Gabbana
Clear Crystal Brown Hair Headband
58. Dolce & Gabbana Designer Label Bling on Amazon
Yellow White Sunflower Crystal Women's Headband
59. FitFlop™
Women's Rumba Beaded Toe-Post Sandal
60. D&G
Black Crystal Fairy Tale Blazer Jacket
61. Calvin Klein
All Over Sequin Sheath Dress with Knot Detail
62. Calvin Klein
Womens Sequined Sheath Dress
63. Miu Miu
Women's Crystals Cat Eye Sunglasses
64. Designer Label Bling on Amazon: Kate Spade
Pave Halo Stud Earrings
65. Calvin Klein
Black Velvet Sleeveless Sequin Sheath Dress
66. Calvin Klein
Buff Multi Sleeveless Sequin Sheath Dress
67. Calvin Klein
Indigo/Black Sleeveless Sequin Sheath Dress
68. Calvin Klein
Popcorn Multi Sleeveless Sequin Sheath Dress
69. Calvin Klein
Silver/Aubergine Sleeveless Sequin Sheath Dress
70. Calvin Klein
Petal/White Sleeveless Sequin Sheath Dress