Cruises are used to be a whole PASSEL of big fun. Never fear, poppets, one day we WILL be able to do them again!
The best part about cruising is you don't have to organize anydamnthing.
It's all done for you.
Which means the only things to do are laze around and eat.
And drink.
But what on earth do you pack?
You know you'll need bling.
THAT goes without saying for every self respecting Glitterist.
But what kind of bling?
Have no fear, my little chickadees.
Read on for Miss Cee's Cruise Wear Bling recommendations.
1. Sequin Travel Bag Cruise Wear Bling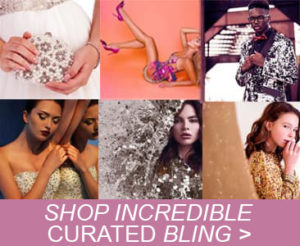 Let's start with your luggage.
Is there any reason it shouldn't be sequined?
Of course not. This DARLING travel bag comes in several colors, including pink sequins and black sequins but, for maximum impact, what could be more perfect than green sequins?
Head over to SequinQueen's Bling Accessories section and buy about fifty brooches to pin through this bag.
You'll have even MORE bling to sashay along the decks with and plonk down in yer stateroom.
2. Glittery Red Sequin Lips T-Shirt
If you're anything like Miss Cee you'll be trying, prolly in vain, to bite your tongue and/or lips any time the service on your cruise is anything less than fawning.
So why NOT have a sequin t-shirt to match your 'tude?
And, something sparkly for the everyday is a wardrobe essential for a cruise, kids.
3. Crystal Embellished Caftan
Nothing is more perfect for cruise wear clothing than a caftan.
Lightweight, floaty, dreamy, cool.
Like a good men's suit a caftan hides a multitude of sins.
And let's face it, your fifth helping at the seafood buffet has to show up somewhere.
The most DIVINE feature of Camilla's caftans is the touch of highlight bling on the intricate pattern.
Not too much.
Just enough.
4. Bejewelled Women's Sandals
Miss Cee has a rule about bling on shoes.
Go hard, or stay home.
Your cruise wear shoes, and shoes in general, get a bit of initial attention, usually when people first see you and your outfit, but are then quickly forgotten.
UNLESS you've got crystals on them the size of quail eggs.
Just like these crystal sandals.
Yummy.
Not only will they go perfectly with your caftan, but they'll also be BLINDING by the pool.
5. Oversized Bejewelled Sunglasses Cruise Wear Bling
OBVIOUSLY you'll be cruising somewhere sunny like the Caribbean, or the Seychelles or around the Hawaiian islands.
People who go junketing around Alaska on a ship need their heads read.
Anyhoot, let's hope you're NOT one of those peeps.
This decadently diamante pair of sunglasses to lend you an air of mystery as you attempt to look rich and windswept on the Quoits Court.
6. Totally Iced Out Pave Silver Tone Hip Hop Bling Watch.
You're on a cruise.
It's sunny and tropical.
Don't even THINK about checking the time.
And that is why this shimmery watch is perfect.
If you so much as glance at your wrist, the sunshine glinting off the crystals will ensure you don't see a thing.
For about ten minutes.
7. Baseball Cap with Crystals Cruise Wear Bling
Apart from the buffet chicken salad, another thing to avoid on a cruise is styling your own hair.
For any of the evening events, visit one of the on-board salons.
But for daytime, or a quiet evening, hide your tresses under a bedazzling cap.
8. Men's Sequin Suitcoat in Green and Gold
Whichever too-muscled rent-a-stud has the well-paid pleasure of being Miss Cee's paramour-by-proxy on her next cruise will be wearing this DIVINE green and gold sequin men's suitcoat.
And not just at night.
It's SO much easier to keep your eye on someone who's in sequins during the day.
9. Formal Sequin Evening Dress
If you're on a cruise with even a HINT of luxury there will be all kinds of formal evening dinner options.
So you'll need to have several pieces in your evening cruise wear arsenal to outshine and out-stun any pretenders to your throne seated at other tables.
Silver sequins are a MUST for at least one of the gowns.
Color-neutral, you can add bursts of additional color with your shoes and bag.
But don't forget to check out our Style Guide for handy tips about how to wear and accessorize sequins.
10. Natural Emerald and Diamond Pendant
Sparkles and cruise jewelry don't get much MORE sparkling than this utterly FABULOUS emerald pendant.
The design is classic, the combination of diamonds with the emerald is timeless, and it will go perfectly with any non-bling eveningwear.
Or, if you want to break the rules for accessorizing sequins, this necklace pendant would look wonderful accessorizing the silver sequin gown above.
11. Red Sequin V-Neck Evening Gown
A red sequin gown is never more appropriate than when you need to make an entrance that screams 'Look at ME!'
Such as on the first night.
And each subsequent night.
Miss Cee would pair this striking long evening gown with a faux mink jacket. You could too, depending on your budget principles.
Perfect 1940s glam as you cruise through the evening to parts unknown.
12. Lace Applique Beaded Mermaid Ball Gown
Now THIS, my little chickadees, is a gown.
Last but certainly not least, this gown is sheer perfection if your cruise involves a ball or masquerade.
Available in about nine-thousand other colors, Miss Cee's pick is this champagne, beaded applique show-stopper.
So there's your onboard ball lewk all sewn up.
PLUS, once you settle that enormous mermaid hemline around you at the Captain's table, no one else's chair will be anywhere near.
Cruise Wear Bling Conclusion
A touch of bling here, an overdose of shiny sequins there.
Mix it up fearlessly on the high seas and let your inner Glitterist out.
Miss Cee's going to pack one each of these unique, glittering cruise wear items for her next excursion.
Which leaves in about half an hour.
In her mind. Must run!