Best bling swimwear on Amazon 2021 takes beachwear to the next level and beyond.
Here at the SequinQueen Sparkling Life Magazine we believe that sparkling is a state mind.
And a lifestyle.
What better way live a sparkling life than on a beach?
Sip an ice cold cocktail as waves lap golden sand, wind rustles your hair and warm sun kisses your skin.
The only detail missing from this seaside reverie is your swimsuit.
If your beachwear isn't blinged out you're missing a perfect opportunity to shine.
Because there's nothing better than sparkling in the sunshine.
Embellished swimwear comes in three types:
Beaded swimwear
Sequined Swimwear
Rhinestone and crystal swimwear
Whichever beachwear bling you favor is a personal fashion preference. But if you find yourself not having any favourite style go with one of each and wear as the bling beach mood takes you!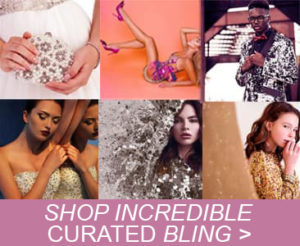 To help make your shopping experience all the easier we've curated the best bling swimwear on Amazon 2021 below.
You'll find glittering beachwear inspiration.
And a bargain or two.
Need some shimmery ideas about the best Atlantic islands or Mediterranean beaches to head to with your bling swimwear on your next holiday? Check out our series on European beach escapes in our Sparkling Lifestyle section today!
1. String Rhinestone Bling 2 Piece Triangle Bikini Thong Swimsuit.
2. Sequin Bikini Sets Rhinestone Crystal Swimwear.
3. Bling Sequin Bikini Set Push-up Padded Bra Swimwear.
4. Two Piece Sequin Bikini Set Rhinestone Bling Swimwear.
5. Bling Swimsuits 2 Pieces Sequin Bikini Set.
6. Best Bling Swimwear on Amazon 2021: Sequin Bikini Swimwear Bathing Suit.
7. Crystals on a Triangle Bikini Halter Swimsuit.
8. Blue Sexy Thong Bikini with Crystals and Chain Strap.
9. Sequins Cotton Tankini Tie Two Piece Swimsuit.
10. Plus Size Two Piece Swimsuit Bikini with Bling Tassels Tummy Control Swimwear.
11. Sequins Halter Backless Swimsuit Bling Top & Bottoms.
12. Halter Bikini Bling Sequins Swimsuit Two Piece.
13. Sequins Cotton Bikini Sexy Tankini Tie Two Piece Swimsuit.
14. Bikini Halter Shiny Glitter Sequin Swimwear.
15. Sequin Bikini Shiny String Bra Swimsuit Beach Wear.
16. Crop Top Flouncing Gradient Plus Size Bikini Swimsuit.
17. Sequin Swimsuit with Scrunch Back Moderate Coverage.
18. Best Bling Swimwear on Amazon 2021: Lime Sequin Pucker Back Bikini Swimwear.
19. Holographic High Waisted Booty Shorts with Sequins.
20. Light Blue Sequin and Rhinestones Pucker Back Bikini Swimwear Set.
21. Royal Blue Sequin Pucker Back Bikini Set.
22. Sequins Bikini Sets Rhinestone Crystal Swimwear Beach Suit.
23. Best Bling Swimwear on Amazon 2021: One Piece Swimsuit with Sequins and Mesh Detail.
24. Sequin Cherry Scoop Back One Piece Swimsuit.
25. Fuchsia Sequin Pucker Back Bikini W/Gold Lace.