For a spot of designer bling shopping, Amazon isn't the first place that leaps to mind.
But the trail blazed by Net-a-Porter is trickling down.
So next time you refuse to leave home to visit your favorite couture boutique, pop open a bottle of bubbly and leisurely browse the designer labels offering sequins and crystals on Amazon.
You'll be as pleasantly surprised as we are–plus, check out more of SequinQueen's edited designer offerings.
1. Kate Spade
Marmalade Gold Tone Crystal Stud Earrings
2. Fendi
Grey Square Sunglasses with Rhinestones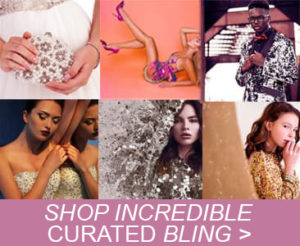 3. Prada Designer Bling
Leather And Velvet Heels
4. Oscar De La Renta
Bead and Sequin Acorn Earrings
5. Gucci
Suede and Crystal Evening Bag
6. Ralph Lauren
Designer Label Sequin Short Dress
7. Dolce & Gabbana
Sunglasses with Dual Color Metal Frame with Pearl
8. Dolce & Gabbana
Silver Sequin Crystal Crossbody Millennials Purse
9. Chopard Designer Bling
Oval Dial With White Diamond In Rose Gold Watch
10. Dolce&Gabbana
Lori Pumps Bordeaux
11. Vera Wang
Strapless Cocktail Dress
12. Prada Designer Bling
Patent Leather Pumps with Crystals
13. Dolce&Gabbana
Men's Leather Lace-up Shoes
14. Prada
Leather Sandals with Crystals
15. Dolce&Gabbana Designer Bling
Sequin Dot Cocktail Mini Dress
16. Dolce&Gabbana
Crystal Chandelier Shoes
17. Just Cavalli
Multi-Color Sequins Covered Women's Shift Dress
18. Dolce&Gabbana
Women Lori Pumps Nero
19. Emporio Armani Designer Bling
All-Over Sequin Dress
20. Prada
Sneakers with Crystals
21. Gucci
Satin Heel Pump with Crystals
22. Valentino
Crystal-studded Kitten Heels
23. Tommy Hilfiger Designer Bling
Girls Mixed Media Top