Operas, galas, cotillions, exhibitions, openings, political fundraisers. Most of us rarely attend events that require designer evening bags.
Paired with the most expensive gowns, shoes and jewelry money can buy, their prices are stratospheric.
After all, you don't want your evening clutch letting the ensemble team down when your goal is hi-so perfection.
Evening Bags 101
There's a functional, if somewhat sexist, purpose to the evening bag. Women's evening wear (in fact, a lot of women's wear in general) doesn't have pockets. So the evening bag is a practical device.
Well, practical if you want to carry only a lipstick.
But as women were traditionally accompanied by a male partner to evening events, why would they need space for car keys, cash, credit cards, name cards, pens, ID, glasses, handkerchiefs, or the occasional pistol?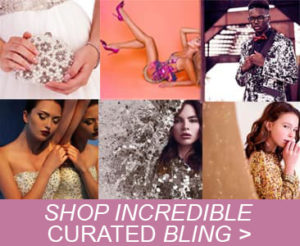 Hence, the majority of evening bags persist in being clutches or clutch-sized, with a thin shoulder strap and/or tiny handles.
But at least holding a clutch gives you something to do with your hands in case of social nerves. And looks more elegant than shovelling down the passing canapes.
---
Imagining money is no object then, let's hand it over to Miss Cee, take a look at the 5 best designer evening bags online and try to decide which one you'd most like to get your immaculately manicured but slightly perspiring fingers around.
Thanks, Min. I'll need a latte.
Five best? I SO don't think. Miss Cee is going to rip some of these into bite-sized, embellished pieces. Where IS that latte?
1. Prada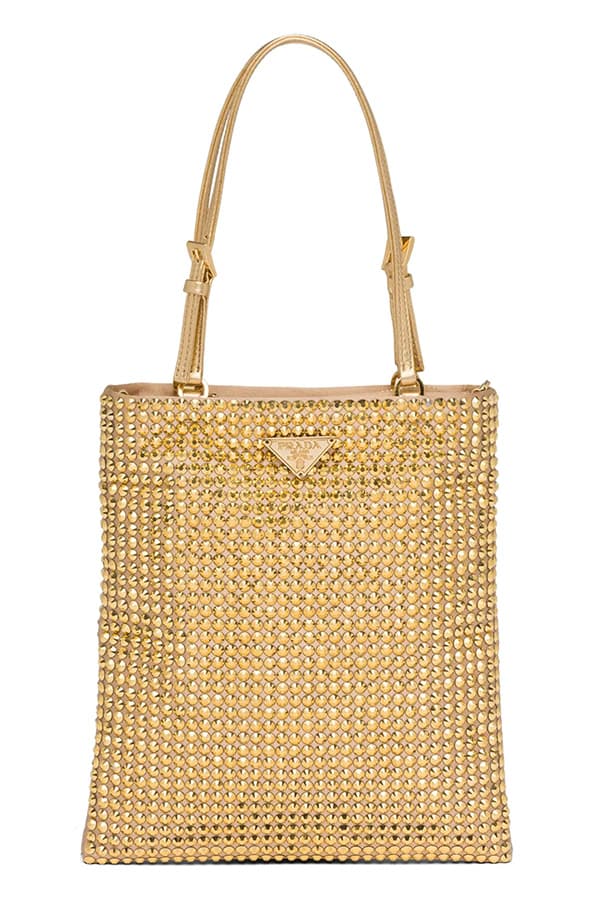 Prada does an admirable job of keeping within Min's tiny/impractical guidelines with this evening bag. Measuring in at just under 8 inches high, they generously lashed out and covered front AND back with synthetic crystals. No mention of whether the crystals are Swarovski. You'd certainly hope so. But with crystals on the back too, prolly not, kids.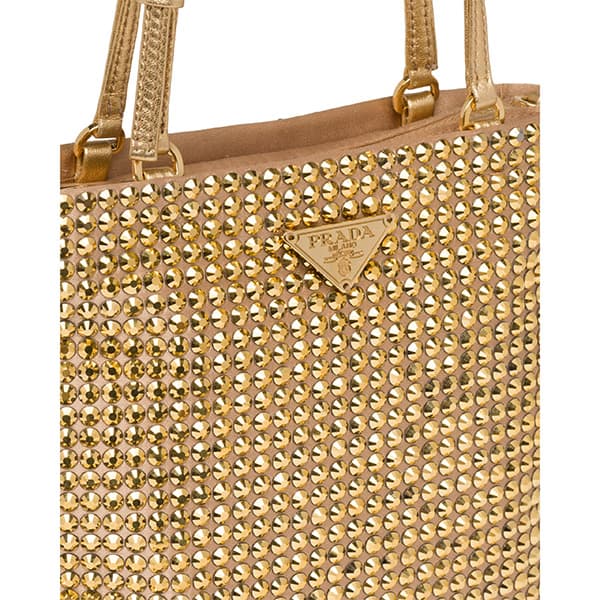 Also available in black, pastel-ish blue, pink or silver, Miss Cee's pick, for its '70s disco vibe, is the gold. Plus gold is the only version where the leather straps and ALL the metal-wear match the crystal color.
The rest have black straps with silver metal-work and come off looking a touch 1990s Bangkok-back-alley-special.
The Prada logo is most noticeable on the black version–should you subscribe to the nouveau-riche maxim that there is no point having something expensive if no one knows it's expensive.
And, of course, you DO, otherwise you wouldn't be shopping at Prada for a bag in the first place.
2. Gucci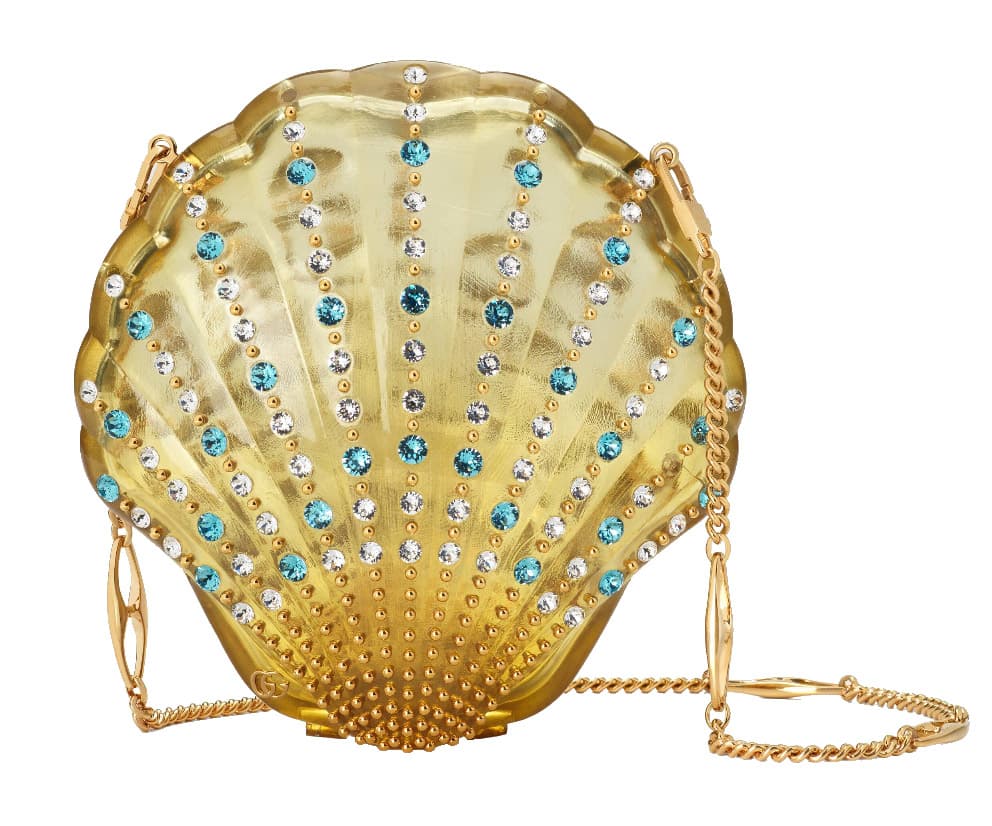 Gucci continues that UTTERLY disturbing trend from a few years back of transparent bags. Now, at first glance, you might have thought this whimsical shell-shaped clutch is divinely finished in brushed gold(toned) metal.
But there you'd be overestimating Gucci in a rather spectacular way, as Miss Cee just foolishly did. Why spend the production budget on gold(toned) metal when you can use see-through yellow PLEXIGLASS instead?
Yes, luvbugs, you DID read that correctly. And just because it's made in Italy does NOT make that alright.
To add insult to injury this wanting-to-be-fine-but-maybe-just-ironic piece of craftsmanship clocks in at double the price of the no-skimp-crystals Prada.
Or, just above the average monthly wage of the country in which it was produced (thank you, Wikipedia).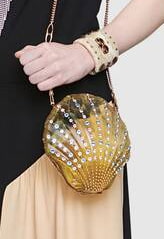 The Gucci logo is microscopic, so there IS that one saving grace. The downside may be when all of your nurturing and completely uncritical high society friends think you've unearthed the plastic beach toy in which you lugged around all your dollies' heads when you were five.
3. Dolce&Gabbana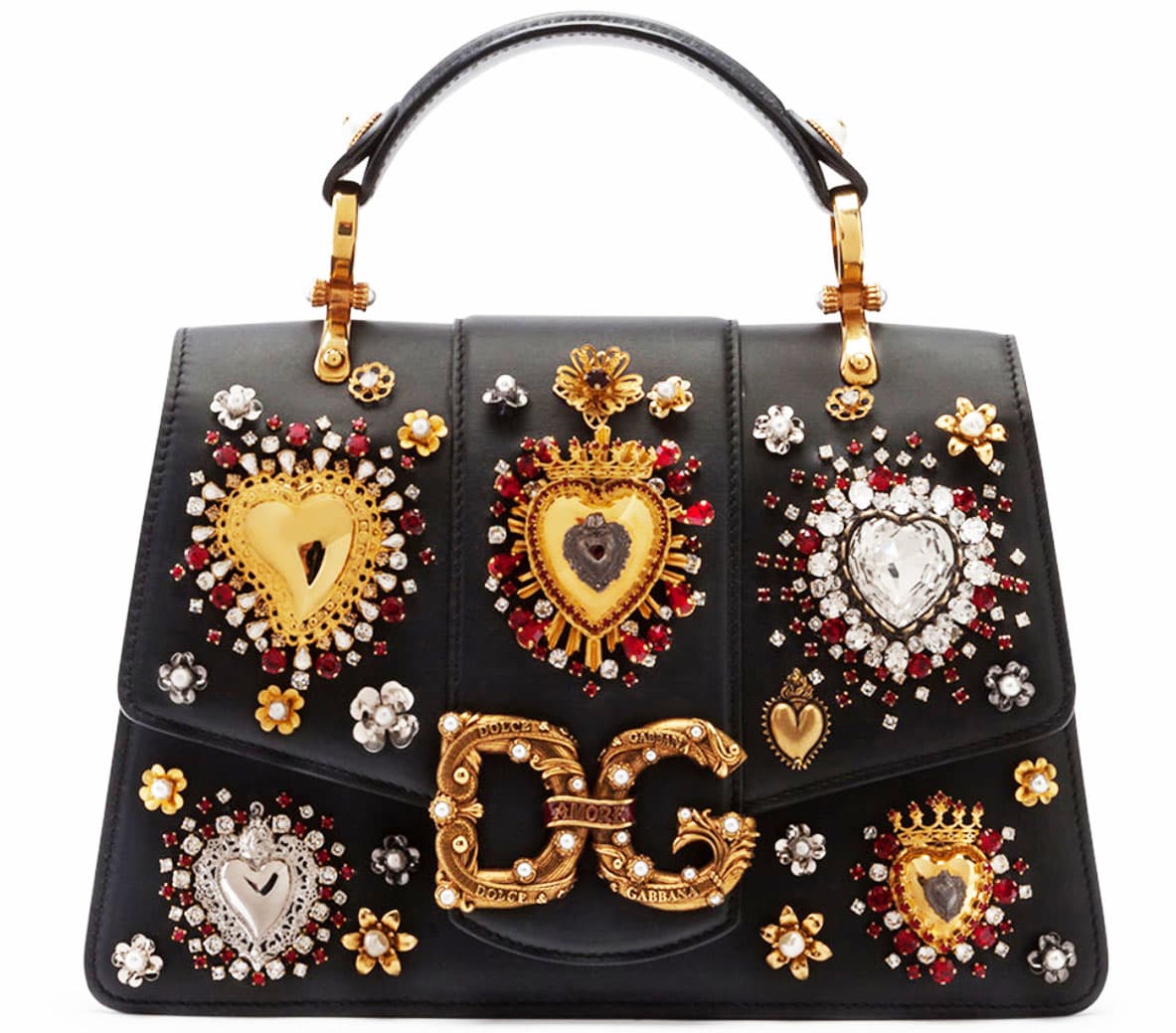 D&G create an evening bag with amore as the design conceit. Just in case you've never seen Cher in clothes that cover most of her body–in the movie Moonstruck, which is all about amore—amore is Italian for 'love'.
And just in case you weren't sure amore is what this evening bag is all about, amore is stamped on the vintage(look) brass, pearl-studded logo too.
Personally, Miss Cee thinks amore is just the correct answer to the multiple choice quessy of this bag's price compared to the plastic Gucci shell above:
A: more
B: less
C: sugardaddy
No word on whether the pearls are real but, as they're describing the synthetic crystals on this bag as 'jewel applications', Yours Truly guesses nope.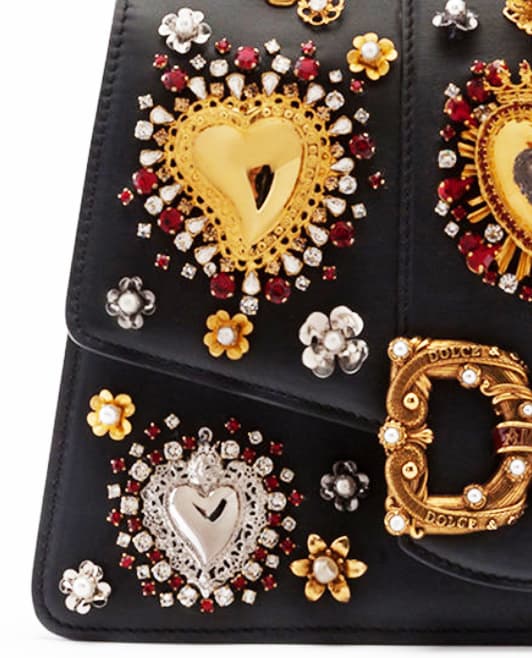 The leather is calfskin, because if you have to skin something it may as well be a calf. No prizes if you cunningly deduced the embellishments don't continue on that calf's skin at the back of the bag–but, in this case, that's a relief.
Those 'jewels' have clawed settings and you do NOT want them on the back where they'll catch the threads of your most expensive cocktail dress.
---
---
HOT TIP (or WARM REMINDER, as the Chinese charmingly say): hold this bag away from the dresses of your hi-so frenemies.
Because if you pull even ONE thread of theirs, despite the fact they have enough money to throw that dress out and get another, they will never let you forget it while they ruin you socially.
But I digress. The bag. Look, overall the design team at D&G have put in some hours and some effort.
When you spend a fortune on an evening bag you want it to appear like someone with actual design credentials showed up to the factory that day.
Vaguely religious overtones–blood red stones, crowned hearts–are fine for the walls and ceiling of a medieval European bishop's locked backroom but a little TOO much on a bag–or clothing.
Though that's just Miss Cee, who's always found the baroque 'DNA' of D&G a bit de-pressing.
4. Chanel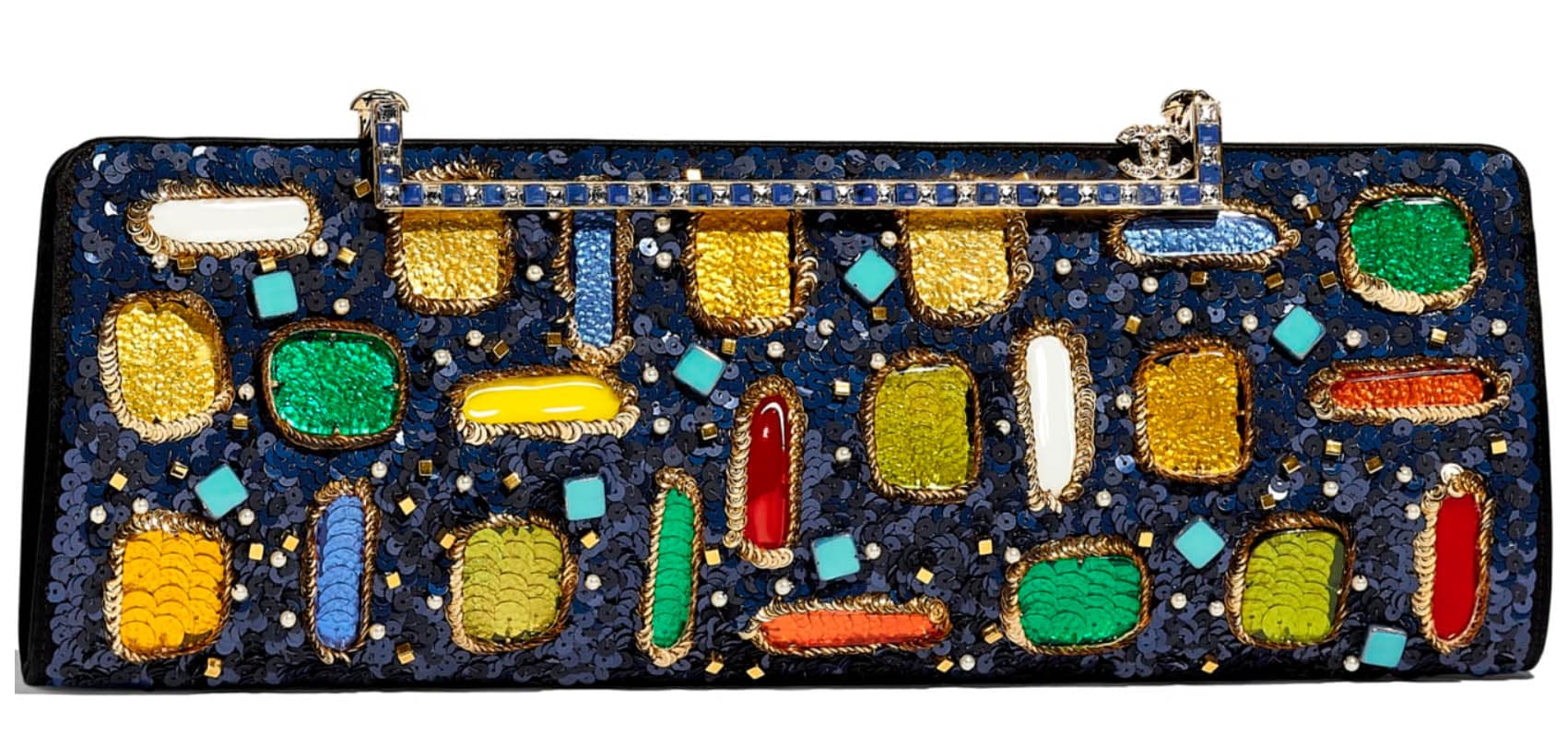 Primary-color accents on a dark background give this Chanel clutch an air of 1980s' pop art fabulousness. But the clasp, in cabochon sapphire blue and silver, channels Cartier. Clever juxtaposition or just confusing?
Lord knows Miss Cee can't work THAT one out. But Lord also knows this bag would look DIVINE with a Little Black Dress. And some Grace Jones playing in the background.
Chanel aren't fond of using words like 'sequins' or 'rhinestones' or 'plastic' so they describe the embellishments on this bag as 'strass' and 'resin'.
And times must be tougher than they're letting on because the budget doesn't stretch to putting those self-same sequins, rhinestones and plastic on the back of the bag–which looks like a plain, black, certainly disappointing, possibly soul-destroying satin.
There's no question the mechanics of the clasp and construction of the bag are pure class but HONESTLY.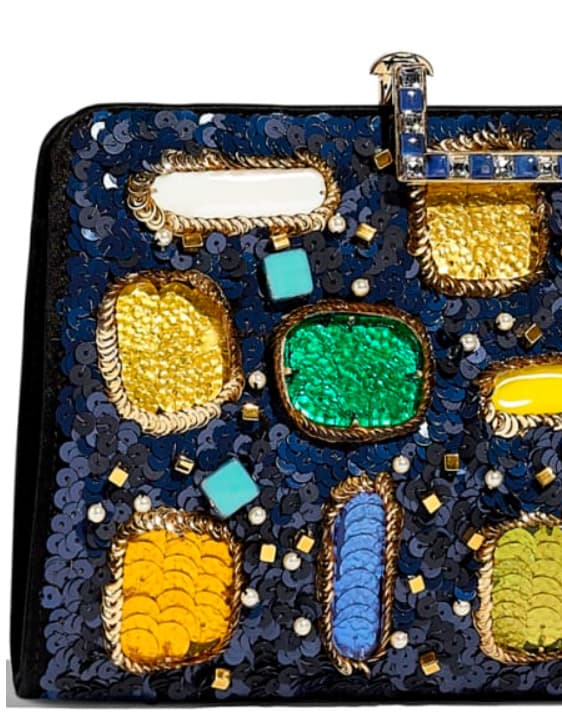 And to list the price as 'available upon request'?! The princesses in that marketing department need to toughen up.
We ALL know Chanel is exclusive. So unless that bag costs about a million dollars no one is going to be shocked by whatever they want to charge for 'strass' and 'resin'.
5. Dior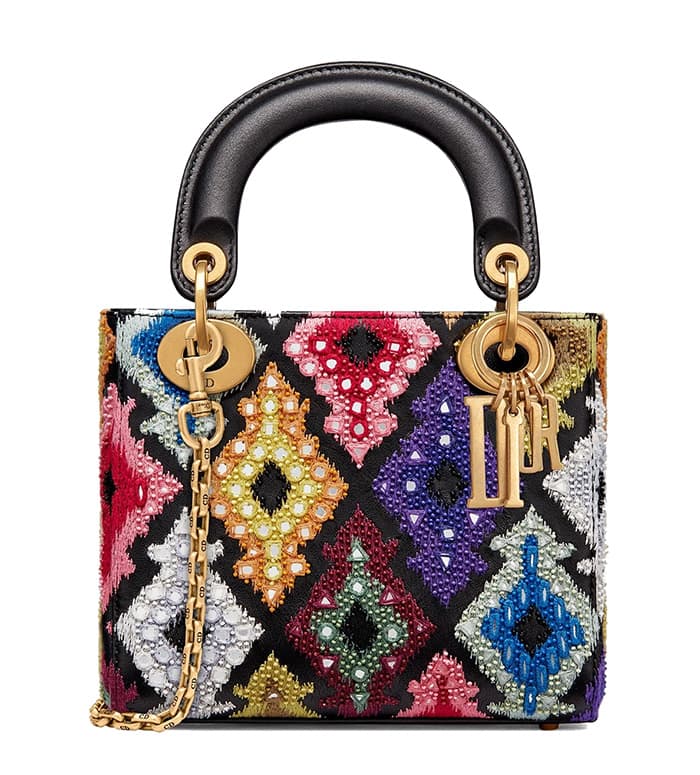 Dior riff on colorful, glittery Indian Shisha fabrics with this bright splash. Unfortunately fond of sabotaging their bag lineup, Dior lob wilted blobs that look like they've been cranked out on a mimeograph machine among pure, sublime paeans to design perfection.
THIS bag is one of the latter, oh joy. The former are almost anything Dior make with their name and/or monogram printed on it in THAT mimeograph blue. (Min and I DO agree on monograms being the devil's own work.)
However, on this delightful folly, not only does the pattern of beads and miniscule mirrors extend to the BACK, but it is also on the sides AND is a CONTINUOUS (i.e. wrap-around) pattern.
Someone, or likely more than one someone, went to the lengths you would expect, nay should demand, for a designer evening bag. Artistic planning, careful coordination, precise execution.
The end result is a small work of art to charm the electronic money out of your Centurion card.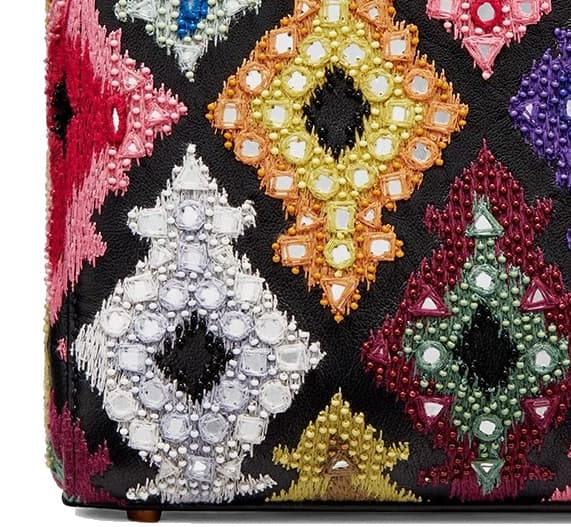 But let's not link pinkies and make a caring circle just yet. This evening bag also mows down a lovely little knock-kneed calf AND it'll set you back more than TWO months' average Italian salary.
No wonder it sold out online in the US.
Bling Designer Bags Conclusion
You're going to shell out beaucoup buckeroos for any of these designer evening bags and clutches.
So at least prance out of the store with something that deserves to be appreciated. Dior, how Miss Cee loves your fastidious attention to detail . . .
But if you can't be bothered going to an actual store (and who can these days) you can find designer beaded evening bags in some very surprising places online.
One last warm reminder
Now that Miss Cee has had her way with Min's somewhat catastrophic selection of designer embellished evening bags, here's one final tip for you divine poppets:
A special place in Hades awaits the person who first coined the term 'cross-body'. Though many of these evening bags and clutches have straps long enough, never, NEVER wear them cross-body.
Some things are just too horrible to contemplate–and a strap diagonally across your evening attire is one of them.
While Miss Cee revives with the fumes from the Dior mimeograph machine, take the time to watch this UTTER darling, Chriselle Lim, where she gets almost everything right apart from the second look.
Whether it's for day wear or evening wear, you do NOT want to appear like you've put on your seatbelt but forgotten the car.