Best hair bling on Amazon. Like everything these days there is so much choice.
Not just the astounding range of bling accessories in general.
But the amazing variety of bling just for your hair.
Previously it was mainly hairclips that added a bit of sparkle to your hairdo. Bling hairclips are still around of course.
And in even greater number of styles than ever.
But there are also new types of hair bling available.
Think about hair tinsel.
Or clip-on crystal strands.
Or rhinestone twisters.
And hairbands are just basically an excuse for bling overload now!
Which is not a bad thing.
At all.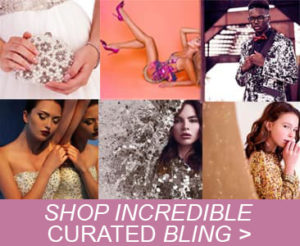 In fact, more hair bling choices is a fabulous thing.
Here at the SequinQueen Sparkling Life Magazine, we've curated some of the best and most interesting hair bling available on Amazon. Scroll down to find your perfect hair bling look today!
Plus, if you want more inspiration and fashion forward bling hair solutions, including amazing bling headbands, bling baseball caps and bling hair adornments check out all our posts to sparkle up for your gorgeous head and hair.
1. Blinger Ultimate Hair Bling Set.
2. Mini Flower Rhinestone Hair Clips.
3. Hair Barrettes Large Decorative Bling Hairpins.
4. Sparkling Party Tinsel Hair Extensions Highlights.
5. Flower Crystal Rhinestone Hair Pins with a Storage Bag.
6. Metal Crystal Rhinestone Hair Claw.
7. Teenitor Ultra Sparkly Large Size Rhinestone Hair Alligator Clip.
8. Bling Rhinestones on Transparent String Floating Illusion Glittering Hair.
9. 180 Gems Offering a Variety of Round and Snowflake Shapes – Make Your Hair Look Frozen.
10. White Marquise-Shape Austrian Crystal Hair Comb.
11. Glitter Sequins Boutique Big Hair Bow Clips For Teens.
12. Ten Pieces Dollar Sign Letters Bobby Pins.
13. Elastic Hair Scrunchies Bands with Crystals and Rhinestones.
14. Assorted Color Hair Clips Set for Ladies' Headwear Styling.
15. Ponytail Holder Expandable Rhinestone Bird Nest Hair Clip.
16. Large Rhinestone Gem Jeweled Sparkly Leaf Plastic Banana Hair Claws.
17. Rhinestone Bling Flower Mini Barrette Decorative Hair Clips.
18. Pearl Hair Ties Sets Beaded Hair Bands.
19. Dreadlocks Beads Rhinestone Braid Cuff Clip.
20. Luxury Bling Crystal Hair Bands.
21. Black Sparkly Jeweled Rhinestone Plastic U Shape Hair Fork Pins.
22. Colorful Vintage Decorative Flower Design Metal Gold Tone Hair Pins.
23. Rhinestone Twisters Set.
24. Crystal Embellished Wide Headbands.
25. Velvet Fabric Elastic Hair Ties with Rhinestones.