Best bling grillz on Amazon. Because grillz can be a difficult to find otherwise.
Here at SequinQueen we begrudgingly enthusiastically embrace all of Miss Cee's whims.
She's the boss, after all.
More importantly, she pays our salaries.
One trend Miss Cee loves that doesn't have us minions rolling our eyes is grillz.
Miss Cee loves grillz because she thinks the people who wear them are hot.
You can judge for yourself.
Or for yerownself as she would say.
What's not inventive about gold and diamonds for your teeth?
The staff at the SequinQueen Sparkling Life Magazine love grillz because they are such an inventive type of bling.
For the uninitiated, there are several main styles.
You can get bling that fits over just one tooth, for example.
Or you may prefer bars, which clip onto two far apart teeth and then have a bridge or bar of metal across the top of the teeth in between.
Or you might be a die hard grillz fan and go for a full upper and lower set that cover all your teeth.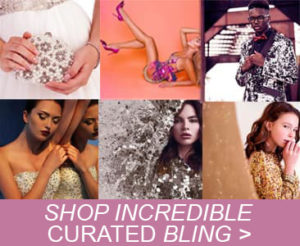 If you like that concept but don't want bling covering each tooth then outline grillz might be the way to go.
The metal runs just around the outside of each tooth leaving the enamel of the teeth to show through.
At this point you might be thinking that a set of grillz or barz or even individual bling caps would involve a jeweler and and dentist.
And you'd be correct.
Having the full professional grillz experience is what many people opt for. And the price is high, naturally.
Especially if your grillz are gold embellished with precious gems.
Otherwise you can find grillz for sale on Amazon.
A lot of them.
Many of these grillz are adjustable or customizable to ensure they fit over your teeth comfortably.
And the best thing about grillz on Amazon is the affordable, enormous range.
From barz to full sets to outlines to individuals.
The number of styles available is impressive too. Scroll down and you'll see what we mean.
Perhaps you're ready to order your very own grillz but if you need more inspiration check out our grillz board on Pinterest. You'll find hundreds of ideas there.
1. Best Bling Grillz on Amazon: 18K White Gold Fully Iced Out CZ Vampire Top and Bottom Face Mouth Grills.
2. 18K Gold Plated Fully Iced Out Vampire Top and Bottom Teeth Grills.
3. Shark Vampire Silver Top Teeth Grillz Iced Out with CZ Lab Diamond.
4. 14K Gold Plated Iced Out CZ Top and Bottom Vampire Fangs Grillz with Rhinestone Trim.
5. Silver and Bling Luxury Cubic Zirconia Diamond Teeth Grillz Set with Extra Molding Bars.
6. 18k Gold Plated All Iced Out Vampire Teeth in Gold Set with Rhinestones.
7. 18K Gold Plated Rainbow Accent Bling Simulated 8 Top and Bottom Diamond Grills.
8. 18K Gold Plated Gold Hip Hop Style Mouth Grillz with Rhinestones.
9. White Gold 8 Bottom Tooth Hip Hop style Mouth Grillz with Pink Rhinestones.
10. 24k Plated Gold Top and Bottom Grill Hip Hop Style Bling Iced Out Grillz.
11. Gold Vampire Grillz Teeth Set with CZ Diamonds.
12. Silver Teeth Grillz Open Face Outline 4 Teeth Vampire Fangs.
13. Gold Teeth Grillz Square Pave CZ Top and Bottom Set with Rhinestones.
14. Vampire Style Teeth Grills for Top and Bottom Set with Custom Letters in Rhinestones.
15. Best Bling Grillz on Amazon: 14k Plated Gold Cruz Diamonds Grillz.
16. Single Silver Tooth Hip Hop Bling Cap Canine Teeth CZ Iced Out Grillz.
17. Custom Gold Plated Bling 26 Initial Letters Single Bottom Grillz.
18. Rose Gold Pave Full CZ Bar Grillz Teeth Top and 6 Bottom Set Grills with Rhinestones.
19. 18K Gold Plated Lower Grill with Upper Vampire Fangs and Bling.
20. 18K Gold Plated Cubic Zirconia with Blue Diamond Top and Bottom Grills Set.
21. Gold Plated with Big Round CZ Diamonds Embellished on Top and Bottom Teeth Grillz.
22. 18K Grillz with Micro Pave Embellished Zircon Teeth.
23. Blue Rhinestones Top Teeth Personalized with Any 6 Letters.
24. Bling Hip Hop Gun Metal Cross Fangs Teeth Grillz Set – Blue Stones.
25. Silver Tone Iced Out Hip Hop Style 6 Open Face Removable Top & Bottom Grillz.