Best Instagram kids' bling videos. Because bling for kids is just TOO cute.
As many of Miss Cee's loyal stalkers fans know, she doesn't have any chilluns herownself.
And never will.
But that's because she's too busy living her best bling life.
Okay, and because children are a LOT of extra expense.
ESPECIALLY in terms of hiring nannies.
One nanny per kid does add up.
But there ARE some upsides to a whole brood of chicklets.
And one is that kids look SUPER cute in bling clothes and accessories.
Taking Care Of Sequin Cloths
But what about washing sequin or rhinestone clothes Miss Cee hears you frazzled but still DIVINE moms yell in chorus.
Well, here at SequinQueen we're here for you, your bling, and your chilluns' bling.
Each and every day.
And sequins on clothes for kiddies have come a LONG way, baby.
These days you can machine wash most embellished daywear clothing.
Whether it be for adults or their progeny.
That's right, poppets, just hurl those revoltingly soiled garments in the washing machine and sit back and relax.
Sequins are machined onto daywear clothes so well that they rarely come off.
Which is good because the fewer sequins that get stuck in your washing machine the better off you'll be.
And there's another BIG bonus to kids' sequin clothes and accessories like shoes and backpacks.
The shine, sparkle and glitter will distract from what your children actually look like.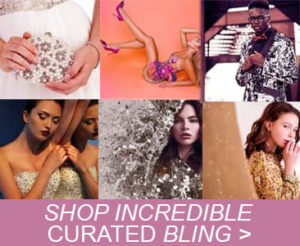 Yes, YOUR kids are gorgeous, we know.
But other people's children are pretty damn ordinary.
Throw some bling on them though and they become a LOT cuter.
With that in mind here at the SequinQueen Sparkling Life Magazine we've edited together THE most GORGEOUS and best Kids' bling Instagram videos to give you ALL sorts of inspo.
Both for your BEWTIFUL kids and all the rest.
And if that's STILL not enough kid's bling clothing ideas take a look at our Bling Kids' Pinterest board for even more!
1. Silver Sequin Hair Clip Bow with Glittering Accessories.
2. Elegant Gold Shimmering Vans Converse Flat Shoes.
3. Beautiful Iced-out Baby Comb and Hair Brush with Rhinestones.
4. Glittering Embellished Baby Brush with Rhinestones.
5. Girls' Hair Clips with Rhinestones in Bow Shape.
6. Kids' Silver Rhinestones Embellished Pointed Toe Shoes.
7. Pink Converse Flat Shoes with Colorful Rhinestones for Children.
8. Navy Blue Babies Sleeveless Top with Glittering Sequins in Front.
9. Iced Out Baby Wipes Storage Box with Rhinestones.
10. Embellished Baby Set for a New Born.
11. Rhinestone Silver Open Toe Slip-On for Kids.
12. Girls' Pink Short Sleeves Sequin Dress with Mesh Skirt.
13. Glittering Pink Headband with Bow Tie for Babies.
14. Bling Black Ankle-High Flat Shoes for Kids with Rhinestones.
15. Blue and White Personalized Baby Clothes Set with Rhinestones.
16. Navy Blue Girl's Short Sleeveless Sequin Dress.
17. Black and Silver Bling Flats with Rhinestones and Pearls for Children.
18. Barbie Theme Bling Crocs for Kids.
19. Children's Short Dress IN Cotton Candy Color Dress with Sequins and Ice Cream Pattern.
20. "Pot of Gold" Sequin Dress with Short Sleeves.
21. Short White and Pink Unicorn Dress with Embellished Sequins.
22. Glittering Reversible Sequin Plush Bear Toy Birthday Gift for Kids.
23. Kids' Magic Sequins Llama from Rainbocorns.
24. Glittering Rhinestones Embellished Kids Bracelets.
25. Magical Reversible Sequin Plush Toys for Kids.