Kids' bling. Nothing is more adorable.
Children are just as entranced by sequins, beads, crystals and rhinestones as big people.
Perhaps even more so!
After all, glitter and shine equal excitement and fun!
And now that sequin fashions are more affordable, durable and machine washable, bling clothing for kids is something to put on your next shopping list.
Kids' Bling is on Everything Imaginable
From sequin clothing and t-shirts to blinged-out toys, shoes, bags and even educational games, you'll find shopping solutions that sparkle for children of all ages.
Whether you're buying for the holidays, a birthday present or just everyday-wear, we've narrowed your search for a shimmering, embellished treat even further with SequinQueen's edited Amazon selection, below.
You'll score major points and your children will love what you find.
From embellished backpacks to shoes to plush toys and glittering bags!
1. Girls' White Ruffles Lace Party Dress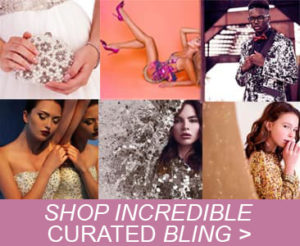 2. Sequin Dance Outfit Crop Top Tutu Skirt
3. Ines Mary Jane Flats Bling Shoes
4. Kids Gold Sequin Jacket
5. Pink Sparkle Dress Shoes Low Heel
6. Kids' Bling Royal Blue Toddlers Sequin Dress
7. Girls Sequin Pockets Denim Vest
8. Holographic Sequin School Backpack for Girls
9. Girls Sequin Embellished Ballerina Mesh Dress
10. Kids' Bling Two Piece Shiny Sequins Dance Outfit
11. Shiny Dancer Sneaker Kids' Bling Shoe
12. Pastel Blue Rhinestone Beaded Sequin Dress
13. Little Big Girls Denim Jackets Coats Outwear with Rhinestones
14. Girls Sequin Glitter Bridesmaid Dress
15. Kids' Bling Flip Sequin Stuffed Soft Fish Toy
16. Unicorn Jean Jacket for Girls with Sparkly Sleeve
17. Princess Cosplay Sequin Low Heeled Gold Kids' Bling Shoe
18. Girls' Sleeveless Sequin Ball Gown
19. Glitter Short Kids Sparkle Skirt Toddler Tutu
20. Flamingo Notebook Diary with Lock and Key Flip Sequin Bling for Kids
21. Green Sequin Mesh Tull Sleeveless Gown
22. Girls' Pullover Fashion Sweater Kids' Bling Clothing
23. Gold Sequin Flower Girl Dress
24. Open-Toe Mesh & Rhinestone Strappy Heel Sandal Kids' Bling Shoe
25. Kids' Bling Disney Minnie Sequin Mini Backpack Black-Red
26. Gold Tulle Tutu Baby Dress with Sequins and Beads
27. Girls Little Moto Jacket with Dress
28. Reversible Sequins High Top Sneakers
29. Girls Long Sleeves Pullover Dress
30. Flip Sequin Stuffed Penguin Toy Kids' Bling
31. Girls Cute Unicorn Glitter Sequins Crossbody Purses
32. Pink Sparkle Mary Janes Low Heel Sandals
33. Beaded Necklace and Bracelet
34. Pink Mary Jane Low Heels Girls' Shoes
35. Teddy Bear Stuffed with Reversible Blue Flip Sequins
36. Jewel Rings in Box
37. Square Big Box Color Sunglasses With Rhinestone
38. Gold Sequin Dance Performance Biketard for Girls
39. Cinderella Headband and Choker Set Bling for Children
40. 36 Pcs Little Girl Jewelry Rings in A Box
41. Mini Sequin Stuffed Pet Toys
42. Adjustable Rings Set for Little Girls
43. Trendy Sequin Cat Purse for Little Girls
44. Rhinestone Sequin Chiffon Purple Lace Flower Girl Dress
45. Cinderella Tiara in Silver
46. Girls' Fashion White Top with Long Organza Sleeves and Sequins
47. Cotton Fashion T-Shirt With Sequins
48. Heart Cutout Sequin Flower Girl Dress
49. Baby Girl Long Sleeve Sequin Bomber Jacket
50. Glittery Casual Slip-on Sneaker
Kids' Bling Conclusion
Kids' bling on clothing, shoes, toys, games and fashion is only limited by designers' imaginations.
And that means a HUGE choice for you if you're after a children's' party outfit, unique kids' gifts or the latest sparkly shoes for children.