Bling jewelry sparkles all over Instagram. Whether it's bling jewelry necklaces that catch your eye, or bling jewelry earrings, SequinQueen has searched Instagram to uncover jewelry to astound you.
Seasoned Glitterists will likely need a bigger dose of bling than just our usual Top 20 though!
So we've included more than 10 additional mind-blowing pieces of bejeweled bling.
This Bling Jewelry is Not for Novices.
There's nothing understated here. This bling jewelry is OTT, in your face, oversized, popping with color and sizzling with cutting-edge, often whimsical design.
But we know you're not faint of heart.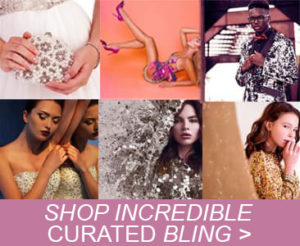 Why else would you be here?
If you're not faint of wallet too perhaps these divine baubles may even inspire your next jewelry shopping blow out!
1. White Clear Rhinestones with Blue Sapphire Teardrop Stone Earrings.
2. Platinum with Emerald Stone Ring.
3. Massive Yellow Diamonds from Graff.
4. Brown Coffee and Canary Yellow Diamonds Pendant with Link Chain.
5. Colourful Small Diamonds with Gem Stone Bling Jewelry Ring
6. Glittering Clear Diamonds.
7. Light Pink Diamond Stone with Small Clear Diamond Rhinestones.
8. 18K White Gold with Zambian Green Emerald Ring.
9. Multi-Colour Rhinestone Rose.
10. Satin Flowers Embellished with Pistils In White and Yellow Gold Necklace.
11. Unique Bling Jewelry Ring in Yellow Gold with Fancy Blue and Pink Diamonds.
12. Flower Inspired Bling Jewelry Necklace with Red Rubies and White Diamonds.
13. Gorgeous Opal Stone with Colourful Rhinestones Brooch.
14. Emerald Green Stone with White Diamonds in Tear Shape.
15. Blue Diamond Ring with Small Pink Diamonds.
16. Hibiscus Flower Inspired Bling Jewelry Ring with Blue Diamonds.
17. Vibrant Looking Bracelet with Colourful Gemstones and Clear Diamonds.
18. Spiral Rainbow Colour Ring with Rhinestones.
19. Rose Design Inspired Ring with Pink Rhinestones and Emerald Stones.
20. Green Tear Drop Emerald Stone with Rhinestones Drop Earings.
BONUS Bling Jewelry. 11 Sparkling Extra Pieces
21. Emerald Green Stone with Clear Diamond Ring in Yellow Gold.
22. Beautiful Bling Jewelry Brooch with 26cts of Emerald Beads and 2.88cts of Diamonds.
23. Dark Purple Tear Drop Hanging Earrings.
24. Red Ruby Stone with Clear Small Diamonds Ring.
25. Red Ruby with White Diamonds in Yellow Gold Ring.
26. Yellow Diamond Bracelet.
27. Blue Sapphire with Colourfull Rhinestones and An Angel.
28. Sapphire Coloured Stones Hanging Earrings.
29. Multi Colour Rhinestones and Pearls Necklace and Bracelet.
30. Purple Nebula Natural Quartz Stone.
31. Rainbow Colour Gems on Yellow Gold Rings.
Bling jewels are fantasy for most of us but an everyday choice for the lucky few. There's nothing wrong with hopes, dreams and a little window shopping while you're on your way to being able to afford your own big bling!
And if you're in the mood to sparkle yourself for less, don't forget to check out even MORE ideas for fashionable bling in our Online Shopping section.