Office Bling: Have you ever thought of redecorating your work desk?
The next longest hours that we spend apart from our homes are office.
Our working space should ideally inspire us creatively and motivate us to do our best.
But more often, as we get caught up with work, our desk/office becomes messy and disorganised, and we end up looking for other spaces to work.
Few quick tips and accessories that could Bling up your office:
If you are staring at a blank wall while on your laptop, why not brighten it up with some office bling wall decor?
Besides hanging photos of your loved ones, beautiful framed prints or inspiring motivational quotes, you can put up glittering shelves.
Use an office bling storage organizer to store all your office accessories and Stationery Kit.
I'll assume you have a nice laptop, but who wants the same old boring mouse?
Spice it up by getting a blinged-up mouse with rhinestones.
Writing with bling, yes you've heard it correctly, get metal pens with rhinestones and diamonds.
Mirrored furniture, metallic decorations, and feminine accents can all play a role in creating a glam atmosphere in your space.
After all, if you enjoy the visuals around you, it will make "going to work" all that more fun and exciting for you!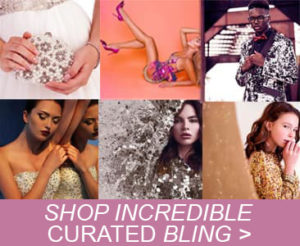 Your glam office bling should be outfitted with lots of tech gadgets and electronic holders.
These types of office accessories will make your working sessions easier and more productive.
If you have everything you own properly stored and within easy reach, you won't waste time looking for what you need!
Keep your card in a handmade office bling card holder so that people will be more attracted to it and ask for your card.
And finally, you can also get your office bulletin board noticed by everyone by putting on some glittering pins.
Here's SequinQueen's curated selection of the Best Office Bling accessories on Amazon, just for you.
1. 6 PCS Metal Ballpoint Pen with Big Crystal Bling At The Top.
2. Bling Crystal Luxury Handmade Diamond Office Stationery Kit.
3. 20PCS Thumb Tacks Decoration Rhinestone Jumbo Round Head Bulletin-Board Pins.
4. 4 Pcs Rhinestone Embellished Metal Ballpoint Pens.
5. Luxury Handmade Desktop Tape Dispenser with Rhinestones.
6. Crystal Handmade Bling Dazzling Stapler for Office.
7. Handmade Bling Rhinestones Stainless Steel Metal Business Card Holder.
8. Silver Mirror Crushed Diamond Decorative Wall Shelf for Office.
9. Self Stick Note Pad Holder with Rhinestones.
10. 12 Digit Decorative Large LCD Display Office Calculator with Embellished Rhinestones.
11. Bling Neck Lanyard with Metal Clasp & Keyring Decorated with Rhinestones.
12. Crystal Rhinestone Diamond Decoration Cabinet Drawer with Screws.
13. Crystal Retractable Badge Reel Holder with Metal Clasp and Key Ring.
14. Pink Rhinestone Covered Computer Mouse with USB Receiver For Office.
15. 6-Pack Purple Bling Office Stationery Desk Accessory Set.
These gems have life in them: their colours speak and say what words fail. – George Eliot