Hat Bling: Stylish Bling hats! They are one famous accessory when it comes to fashion!
Along with adding some cheeessseee to an outfit, a hat can completely change a look.
An outfit can go from simple to interesting and make people turn their heads towards you by just adding a stylish hat bling fashion.
Doing a hat bling fashion isn't all that difficult, you just need to throw it on your head, and you're good to go.
It's not how you wear a hat necessarily but what you pair with your hat, it's your outfits
Since a stylish hat bling fashion is an accessory that you can wear in all seasons and even while travelling.
This is something you could slowly start adding to your wardrobe and wearing once in a while
I'll also share a few photos of hats, so you have direct examples of what I am talking about.
Hopefully, the hat bling would get you inspired to take that hat out for a spin or finally add a stylish hat to your wardrobe.
If your favourite pass time in the summer is lying on the beach and getting tanned, you need a fabulous sun hat bling fashion with some sequins on it for the beach.
It'll not only protect you from the sun, but it will also give you that wow bling look.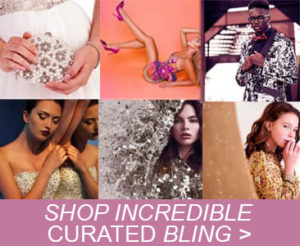 Some DO's and Don'ts while you do a hat bling:
Most brands provide measurement charts so that you can find the perfect size for you.
Do consider your options – There's so much that fashion offers, narrow down your preferences.
Don't use a hat to cover a bad hair day – Don't use a hat to cover your messy hair, it will get worst and you call it hat hair.
Do know your height – If you're tall, wear a wide-brimmed hat.
Don't put a matchy-matchy – Multi-colour is the key! Mix up colours and fabrics as much as you can.
Do consider the size – Yes, size does matter when it comes to wearing a hat. It should not be too big to cover your pretty face or small that it could squeeze out your brain.
Here's SequinQueen's curated selection of the best "Hat Bling Fashion" on Pinterest, just for you.
1. Pink Block Color Ladies' Hat with Rhinestones Embellished.
2. White Ladies Hat with Colorful Rhinestones.
3. All Black Hat with Mother Of Pearls Chain On It.
4. Ladies' White Hat with Embellished Pearls and Glittering Rhinestones.
5. All Natural Straw Custom Made Hat with Embellished Rhinestones.
6. Women's White Woolen Hat with Embellished Pearls.
7. White Bridal Wedding Hat with Rhinestones Trim.
8. White Cowboy Hat with Rhinestone Diamond Fringes.
9. Blue Star Rhinestones Cowboy Hat.
10. Mexico Artisan Spring Summer Women Hats Collection with Rhinestones.
11. Fully Embellished Pink Cowboy Hat with Colorful Rhinestones.
12. Black Women's Wide Hat with Evil Eye Brooch with Rhinestones and Feathers.
13. White Glam Cowgirl Hat with Colorful Embellished Rhinestones.
14. White Rhinestone Cowgirl Hat.
15. Fully Embellished Cowgirl Hat with Purple Rhinestones.