Shop Amazon bathroom bling. It's not something you normally wake up in the morning thinking you'll do today.
And that's because most of us don't know just how MUCH bathroom bling is available online now.
Even committed Glitterists may be surprised.
Pleasantly of course.
But there must be some corner of the world where people DO wake up thinking about bathroom bling
How to get more sequins and rhinestones and crystals on taps. Or shower curtains. Around mirrors. Onto bathroom tiles. Plus the bathtub.
Even the loo.
There's pa-lenty to get excited about here kids.
Got a mirror in your bathroom?
Course you do.
When you bling your bathroom the mirror DOUBLES the glitter.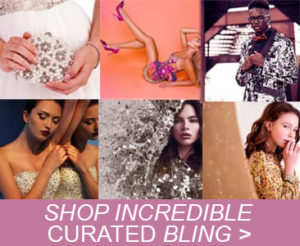 More shine and stun for your hard earned buck.
Told you it's exciting. So shop the flashiest, sparkliest and most OTT bathroom bling SequinQueen has curated from Amazon below.
And if you need sparkling fashion ideas for other parts of your gorgeous abode? Check out our edited selection of Homeware Bling online now.
1. Shower Curtain with Shimmery Sequin Fabric.
2. Twelve Piece Acrylic Decorative Rolling Shower Curtain Hooks with Rhinestones.
3. Four Piece Luxury Bath Accessory Set with Stunning Sequin Accents.
4. Shop Amazon Bathroom Bling: Mosaic Glass Tissue Holder Decorative Cover Square Box.
5. Decorative Tissue Holder Finished in Beautiful Silver Colored Mosaic Glass.
6. Toilet Bowl Cleaner Brush and Holder with Silver Glittering Glass.
7. A Set of Grey Bath, Face and Hand Towels with Sequins.
8. Shop Amazon Bathroom Bling: Glittering Silver Soap or Lotion Pump Bottle.
9. Grey Bathroom Rug with Shinning Sequins.
10. Polished Crystal Towel Bar 23-Inch Chrome Finish Wall Mount.
11. Glittering Crystal Bathroom Fitting Accessories Set.
12. Shop Amazon Bathroom Bling: Clear Crystal Bath Towel Hooks.
13. Crystal Toilet Roll Holder Bathroom Accessories.
14. Shop Amazon Bathroom Bling: Dazzling Shower Curtain.
15. Decorative Mouth Wash Cup with Glitter.
16. Ceramic Counter Top Bathroom Accessory Set with Rhinestones.
17. Double-Sided Free Standing Magnified Makeup Bathroom Mirror.
18. Shop Amazon Bathroom Bling: Shiny Bathroom Soap Dish Tray with Rhinestones.
19. Glittering Bathroom Organizer Countertop.
20. Wall Light Crystal Strand Fixture for Bathroom Over Mirror.
21. Glittering Decorative Resin Waste Paper Basket For Bathroom.
22. Decorative Cotton Ball Bathroom Jar.
23. Bathroom Towel Ring Holder with Crystal Decorated Head.
24. Two Piece Bath Contour Toilet Rug Set with Sequins.
25. Starlight Round Bathroom Pedal Brass Trash Can with Lid and Swarovski Crystals.