Do you drive a supercar? A Ferrari, or maybe a Lamborghini? No? Then you know most other cars are pretty boring. Point A to Point B functionality, drab interiors, unimaginative styling. There is no WOW! factor, nothing that catches the eye. Nothing that dazzles, glitters or shines. There is no bling for cars.
Until now.
Throughout recorded human history, impressive achievements abound; from the wheel, right through to missions to the Moon and Mars. But at no other time in history have so many people woken up each day and spent all their working hours figuring out how to get more shimmering crystals into and onto your car. And there's more good news. Rhinestone car accessories are so popular they're here to stay!
At the SequinQueen Fashion Blog, we promise that if you buy and install every one of these crystal car accessories, you'll be a menace to every other driver on the road every time the sun's out. And probably to your passengers too.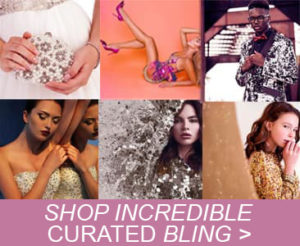 So prepare to stand out from the crowd, grab your sunglasses, and read on to start planning your automotive WOW! factor today with bling accessories for cars.
Exterior Bling Accessories for Your Car
1. Crystal License Plate Frames
2. Rhinestone Car Accessories Tyre Valve Caps in Crystals
3. Car Back Seat Organizer Hanger
4. Hood Ornament Iced Out Ring
5. Trunk Badge in Rhinestones
Interior Bling Accessories for Cars
6. Rear-View Mirror Bling Trim
7. Seat Belt Adjustment Crystal Clip
8. Rhinestone Car Accessories Start Button and Ring with Bling
9. Blinged Out Seat Belt Shoulder Pad
10. Crystallized Visor Tissue Holder
11. Rhinestone Car Accessories Handbrake Cover with Bling
12. Crystal Air Vent Charms
13. Rhinestone Car Accessories Headrest Support
14. Crystal Steering Wheel Covers
15. Crystal Mobile Phone Holder
16. Iced Out Car USB Charger
17. Padded Plush Armrest Cover with Crystals
18. Seat-side Storage Box with Bling
19. Rhinestone Car Accessories Headrest Hangers with Crystals
20. Blinged Out Cigarette Lighter
21. Air Vent Rings with Rhinestones
22. Speaker Rings with Crystals
23. Rhinestone Car Accessories Door Lock Rings in Bling
24. Control Switch Buttons in Crystal and Gold
25. Iced Out Headrest Collars
26. Hanging Car Charms with Bling
27. Put-it-Anywhere Rhinestone Car Sticker
28. Bling Steering Wheel Cover, Center Console Cover and Gear Shift Cover,
29. Universal Sparkly Diamond Car Air Conditioner Vent Outlet Trim.
30. Universal Crystal Glitter Door Handle Protector Car Stickers.
31. Universal 20 Pieces of Bling Crystal Rhinestone Car Accessories Set.
32. Universal Bling Steering Wheel Cover, Center Console Cover and Gear Shift Cover.
33. Universal Auto Headrest Cushion for Neck Support Embellished with Crystal Rhinestone.
34. Bling Garbage Can Container Hanging Car Interior with Rhinestones.
35. Gear Shift Bling Crystal Shiny Accessory Interior Cover.
Bling Car Accessories Conclusion
Quite an array of crystal car accessories, we think you'll agree! Our favourite rhinestone car accessories are definitely the air vent charms, followed closely by the rhinestone sticker, above. If there's somewhere left that doesn't have crystals on it, you'll be able to sticker away and ice out that too.
And don't forget to check out even MORE ideas for automotive bling in our Car Accessories section.
Oh, and it seems that even if you do have a Ferrari or Lambo you'll still need some help with the WOW! factor: