The best USA bling online is a feast of red, sparkle and blue.
Bling is on EVERY other dang thing you can imagine.
It was only a matter of time till people blinged out Uncle Sam.
Not Uncle Sam his ownself.
But USA-themed clothing and accessories.
YES, luvbugs. Almost anything you can think of that comes in colors of the flag can be done in bling too.
You might be wondering when you would ever wear red, white and blue bling.
There's obviously the Fourth of July.
But where else?
The answer is, ANY time you feel patriotic – its USA BLING.
And want your patriotism to SPARKLE!
Maybe at a baseball game.
Or a political rally.
maybe for a Presidents' USA BLING Day.
Or maybe it's just a Tuesday and you feel thrilled to belong to the GREATEST country ever.
Whatever the reason, you're going to have to decide on the best USA bling to suit the occasion.
Or your mood.
Because there is a TON of it.
Sure. There's an ocean of red, white and blue clothing which is called USA Bling clothing.
Or short jumpsuits with stripes and stars
Even bras with sequin silver stars.
But did you know you can get red, white and blue bling on cell phone covers?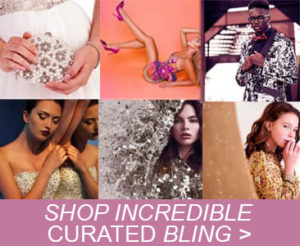 What about on a killer pair of crystal embellished pumps?
You can even do your patriotic duty with a reusable coffee cup.
Which reminds Miss Cee. . . where on earth IS Min with my 2 p.m. latte?
Chickadees, here at the SequinQueen Sparkling Life Magazine we searched high and low for all the MOST amazing USA bling. Just like Min will be searching high and low for a new job unless Yours Truly gets some more of that sweet sweet caffeine, stat.
So, hands on hearts, ENJOY!
1. The Best USA Bling Online: Swarovski American Flag Pin Brooch in Gold Tone with Crystals.
2. Sequin American Flag in Red White Blue Glam Cami Top.
3. Patriotic American Flag Sequin Top with Short Sleeves and V-Neck.
4. iPhone Mini American Flag Bling Back Case with Rhinestones.
5. American Flag Printed Rhinestone Cap.
6. Sequin USA Bling Wrap Dress with One Shoulder Mini Dress.
7. American Flag Travel Tumbler Custom Embellished with Rhinestones.
8. USA Bling High Heels Suede Embellished Pump with Pointed Toe
9. USA Bling Romper Style Dress.
10. USA Bling Patriotic V-Neck Stars and Stripes Sequin Slim Dress with Straps.
11. USA Bling Black Suede Hair Glove with Rhinestones.
12. Red White Blue Sequin American Flag Dress with U-Neck and Sleeveless.
13. Sequin USA Bling Bikini Bra.
14. Elegant Heart with Red and Blue Enamel and Swarovski Crystals USA Bling.
15. Crystal USA Flag Design License Plate Frame with USA Flag Bow Design.
16. The Best USA Bling Online: Rhinestones Studded Mask with USA Bling.
17. USA Bling Flip Flop with Wedge Heels and Rhinestones.
18. Magnetic Golf Hat Clip with Bling Metal Golf Ball Marker.
19. Short Sleeves V-Neck Tee with USA Bling Rhinestones.
20. Bling American Flag Keychain Handbag Charm with Rhinestones.
21. USA Bling Bow Tie Pin with Rhinestones.
22. USA Bling Sequin Long Sleeve Front Zip Jacket.
23. American Flag Sequin Sleeveless U-Neck Short Dress.
24. Patriotic American USA Flag Sequin Off the Shoulder Blouse Top.
25. USA Bling Flag Sequin Bow Tie with Elastic Band.