Shop bling phone cases on Amazon RIGHT NOW, poppets
Miss Cee is not gonna beat around the bush here.
You NEED to bling your cell phone.
Here at SequinQueen we bring you all kinds of amazing bling. But some of the most incredible sparkle you can buy is for your phone.
The UTTERLY perfect thing about phone bling is that you are going to get a whole passel of shimmer for your hard earning but easily parted with buck.
First, because most blinged out cell phone cases are totally OTT. It is downright shocking how many crystals and rhinestones you can cram onto such as small area.
Second, because there is no other modern accessory that gets as much use as your damn phone.
And THAT means you'll be in a constant state of bling.
Not a bad way to go through your day.
Or life.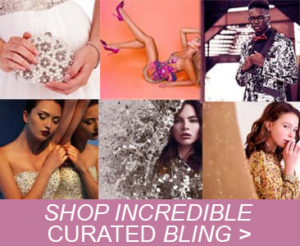 So scroll down for the most drool-worthy bling Amazon mobile phone cases you can shop immij.
Oh, and you'll find that many of these cases are also shockproof. They make your phone look stunning AND protect it.
That's what we call a bling win-win.
And if you need some more sparkling fashion ideas? Check out our curated range of Women's Bling Fashion and Women's Bling Accessories.
1. Handmade Glitter Shiny Rhinestone Diamond Mobile Case.
2. Studded Rhinestone Crystal Bling Diamond Sparkly Rugged Slim Mobile Case Cover.
3. Bling Diamond Rhinestone Bumper with Ring Kickstand Mobile Cover.
4. Mobile Cover with Rhinestone Diamond and Mirror Makeup with Ring Holder.
5. Shop Bling Phone Cases: Rhinestone Diamond Bumper Clear Protective Mobile Case Cover.
6. Sparkle Crystal Diamond Full Cover Phone Case for Apple iPhone 12 Pro Max.
7. Handmade Crystal Bling Rhinestone Pumpkin Car Soft Case for iPhone.
8. Unique 3D Handmade Crystal Pink Pearl Floral Lipstick Design Shiny Case for iPhone.
9. Bling Sparkly Shiny Soft Flexible TPU Slim Fit Drop Protection Shockproof Cover Case.
10. Shop Bling Phone Cases: Phone Finger Ring Stand with Sparkly Diamantes.
11. Bling Diamond Camera Lens Protector for iPhone 11 Pro.
12. iPhone 12 Pro Max Diamond Butterfly Flower Mobile Case Luxury 3D Bling.
13. iPhone 12 Pro Max Case with Shiny Sparkle Glitter Rhinestones Shockproof.
14. Shop Bling Phone Cases: Built-in Diamond Clear TPU Protective Phone Case.
15. iPhone 12 Pro Max Glitter Case with Diamond Rhinestone Crystal Protective Cover.
16. 3D Handmade Bling Sweet Heart Rhinestone Crystal Diamond Design Phone Cover Case.
17. 3D Handmade Crystal Dragonfly Rhinestone Design Phone Cover.
18. Elegant Phone Case Series with Rhinestone Black Flowers Pendant.
19. 3D Handmade Bling Crown Ring Stand Flowers Rhinestone Crystal Diamond Cover Case.
20. 3D Handmade Cover for iPhone with High Heels, Flowers and Rhinestones.
21. Crystal Inlaid Diamond Flowers Rhinestone Bling Mirror Back TPU Case & Ring Stand for iPhone.
22. Glitter Colored Diamond Bling Luxury Rhinestone Bumper Protective iPhone case.
23. Sparkle Mobile Case Compatible with Moto Z4 – Stylish – 3D Handmade Bling.
24. iPhone 11 Case – 3D Handmade Luxury Bling Crown, Handbag and Glitter Rhinestones.
25. Shop Bling Phone Cases: iPhone 11 Case with 3D Handmade Luxury Bling Crystal and Rhinestones.
26. Elegant Phone Case Series Rhinestones Embellished Heart and Flowers Handmade Design.
27. Sparkling Mobile Phone Case with 3D Lips Lipstick Handmade Bling.
28. Leather Wallet Phone Case Compatible with Moto G7 with Glittering Rhinestones.
29. Handmade Girls Lipstick High Heel Flowers Design Leather Mobile Case for Samsung.
30. Leather Wallet Phone Case Compatible with Moto with 3D Handmade Night Owl Design.
31. Elegant Phone Case Series Retro Rhinestone Flowers Handmade Design with Rhinestones.
32. Rainbow Unicorn Lollipop Handmade Design Phoe Case with Rhinestones.
33. Elegant Phone Case Series Butterfly Fairy Handmade Design with Glittering Rhinestones.
34. 3D Handmade Wallet Phone Case Compatible with iPhone 11 Pro with Rhinestones.
35. Elegant Phone Case with Heart Pendant, Bear Lovers Handmade Design with Rhinestones.