Bedroom Bling: After a long day, the only thing that we love to do is curl up in bed and catch up with some good sleep.
You'll definitely want to make sure you're doing so in a beautifully designed bedroom
Your bedroom should be optimized for sleep first, with a downlike mattress, soft blankets, and an ambient noise machine if required.
But is it always a good idea to add some bling to your bedroom?
The answer is a big YESSSssssss.
It's a long list of design decisions, and we are putting together a few bedroom bling decors to help you decorate your bedroom.
We've rounded up a list of bedroom decors that will suit just about everyone's tastes. Sleep tight!
Keep these key designer-approved tips in mind whether you're furnishing your room from scratch or just tackling some overdue upgrades.
Tips to Bling Your Bedroom:
Ensure your space isn't cramped – a large mattress may seem nice and luxurious, but not if it will make your entire sleep space appear teeny tiny as a result.
You'll thank yourself later when you have some extra room for nightstands on either side and have bedroom bling!
Just as anybody doesn't want their bedrooms to feel cramped with furniture, you don't want it to feel too scrambled with accessories and other belongings, either.
Make sure your bedside table has a drawer in it so that you can use them as storage for your valuable things.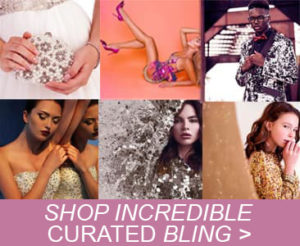 Matching nightstands with matching lamps make perfect bedroom bling.
If there is a window in the room, add a similarly sized mirror on the other side to visually balance the look.
Your bedroom should be home to more than just a bed, dresser, and nightstands, of course.
Adding a bench or some sort of seating at the foot of the bed would be a good idea.
last but not the least, go ahead and give those walls a little love by hanging some blinged-out photo frames with those unforgettable moments.
Here's SequinQueen's curated selection of the Best Bedroom Bling decors on Amazon, just for you.
1. Large Standing Body Mirror with Standing Holder and Embellished Sequins Frame.
2. Silver Mirror Crushed Diamond Decorative Wall Shelf.
3. Sparkly Touch Control Crystal Table Lamps Set of 2.
4. Lush Décor Night Sky Panel Sequin Curtain for Bedroom.
5. Flush Mount Crystal Lighting Ceiling Lamp.
6. Bling Game 7-Drawer Dresser with Stacked Bun Feet Metallic Platinum.
7. Shiny Silver Rhinestones Wall Mounted Coat Rack 5 Hooks.
8. Crushed Diamond Table Lamp, Modern Art Bedroom Decor.
9. 2 Pack Sparkling Crystal Flower Curtain Tiebacks for Bedroom.
10. 38" Upholstered Black Faux Leather Ottoman with Crystal Tufted Button.
11. Crystal Diamond Mirrored Wall Shelf.
12. Modern and Contemporary Black Faux Leather Upholstered Ottoman.
13. Royal Wooden Queen Size Platform Bed Backboard with Rhinestones Pins.
14. Luxury Rhinestone Alarm Clock Morning Call Super Silent Non-Ticking.
15. Crush Diamond Mirror Photo Frame Bling.
I see bold accessories as a woman's armor. — Rachel Zoe