25 Best BLACK SEQUIN DRESS Videos on Instagram, curated by SequinQueen, are ALL jaw-dropping. Their stylish ingenuity showcases both the cuts of each dress and also the inventive sequining and crystal styles.
Thrill to short black sequin dresses and long black sequin gowns with a more practical edge too. Like a maternity dress. Or plus size dresses.
These stunning 25 best black sequin dresses on Instagram are wardrobe staples for event dressing. They are equally at home for an elegant prom or a night on the town as they are on the runway or at the opera.
Often the most stunning black sequin dresses are enlivened with a splash of strong sequin colors. But if you prefer an all black dress you can add color via your shoes, handbag or clutch.
Don't forget SequinQueen's rules for accessorizing sequins and keep jewelry to a minimum and makeup subtle.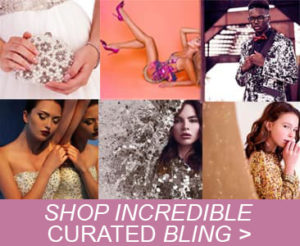 And if you want your very own handmade and custom-sized black sequin dress head over to SQSequinDresses and choose your perfect fashion forward match!
1. Long Black Sequin Gown with Short Sleeves and Hanging Fringes.
2. Long Sequin Off The Shoulder Sweetheart Neckline with Mesh Skirt.
3. Black Sequin Long Gown with One Shoulder Long Sleeves.
4. Sweetheart Neckline Black Sequins Long Mirror Gown.
5. Magnificent Black Long Gown with Rhinestones and Sequins.
6. Black and Silver Tube Top Short Sequin Dress.
7. Off The Shoulder with Long Sleeves and V-Neck Beaded and Sequin Gown.
8. One Shoulder Long Sleeves Black Dress with Gold Mirror Sequins.
9. Black Sequin See Through Mesh Dress with Spagethi Straps.
10. Off The Shoulder Black Short Dress with Colourful Rhinestones.
11. Long Coat Pattern Hanging Beads Fringes with Long Sleeves Dress.
12. One Shoulder Sleeveless Black Sequin Dress with Silver Trims and High Slit.
13. Gorgeous Black Coat Pattern Dress with Crystals and Rhinestones.
14. Long Sequin Gown with High Slit and Sleeveless Dress.
15. Black Sequin Dress with Fringes.
16. Organza Ruffle Short Dress with Rhinestone Bow Tassles.
17. Long Sequin and Beaded Black Gown with Chinese Collar and Open Back.
18. Short Sequin Dress Off The shoulder with Colorfull Sequins.
19. One Long Sleeve See Through Rhinestone Mesh Long Gown with High Slit.
20. Long Sequin Black Off Shoulder V-Neck Sleeveless Gown with High Slit.
21. Deep V-Neck Long Sleeves Wrap Dress with Multi-Color Sequins.
22. Black Long Sleeves Sequin Short Evening Party Dress.
23. Short Sequin Dress with Feather Neckline.
24. Gorgeous Long Black Off Shoulder with Sweetheart Neckline, Sleeveless Gown with High Slit.
25. Black Off Shoulder Short Sleeveless Sequin Dress for Evening Party.