Best Instagram swimwear bling videos. Because when sunshine hits your bling bikini the WHOLE beach will know you're there.
Poppets, Miss Cee is NEVER one to do things by half measures.
Either go hard or go home.
And that includes bling.
After all why have just a touch of bling?
An overload of bling gets the job done quicker.
What job?
The Get Noticed job.
The Look At Me job.
The Good Lord That's FABULOUS job.
Fellow Glitterists get the picture.
Now gather round, kids.
Miss Cee is going to skool you.
Here at the SequinQueen Sparkling Life Magazine that's what we're all about.
Your bling education.
Okay. So write this down.
Bling under lights. Good.
Bling in the sunshine. INCREDIBLE.
It's no secret that nature loves bling.
Think about peacocks for a start.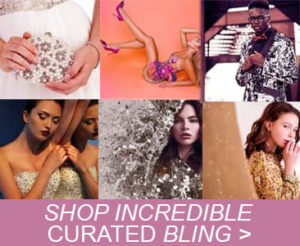 Butterflies.
Iridescent beetles.
Birds of Paradise.
Now think about yourself in one of the FABULOUS inspirational bling swimwear items we've curated for you below.
And if that's STILL not enough beachwear inspiration take a look at our Bling Swimwear Pinterest board for even more!
1. Silver Rhinestone Swimsuit with Tie-Up Back.
2. Black and Gold Sequin Triangle Bikini Set with Side Tie.
3. Dual Tone Rhinestone Swimsuit with Embellished Crystals and Cris-Cross Tie-up.
4. Turquoise Color Bikini with Embellished Straps with Tie-up Side.
5. Glitter while Pregnant in this Rhinestone Embellished Swimsuit with Pullover Long Coat.
6. Pink Triangle Swimsuit Bikini with Crystals and Hanging Chain Straps On Side.
7. White Triangle Bikini Set with Embellished Crystal Flowers.
8. Dreamy New Hues with this Beaded Swimsuit in Turquoise and Brown.
9. Purple Swimsuit with Oval Ring Chain Straps Embellished with Rhinestones and Tie-up Side.
10. Beautiful Handmade Embellished Crystals Bikini Set.
11. Black Triangle Swimsuit with Golden Chain Straps and Rhinestones Embellished Mesh Pullover Coat.
12. Turquoise Blue Bikini with Rhinestone Embellished and Metal Chain Straps.
13. Pink Triangle Bikini Set with Embellished Pearls and Rhinestones.
14. Dual Tone Bling Sequin Biking Swimsuit with Side Tie-ups.
15. One Piece Black and Gold Stripes Sequins Swimsuit with Deep V-Neckline.
16. Purple Bikini Set with Crystals and Rhinestone Embellished.
17. Victoria Secret Special Edition Swimsuit with Embellished Straps.
18. Pride Color Sequin Triangle Bikini Set with Back Tie.
19. Beautiful Torquoise Swimsuit with Rhinestones.
20. Elegant Gold Sequin 2 Piece Swim Wear.
21. Wine Red Rhinestones Embellished Posing Suit.
22. Crystal Crush in Neon Pink Handmade Swimsuit.
23. Shimmering Swimsuit with Rhinestones and Crystals.
24. Custom Handmade Bikini with Dual Tone Rhinestones and Back Tie-up.
25. Sequin Triangle Swimsuit with Link Chain Straps Embellished with Rhinestones.