Best Bling Nails include rhinestone and fake fingernails which are a popular nail art trend that has taken the internet by storm.
These beautiful gems can be added to any nail design and make it look super glamorous.
They come in all different colors sizes and shapes so you're sure to find the perfect one for your needs.
Plus they take just a little bit of polish and patience to apply.
So there's never any excuse not to get involved!
There is so much incredible fashion-forward bling Nail Art online now.
Here at the SequinQueen Sparkling Life Magazine we've edited the best Nail Art into one post.
Scroll down to see the fashion world's most amazing creations with our best bling fingernails online 2022.
To apply bling rhinestone fake fingernails you will need the nails the bling rhinestone nails clear top coat and a sharp object to help you apply the nails.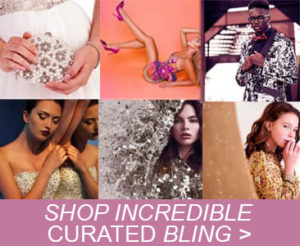 And if these are not enough take a look at our amazing Pinterest boards packed full of bling fashion and accessories.
Once you've got your nails done the next step is learning how to style and accessorize embellished fashion. Our handy style guides will make you a bling style expert!
Need some more sparkling fashion ideas? SequinQueen's curated range of Women's Bling Fashion and Women's Bling Accessories has got your back there too.
Here's SequinQueen's curated selection of the Best Bling Nails on Instagram, just for you.
1. Stilleto Long Nails with Hello Kitty and Crystal Heart Rhinestones with Pink Nail Polish.
2. Long Embellished Brown Nail Polish with Glitters and Rhinestones.
3. Transparent Nail Gloss with Glitters and Rhinestones.
4. Stilettos Pointed Long Pointed Nails with Multi-Colour Rhinestones.
5. A Pink Tone Long Sequin Gown with Deep V-Neck and sleeveless with a Separate Cape-Like Additions To the Straps.
6. Pointed Tip Long Nails with Dual Nail Color Polish and Rhinestones.
7. Transparent Long Fake Square Nails with Silver Glittering Nail Polish and Rhinestones.
8. Long Box Nails with Tri-Color Nail Polish and Embellished Rhinestones Nail Art.
9. Long Stiletto Nails with Blue Gel Polish with Rhinestones and Teddybear Nail Art.
10. Long Coffen Shape Red Nail Polish Fake Nails with Embellished Rhinestones.
11. Long Stelliteo Nails Pointed End with Blue Gel Nail Polish and Rhinestones.
12. Medium Size, See Through Nail Polish with Embellished Rhinestone Trims On The Nail.
13. Shimmery French Nude White Ombre Ballerina Fashion Jewels Press on Nails.
14. Long Stelliteo Pointed Tip Finger Nails with Black Nail Polish and Rhinestones.
15. Coffin Box Long Finger Nails with Multi-Color Rainbow Vibes Nail Polish with Rhinestones.