Shop silver sequin dresses on Amazon. Because a silver sequin dress is a wardrobe STAPLE.
That's right, chickadees.
A staple.
And by that Miss Cee doesn't mean the things you your personal assistant uses in the office.
No. A WARDROBE staple.
Meaning something that EVERY self respecting wardrobe needs.
Even if your wardrobe is just a bunch of scrunched up clothes under your unmade bed.
Lord forbid.
But still, you NEED a silver sequin dress.
Why?
Because a silver sequin dress goes with absolutely ANY color accessory you care to throw with it.
Here at the SequinQueen Sparkling Life Magazine we don't want you to EVER be without bling.
So a silver sequin dress and couple of shimmery accessories is the perfect place to start.
But where, Miss Cee hears her rabid stalkers fans ask, do we find the PERFECT sequin dress?
Well, poppets, the same place you find anything these days.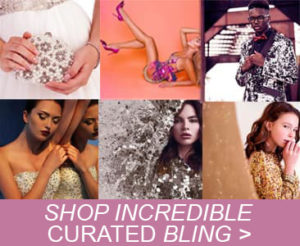 Amazon.
There you'll find an array of silver sequin dresses that will blow your little minds.
Both long silver sequin gowns and short silver sequin dresses.
And the best thing about Amazon?
If it doesn't fit or you don't like it just ship it on back.
Now, luvbugs, Miss Cee does have ONE word of warning.
Actually, more than one word.
Don't go overboard on the bling.
Shocking to hear one Cee Cee Quin admit it but true.
So shop silver sequin dresses on Amazon.
But ALSO check out our handy guide about how to wear and accessorize sequins.
Then if you need even MORE silver dress bling inspiration check out our glittering silver sequins dress Pinterest board.
1. Women's Harper Sequin Sleeveless Plunging Long Gown with V-Neck.
2. Women's Kimberly Sleeveless Sequin Spaghetti Strap Shift Dress.
3. Glitter Silver Short Sequin Dress Adjustable Spaghetti Strap.
4. Silver Sequin Sleeveless Bodycon Wrap Dress with V-Neck.
5. Michael Kors Womens Silver Sequined Slip Party Dress.
6. Silver Sequin Long Floor Length A-Line Formal Evening Dress with V-Neck.
7. Silver Sequin Stretchy One Shoulder Cocktail Party Mini Dress.
8. Silver Sequins 1920s V-Neck Vintage Gatsby Party Dress.
9. Silver Sequins Deep V-Neck Mini Dress with Long Sleeves and Deep Cleavage.
10. Silver Sequin Long Off Shoulder Dress.
11. Silver Sequins Mermaid Long One Shoulder Dress with High Slit.
12. Elegant Silver Sequin Mermaid Short Sleeves Long Evening Dress.
13. Silver Sequin V-Neck Skater Mini Club Cocktail Dress.
14. Silver Sequins Long Sleeves High Back and Neck Dress.
15. Silver Sequin One Shoulder Beaded Mermaid Cut Out Long Evening Gown.
16. Silver and Black Sequins Short Sleeve Dress with V-Neck.
17. Silver Plus Size Lace Embellished Top with Satin Bottom Gown.
18. Retro Classic Silver Sequin Calvin Klein Short V-Neck and Sleeveless Dress.
19. Silver Sequins Off Shoulder Long High Split A-line Glitter Formal Dress.
20. Silver Sequin Long Sleeves Classic Neck Short Dress with Bow Tie-up Belt.
21. Silver Sequined Cutaway Sleeveless Long Ball Gown.
22. Short Silver Sequin Sleeveless Tulle Dress with Lace Appliques.
23. Short Silver Sequin Lace Cocktail Party Dress Appliques.
24. Silver Sequin Strapless Off Shoulder Sleeveless Sweetheart Neckline Dress.
25. Silver Sequins and Corded Lace Long Sleeveless Gown.
26. Silver Sequins Sleeveless Halter Wrap Gown with Deep V-Neck.
27. Silver Paillette Tassel Latin Dance Dress Samba Costumes.
28. Silver Sequins Women's Short Embroidered Dresses with Short Sleeves.
29. Silver Sequins Cocktail Dress with Long Puff Sleeves.
30. Silver Sequins Shauna Long Sleeve V-Neck Bodycon Mini Dress.
31. Silver Long Sleeve Sequin Sheath Cocktail Dress.
32. Silver Sequins Long Sleeveless Gown with V-Neck and Front High Slit.
33. Silver Sequins Long Sleeve with V-Neck Surplus Wrap Dress.
34. Silver Sequins One Shoulder Blouson Cocktail Dress.
35. Silver Sequins Boatneck Sleeveless Swing Vintage 1950s Cocktail Dress.