Instagram's most amazing celebrity bling. Because SOMEONE has to blaze the bling trail.
Yes, kids, and that someone may as well be your fav celeb.
How many pieces of bling clothing or accessories do YOU own?
One?
Five?
Hundreds?
Do you need a whole house room just to keep your shimmering fashions in?
If so you're a Glitterist after Miss Cee's very own heart.
But no matter how many pieces of bling you have, a celeb has tried and tested each and every one of them.
Isn't that kind of them?
Well, no.
Celebrities often get their bling for free.
Lots of times they get to keep it too.
Sometimes they even get PAID to wear that bling.
Though if it's an eye wateringly expensive set of jewelry they'll have to give THAT back.
Armed guards standing nearby will make sure of that.
And that no one ELSE gets anywhere near the Good Stuff.
Designers are always eager to get publicity for their latest creations.
But they also want FEEDBACK on those new lewks.
Here at the SequinQueen Sparkling Life Magazine we love bling so much we spend MOST of our waking hours searching social media for the newest shining trends.
And that is EXACTLY what designers of bling shoes, bags, jewelry and clothing do.
They check their accounts and accounts of influencers to see how many likes and comments their items are generating.
For obvious reasons.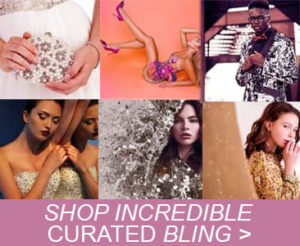 Then they know what is going to sell well and make their businesses the most money.
So next time you see your favorite actor or singer strutting their stuff on the red carpet take special note of what they are modeling.
It might just end up the next item YOU buy.
Or it may be a one off.
Never to be repeated.
So take an inspirational look at Instagram's most amazing celeb bling, curated just for you DIVINE poppets by all of us the minions Miss Cee delegates everything to here at SequinQueen.
1. Cardi B Wearing a Long Sequin Red Gown with Long Sleeves and Feathers and Jeweled Head Dress.
2. Instagram's Most Amazing Celebrity Bling: Lady Gaga in an Off The Shoulder Long Silver Sequin Gown.
3. Selena Gomez Wearing a Long White Strap Gown with Embellished Rhinestones and Sequins with High Slit.
4. Blake Lively Wearing a Long Gold Beaded Gown with Train and Deep V-Neck and Long Sleeves.
5. Gwen Stefani in an White Off The Shoulder Sleeveless Mini Dress with Rhinestones and Thigh High Heel Boots.
6. Instagram's Most Amazing Celebrity Bling: Lady Gaga Sporting Glittering Black Sequin and Rhinestone Bikini Wear.
7. Katy Perry Wearing a Chandelier Costume Dress for The Met Gala.
8. Kylie Jenner Wearing a Purple Long Sequin Off The Shoulder Dress.
9. Gigi Hadid in a White, Silver and Gold Long Sleeves High Neck Sequin Gown with Glittering Earrings.
10. Instagram's Most Amazing Celebrity Bling: Emily Ratajkowski Wearing a Backless Long Body Chain Gown.
11. Awkwafina Wearing a Long Silver Sequin Suit with Bow Tie and Loose Hair.
12. Zendaya Wearing Her Met Gala Costume.
13. Which Celeb Wears Bling Best?
14. Rosie Huntington-Whiteley in a White Embellished Sleeveless Gown with a Twist.
15. Instagram's Most Amazing Celebrity Bling: Lily-Rose Depp Wears a Black Sleeveless V-Neck Gown with Golden Body Chains.
16. Billie Eilish Wearing a White D&G Coat and Pant with Embellished Pins.
17. Best Met Gala Costumes. Which Do You Like?
18. Instagram's Most Amazing Celebrity Bling: Katy Perry Dresses in Gold Sequin and Embellished Short Dress with Angel Wings
19. Selena Gomez in a Long White Sleeveless Embellished Gown.
20. Instagram's Most Amazing Celebrity Bling: Usher Wearing a Black Long Sleeves Embellished Hoodie.
21. Zayn Malik Wearing a Black Waist Coat with Silver Metallic Sleeves and Gigi with a Long Off the Shoulder Sequin Embellished Gown.
22. Nicki Minaj Wears a Fiery Red Long Embellished Gown with Long Train and High Heels.
23. Instagram's Most Amazing Celebrity Bling: Zendaya Wearing a Optic Fiber Glowing Disney Dress.
24. JLo in a Long Sleeveless Rhinestone Embellished Gown with High Stiletto Heels.
25. Instagram's Most Amazing Celebrity Bling: Kylie Jenner Shows Off a White Long Sleeves Embellished Gown with Beaded Fringes.