Bling belly rings are not what most Glitterists think of for jewelry.
Partly because belly rings are often hidden under clothing. Unless you're at the beach.
Or rocking a midriff or crop top.
But also because belly rings are still a little bit bohemian. A little daring.
For the free spirited.
Which is wonderful. And part of belly rings' appeal.
Thankfully, there's increasing enthusiasm for belly rings. Plus there's a simply massive range of bling for your belly now available.
Bling belly rings are one fashion trend that is not going anywhere.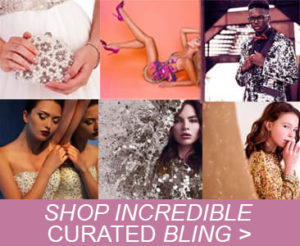 So if you want to make your belly shine on, shop the best of bling belly rings SequinQueen has curated from Amazon below.
And if you need sparkling fashion ideas for other parts of your gorgeous body? Check out our edited selection of Women's Bling Fashion and Women's Bling Accessories online now.
1. Stainless Steel Belly Button Rings Rhinestone Disco Balls Screw.
2. Colorful Rhinestones Ball Navel Ring.
3. Stainless Steel Teardrop Pear Cubic Zirconia Vintage Navel Rings.
4. Belly Button Rings Stainless Steel Rhinestone Crystal Disco Ball.
5. Stainless Steel and Rhinestone Dangle Belly Button Ring and Earrings Set.
6. 10k White Gold Dangly Rhinestone Belly Button Ring.
7. Three Piece Belly Button Rings Surgical Steel Navel Piercing Body Jewelry.
8. Dangle Belly Button Rings in Surgical Stainless Steel.
9. Rhinestone Belly Button Ring Surgical Steel Love Heart Pendant with Navel Waist Chain Body Jewelry.
10. Set of Stainless Steel Crystal and Opal Navel Rings.
11. Rhinestone Flower Belly Button Ring in Surgical Steel.
12. Playboy Bunny Dangle Navel Ring.
13. Surgical Stainless Steel Belly Rings with Turquoise Marble and Rhinestones.
14. Reverse Navel Rings Curved Barbell Body Piercing with Rhinestones.
15. Pair of Rhinestone Button Maple Leaf Buds Belly Rings.
16. Reverse Belly Button Rings Dangle Flower with Rhinestones.
17. Stainless Steel Iridescent Accent Beach Turtle Dangle Belly Ring.
18. Shiny Navel Belly Button Ring of Rhinestone Inlaided Body Piercing Jewelry.
19. Tragus Stud Surgical Body Piercing 14 Designs Belly Ring Set.
20. Eight Piece Rhinestone Pearl Belly Button Ring Dangle Body Jewelry.
21. Angel Winged 8mm Heart Top Down Belly Button.
22. Cubic Zirconia Long Dangle Navel Ring Platinum in 18K Gold Plate.
23. Surgical Steel Vibrant Rhinestone Flower Round Shape Navel Ring.
24. Belly Button Ring Navel Rhinestone Reverse Body Jewelry Dangle.
25. Assorted Sets of Belly Button Ring Double Multicolor Rhinestones.
26. Stainless Steel Belly Piercing Jewelry with Rhinestones.
27. Stainless Steel Belly Piercing Jewelry In Rose Gold with Rhinestones.
28. Assorted Sets of Belly Button Ring with Rhinestones In Yellow Gold.
29. Assorted Sets of Belly Button Rings In Sterling Silver and Pearl with Rhinestones.
30. Belly Button Surgical Steel with Heart Shape Rhinestones Ring.
31. Surgical Steel Belly Ring with Hanging Rhinestones and Beaded Charms.
32. Pregnancy Belly Button Rings with Long Bar Sport and Rhinestones.
33. Assorted Sets of Belly Button Ring with Hanging Charms and Rhinestones.
34. Short Belly Button Rings In Heart Butterfly Snake Flower Design.
35. Assorted Sets of Belly Button Ring Double Multicolor Rhinestones.