Best Carnival Bling Instagram videos. Because beautiful people enjoying life and dancing in sequins, beads and crystals will brighten any day.
Carnival is the pinnacle of bling anywhere on Earth.
Especially the Rio Carnival.
In fact it's a wonder that there are enough sequin, rhinestones and mirror acrylics in the world for Rio.
As anyone who follows SequinQueen and the SequinQueen Sparkling Life Magazine knows, we adore bling.
So it's no surprise that we've written about it a lot:
This post isn't going to recount all the fabulousness of carnival in all its iterations.
You can find that sparkly information in the links above.
Instead, this post is about the fun stuff.
Talented dancers shaking everything and getting their carnival kicks.
They say a picture is worth a thousand words.
In that case these glittering best carnival bling Instagram videos are worth about a million words.
So enjoy the visual feast below the hardworking Glitterists at SequinQueen have curated.
Just for you.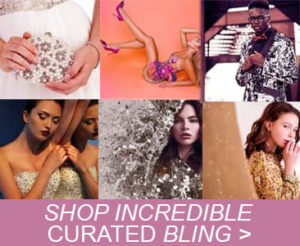 1. Carnival Costume with Embellished Bikini and Purple Feathers.
2. Green Embellished Carnival Wear with Deep V-Neck and Sleeveless Lingrie.
3. Gold Lingerie with Sequins, Headdress and High Heels Carnival Costume.
4. 𝘑𝘦𝘸𝘦𝘭𝘦𝘥 𝘞𝘪𝘳𝘦 𝘉𝘳𝘢, 𝘍𝘳𝘰𝘯𝘵𝘭𝘪𝘯𝘦 𝘛𝘪𝘢𝘳𝘢, 𝘍𝘳𝘰𝘯𝘵𝘭𝘪𝘯𝘦 𝘕𝘦𝘤𝘬𝘱𝘪𝘦𝘤𝘦, 𝘈𝘳𝘮 𝘗𝘪𝘦𝘤𝘦𝘴, 𝘛𝘩𝘪𝘨𝘩 𝘗𝘪𝘦𝘤𝘦𝘴, 𝘓𝘦𝘨 𝘗𝘪𝘦𝘤𝘦𝘴.
5. Embellished Bikini Wear with Purple Feathers, Head Wear and High Heel Sandals.
6. "𝗤𝘂𝗲𝗲𝗻 𝗼𝗳 𝘁𝗵𝗲 𝗦𝗼𝘂𝘁𝗵" for Miami Carnival with Lingrie Embellished Rhinestones.
7. Elegant Beaded Lingerie with Long Finger Nails, Loose Hair and Accessories.
8. Colorful Crystals with Beaded Fringe Bikini Wear with Head Chains and High Heels.
9. Gold Sequins Embellished Bikini with Head Crown, High Heels and Feathers.
10. Beads and Sequin Embellished Bikini Wear with a Crown and Feather Carnival Costume.
11. Best Carnival Bling Instagram Videos: Ready for The Carnival?
12. Purple Metallic Swimwear with Embellished Rhinestones and Headpiece and Feathers.
13. Embellished Bikini with Hair Accessories and Feathers for Carnival.
14. Pink One Piece Swimwear with Feather Wings Carnival Costume.
15. Silver Embellished Bikini Wear and Head Chain with Beaded and Rhinestone.
16. Could a Carnival Costume Be Any Better?
17. Blue Crystal Embellished Bikini with Bangles and High Heels with Feathers.
18. Purple Love Carnival Costume with Feathers and Rhinestones.
19. Glittering Carnival Costume with Feathers.
20. Gold Bikini Wear with with Orange Feathers with A Necklace Choker.
21. Gold Sequins Bikini Wear with Head Chains and High Heels and Feathers .
22. Love this Crystal and Embellished Carnival Costume with Feathers?
23. Shimmering Rhinestone Carnival Costume with Feathers, Accessories and High Heels.
24. Green One Piece Swimsuit with Head Chains and Flat Gold Metallic Ankle Shoes.
25. Multi-Color Embellished Swimsuit with Necklace, Bangles, Shades and Feathers.