Best Bling for your hair 2023. Because you NEED to know just how FABULOUS your hair can get!
Seriously, chickadees.
Trust Professor Miss Queen Cee for a hot mo.
Ready for skool?
Good.
There are several UTTERLY trail blazing types of bling.
AND bling for your hair.
The amount of types of best bling for your hair 2023 has exploded.
Previously the only bling you could wear on your head was a tiara.
Maybe a glittery hair clip or barrette.
A crown.
If'n you were THE queen.
These days you can hide your bad hair day with sparkling baseball caps.
Or bling headbands.
Here at the SequinQueen Sparkling Life Magazine we are HUNGRY for the very latest bling trends.
Spesh for your hair.
So we've inhaled Instagram to find the most AMAZING and cutting edge bling hair accessories and trends.
That's right, kids.
All you have to do is scroll down.
THRILL to beaded and crystal wigs. Long and short.
See how to add shiny tinsel or glitter to your locks.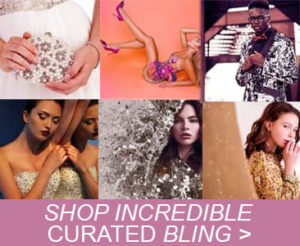 Or how to get creative with rhinestone hairpins and strands.
What about chunky EXTRA bling crystals?
Yep.
Oh, and pearls.
Got them too.
And if that's STILL not enough hair stylin' inspo head over to our Bling Hair Pinterest board for even more!
1. Long Silver Rhinestones Headpiece Glittering Hair.
2. Long Blond Hair Plait with Rhinestone and Pearls Hair Pins.
3. Long Hair Plaits with Beaded and Rhinestone Hair Accessory.
4. Blossom Hair Magnet Clip & Mini Combs with Rhinestones.
5. Glitter LED Hair Tinsel with Optic Fiber.
6. Shimmering DIY Hair Glitter.
7. Elegant Bridal Hair Style with Rhinestone Hair Pins.
8. Beautiful Hair Style with Glitterng Rhinestones Embellished Hair Clip.
9. Silver Sparkling Hair Clips with Rhinestones.
10. Short Silver and Gold Leotards with Rhinestone Chain Headpiece.
11. Silver Spiral Hairband with Rhinestones.
12. Ponytail Hair Style with Pearl Hair Clips and Pins.
13.Shining Link Chain Hair Bling.
14. Long Rhinestone Crystal Hair Chains.
15. Beautiful Rhinestones Embellished Head Dress.
16. Plaited Hair with Rhinestone Hair Pins.
17. Silver Glittering Crystal Hair Pins and Clips.
18. Gold Glittering Link Chain Hair Accessories with Rhinestone Chains.
19. Loose Hair with Bobby Hair Pins with Rhinestones.
20. Glittering Purple Rhinestones Embellished Hair Pins.
21. Colorful Rhinestone Hair Clips and Bobby Pins.
22. Crystal Hair Braids.
23. Shimmering Colorful Rhinestone Hair Pins.
24. Glittering Hair Updo with Rhinestones.
25. Braided Hair Style with Embellished Rhinestones on Hair.