Astounding mirror dress Instagram videos. Because these bling dresses are maximum bling couture.
It wasn't so long ago that bling on a dress depended on how many sequins it had.
Or beads.
Or rhinestones.
In fact, rhinestones were pretty much the ultimate in bling for decades.
And then mirror dresses and gowns came along.
Mirror dress fashion is not made with pieces of real mirror.
Real mirrors are too brittle and have sharp edges.
Plus they would be way too heavy to cover a whole dress in.
These mirror pieces are actually made of shiny acrylic.
Basically a glittery type of plastic.
Sometimes they are attached to the dress base using fabric glue.
But more often tiny holes are drilled into the corners or edges of the acrylic pieces.
These holes let skilled seamstresses sew the acrylic pieces to the dress using thread.
And that means mirror dresses and gowns are not only very glittery but also very durable.
Here at the SequinQueen Sparkling Life Magazine that's what we're all about.
Anything very glittery.
Which is why it's such a bonus that acrylic mirrors are no longer only on dresses.
You'll find them sparkling on festival costumes.
Men's suit coats.
Even hats.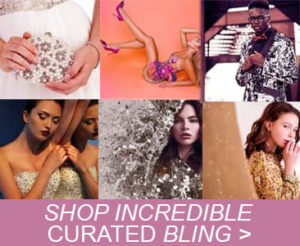 But whatever acrylic mirrors end up on they give maximum sparkle to.
Their bling surface area is larger than even paillette sequins.
And enormous compared to tiny rhinestones.
So scroll through the astounding mirror dresses on Instagram the hard working SequinQueen Glitterists have curated.
You'll be as blown away as we are!
But if you need even more big bling inspiration take a look at our mirror dress Pinterest board!
1. Short Gold Mirror Dress with Long Sleeves and High Neckline.
2. Mirror Sequin Embellished Long Orange Gown with One Sleeve.
3. Gold Off the Shoulder Sleeveless Mirror Dress and Black Ruffle Skirt.
4. Gold Glittering Mirror Sequin Body Suit with Long Sleeves and Beaded Fringes.
5. Silver Sequin Mirror Dress with High Neck, Open Back and Sleeveless Dress.
6. Long Black Gown with Mirror Sequin Trim on One Side with One Shoulder Long Sleeves.
7. Off Shoulder Sleeveless Mirror dress in Grey Color with Fur Skirt.
8. Off Shoulder Sweetheart Neckline Sleeveless Dress with Mirror Sequins and Short Skirt.
9. Silver Mirror Sequin Sleeveless Short Dress with High Neck.
10. Short Off the Shoulder Mirror Sequin Dress with Sweetheart Neckline and Tie Back.
11. Black One Shoulder Sleeveless Gown with Silver Mirror Sequins and High Slit Dress.
12. Long Sleeves High Neck Long Gown with Glittering Mirror Sequins.
13. Long Off the Shoulder Silver and Gold Mirror Sequin Gown with Silver Mirror Sequin Men's Blazer.
14. Long Sleeves Gold Mirror Sequins Gown with High Neck Dress.
15. Short V-Neck Sleeves Red Mirror Sequin Dress.
16. Short Black Sleeveless Dress with Mirror Sequins Embellished with V-Shape Hemline.
17. Silver Mirror Sequin Dress with Short Maggie Sleeves and High Neck Embellished with Crystals.
18. Silver Mirror Jump Suit Lady Gaga Style for Parties.
19. Grey Long Sleeves Coat and Skirt with Sparkling Mirror Sequins.
20. Silver Mirror Sequin Set with Men's Jacket, Pant and Shoes with Ladies Top, Skirt and Shoes.
21. Beautiful Classis Neckline Black Long Gown with Long Bell Sleeves and Mirror Sequins Embellished Dress.
22. Short Sleeves Blue Shade Long Gown wit Back Slit and Sweetheart Neckline Embellished with Gold Mirror Sequins.
23. Shimmering Green Mirror Sequin Sleeveless Long Gown.
24. Custom Handmade Silver Mirror Sequin Sleeveless Dress with Halter Neck.
25. Multi-Color Mirror Sequins Long Cami Top Gown with Tie Back and High Slit.