Best celebrity bling videos on Instagram. Because bling to celebs is like honey to bees.
In other words, NECESSARY, luvbugs.
Could you imagine a red carpet event where NO Hollywood celebrities turned up with some form of bling on?
No, neither can Miss Cee.
Bling is a way of life to any self-respecting celeb or movie star.
And fortunately for those veryselfsame celebs they get GIVEN most of their bling.
Yep, that's right, kids.
From jewelry to shoes to dresses. Big name fashion houses like Givenchy, Dior and Prada compete to offer their blinged out wares to the hottest star of the moment.
Of course the celebs have to give the big ticket jewelry items back.
But a lot of the time they DO get to keep the sequin dresses, rhinestone shoes and crystal embellished bags.
And your favorite celeb will usually do a deal with a design house to cover all their expenses on the day or night.
After all, stylists and hairdressers and manicurists and makeup artists and limos and hotel penthouse suites don't come cheap.
At this point you might be wondering what's in it for the designers.
EXPOSURE, chickadees. PUBLICITY. And a lot of both.
Pretty sweet deal, right? Imagine if one of the world's most exclusive fashion or jewelry companies covered all YOUR expenses next time you had a night out!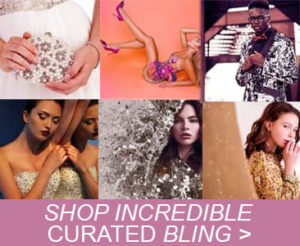 So dare to dream and marvel at the DIVINE lewks of your fav celebs in bling below. All lovingly curated by the dedicated team of Glitterists here at SequinQueen.
And once you've done scrolling, be sure to check out The Sparkling Life Magazine's essential tips and tricks for accessorizing with bling.
Because you never know when YOUR big moment on the red carpet will come.
1. Nicki Minaj Wearing a Sleeveless Dress with an Embellished Head Dress with Rhinestones and Diamonds.
2. Kylie Jenner Wearing a Long Sequin and Beaded Gown with Long Sleeves.
3. Dua Lipa Wearing a Sequin Vogue Gown with Long Train.
4. Bella Hadid in a Stunning Black Long Strap Gown with Embellished Stones.
5. Gigi Hadid Wearing an Off Shoulder Long Sweetheart Gown with Sequins.
6. Gigi Hadid Wearing a Long Sequin One Shoulder Gown with High Slit.
7. Kylie Wearing a Black Cold Shoulder Embellished Gown.
8. JLo in an Elegant Gold Long Gown with Embellished and Beaded Gown with Crown.
9. Best Celebrity Bling Videos on Instagram: Jennifer Lopez Wearing a Blue Sequin Glittering Spaghetti Strap Bodice.
10. Gigi Hadid, the "Versace Queen" in Her Best Sequin and Glittering Outfits.
11. Gigi Wearing a Michael Kors Long Beaded and Sequin Gown and Many Other Sequin Gowns.
12. Best Celebrity Bling Videos on Instagram: J-Lo Wearing a Red Sequin Swim Suit.
13. JLo Showing Her Abs in this 2 Piece Sequin Top with Long Sleeves and Skirt.
14. Rihanna Wearing a Long Gold Gown with Fur, Sequins and Embellishments with Long Train.
15. Best Celebrity Bling Videos on Instagram: Rihanna Rocks a Stunning Embellished Long Sleeveless Gown with Glittering Hairband.
16. Bella Hadid Wears a Long Sleeves Short Dress with High Neck in Gold and Black Sequins.
17. Jennifer Lopez Performing Live On Stage Wearing a Transparent Jumpsuit with Embellished Mirror Sequins.
18. Best Celebrity Bling Videos on Instagram: Miley Cyrus Wearing a Sequin Sleeveless Top and Mini Skirt.
19. Best Celebrity Bling Videos on Instagram: Miley Cyrus Wearing a Black Short Sleeves Rugby Jersey.
20. JLo Sporting a Gold Sequin and Embellished Long Gown with Deep V-Neck and Sleeveless.
21. Jenny from the Block Wearing a Versace Embellished Jungle Floor-Length Dress with Deep V-Neck.
22. CardiB Wearing a Red Long Sleeves Sequin and Embellished Gown with Stoned Head Wear.
23. Best Celebrity Bling Videos on Instagram: Zendaya Wearing a Long Cinderalla Gown.
24. Katy Perry in a Candle Stand Inspired Dress and Headpiece.
25. Best Celebrity Bling Videos on Instagram: Katy Perry in a Moschino Sequin Burger Inspired Dress.