Best celebrity Jewelry Videos 2021. Because Instagram is the perfect place to show off major bling jewels.
Imagine the combined weight of all the top drawer jewelry your favorite celebrity wears over the years.
Probably the kilograms of gold, diamonds, sapphires, emeralds and rubies are heftier than the celebs themselves.
Here at the SequinQueen Sparkling Life Magazine we can't get enough of celebs in big bling or just big bling jewelry.
So if you want an eye popping experience after this post check out these articles for even more celeb and jewelry bling:
But right now thrill to the best celebrity bling videos on Instagram.
But let's face it.
Nothing beats a video.
Especially if that video is of your favorite celebrity shining and sparkling like a dream all over Instagram and the red carpet.
You may be lucky enough to afford some major jewels of your own.
In which case consider your nearest blinged out celebrity the best jewelry showroom inspiration you can find.
Just like looking with no intention to part with the big bucks yourself? Gawk away!
You never know when your ship will come in.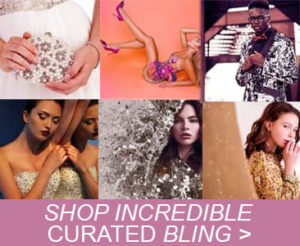 And once you're done drooling be sure to check out EVEN MORE astounding celebrity bling jewelry on our Pinterest board.
1. Porsha Wearing a Pair of Bling Earrings.
2. Dita Von Teese Wearing her White and Green Gem Stones Earring with Matching Bracelet.
3. Dita Von Teese Shows Off a Shining White Diamond Choker with Matching Bracelet.
4. Mariah Carey Wearing a Diamond Earring with Matching Bracelet and Brooch.
5. Nicki Minaj Wears a Shining Pair of Rhinestone Earrings with Matching Choker.
6. Nicki Minaj Wearing a Multi-Color Rhinestone Necklace with a Cone Ice-cream Pendant and Matching Diamond Rings.
7. Best Celebrity Jewelry Videos 2021: Nicki Wearing Diamond Rings and Bracelets.
8. Daphne Guinness Wearing Pearl Neck Choker with Diamond Rings and Bracelets.
9. Bebe Rexha Wearing a White Gold Diamond Link Choker Necklace with Matching Rings and Bracelets.
10. Bebe OverDosed with All Her Glittering Necklaces, Bracelets, and Rings.
11. JLo Wearing Dynasty Chrysilia Drop Earrings.
12. Delta Goodrem Wearing Swarovski Crystal Chandelier Earrings.
13. Ariana Grande Wearing All Diamond Hanging Earrings.
14. Bella Hadid Wearing All Diamond Bracelets with Matching Rings.
15. Bella Wearing an Emerald Stone with Crystal Clear Diamond Hanging Earrings.
16. Best Celebrity Jewelry Videos 2021: An Overdose of Celebrity Bling Jewels.
17. Zendaya Shows Off Her Bling Jewelry.
18. The Queen and St Edward's Crown.
19. Zendaya Shows Off Her Best Bling Jewels.
20. Nicki Minaj Wearing a 4 Row Necklace with Diamonds and Matching Ring and Watch.
21. Adrian Alima Wearing a Pair Of Hanging Diamond Earrings.
22. Megan Thee Stallion Wearing a Diamond Neck Choker with Matching Bracelet.
23. J-Lo Wearing a Gold Head Crown with Colorful Gems and Rhinestones.
24. Best Celebrity Jewelry Videos 2021: JLo Wearing Bling Diamond Hanging Earrings.
25. Jennifer Lopez Wearing a Purple Diamond Stone Pendant with White Gold and Diamond Necklace.