Best Instagram bling makeup videos. Because your face should sparkle too.
But hang on a mo, Miss Cee.
Isn't big bold brassy makeup for performers?
Hellz NO, poppets.
Well, also hellz yes.
Glittery and stick on rhinestone bedazzled makeup IS for performers.
But that doesn't mean YOU can't make yer own face a dazzling mirrorball itsownself.
But how? Miss Cee hears all you loyal stalkers fans cry at once.
Thankfully there are a whole passel of ways, chickadees.
Here at the SequinQueen Sparkling Life Magazine we've sifted through Instagram to find their VERY best bling makeup lewks.
Which are also divine AND fabulous.
Cast your own askance eyeballs over these shimmering offerings for pa-lenty of makeup bling inspo.
Glitter makeup.
Rhinestone and crystal makeup.
Eyeshadows and lipsticks with shimmer mica pigments.
There will be only ONE question you need to ask yerownself.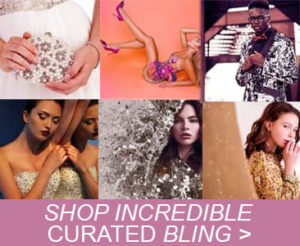 How FAR will you go?
And that is TOTALLY up to you, kids.
So apply a few clear rhinestones here and there.
Or go BERSERK and turn your face into the ULTIMATE Look at Me moment.
And if our edited selection below is STILL not enough bling makeup inspiration see more in our Bling Makeup Bling Pinterest board now!
1. Rhinestone Embellished Eye Shade Make up with Glittering Make Up Brush.
2. Glittering Purple Eye Shade with Rhinestones On Eye Lid.
3. Purple Eye Shadow with Purple Rhinestones Eye Lid Makeup.
4. Glittering Multi-Color Eye Lid Shade with Rhinestones Embellished Make-up.
5. Glittering Red Lipstick and Eye Shade.
6. Elegant Red and Gold Nail Polish with Embellished Rhinestones.
7. Multi-Color Glittering Eyelid Shade.
8. Gold Glittering Eye Shade, Fish Eye Design.
9. Iridescent Multichrome Pigment Over a Black Base Eye Shadow.
10. A Perfect Halloween Face Make up with Black Crystals and Rhinestones.
11. Green with Black Eye Shade with Rhinestones Face Make Up with Elegant Crown.
12. Beautiful Glittering Red with Black Eyeshadow Look with Rhinestones and Matching Lipstick.
13. Blackout Eyeshadow with Gold Glitter.
14. Rhinestones Iced Out Lipstick Case.
15. Sparkling LED Light Ready To Wear Eyebrows.
16. Mesmerizing Makeup Look with Pearls with Extension Eyelash.
17. Red Eyeshade and Rhinestones Make Up Bling and Matching Lipstick.
18. Butterflu Inspired Make Up with Its Wings on Eyelid and Matching Eye Shadow and Crown.
19. Black Eye Liner with Eyelash Extension and Pink Eyeshade with Rhinestones.
20. Different Eye Shades of Green with Eyelash Extensions and Rhinestones with Matching Lipstick.
21. Beautiful Different Shades of Pink Eye Shadow with Eyelash Extensions.
22. Multi-Color Glittering Lipstick.
23. Silver Face Color Make Up with Glittering Rhinestones Around The Eye and Long Extension Eyelash.
24. Sparkling Eyeshade in Pink with Black Eyelash Extension.
25. Beautiful Eyeshade Bling with Extension Eyelash.
26. Beautiful Fish Eye Liner with Pink Rhinestones.
27. Beautiful Black Eyeshade with Extension Eyelash and Gold Glitters.
28. Snowflake Face Makeup Bling for This Halloween.
29. Multi_Color Eye Shadow with Pearls Embellished Over The Eyebrow.
30. Gold Shaded Eye Shadow with Pearls and Rhinestones.
31. Beautiful Fish Eye Winged Eyeliner with Embellished Rhinestones.
32. Multi-Color Eye Shadow with Embellished Rhinestones.
33. Beautiful Butterfly Eye Shadow Design with Rhinestones.
34. Thick Eyelash with Blue, Purple and white Eye Shadow and Embellished Rhinestones.
35. Beautiful Eyelash Extensions and Eye Shadow with Rhinestones.