Best men's bling videos on Instagram. Because lots of men LOVE to sparkle too!
You might think that men's fashion is pretty staid and uninteresting.
Especially compared to the huge array of women's fashion.
Women are supposed to care more about clothes and accessories.
And spend more time and money on fashion.
Plus look for more unusual and eye-catching styles.
Hence the enormous variety of women's fashion and accessories embellished with sequins, crystals, beads and rhinestones.
Men on the other hand have to make do with a few suits. Some jeans. A couple of polo shirts. Several button up shirts for work.
Right?
Not any longer. More and more men are taking an interest not just in their grooming but also in their wardrobe.
The upshot?
Bling fashion is no longer just for women.
Here at the SequinQueen Sparkling Life Magazine we are constantly being amazed by the inventive styles and embellishments of bling clothing and bling accessories for men.
The popularity of Hip Hip and rap began the men's bling trend. And rappers still sport some of the most outlandish chainz, grillz, iced out watches — even diamonds embedded in the forehead!
Less extreme versions of men's bling trickled down through the rest of the men's fashion market.
So you'll now find bling on everything from oversized pave men's diamond rings to cigarette lighters, to ties, shoes and suit coats.
And once embellished clothing was easily machine washable, it's popularity exploded. Any of the guys out there own a crystal studded Ed Hardy tee?
Just like women's bling fashion choices, men might prefer their shimmery look to be understated. A flashy diamond encrusted watch here. Sparkly rhinestones on some dress shoes there.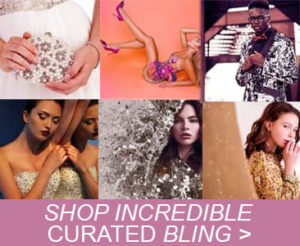 Or they can go completely to town with the glitter, glam and sparkle. You'll find example of both in our curated Instagram videos below.
Then if you'd like to be blown away by some more truly astounding examples of men's bling check out our Men's Pinterest board.
Prepare to be amazed!
1. Best Men's Bling Videos on Instagram: Stunning 18K White Gold Double Infinity band with Three Centre Stone Diamonds for Men.
2. Gold Rolex Wrist Watch with Gold Bracelet and Clear Diamonds on the Watch Strap and Dial for Men.
3. Multi-Color Rhinestone Chains and Glasses Neck Chain for Men.
4. Beautiful Sequin Jacket and Ankle-Length Pant with Rhinestone Embellished Loafer for Men.
5. Best Men's Bling Videos on Instagram: Ankle-High Shoe with Gold Rhinestones for Men.
6. Men's Green Long Sleeves Jacket with Studs and Rhinestones.
7. Wild Implanted Pink Diamond on Forehead and Diamond Earring and Ring.
8. Cigarette Lighter with Rhinestones for Men.
9. White Inner T-Stirt with Sequins and a Pull-Over Tiger Print Woolen Jacket.
10. Best Men's Bling Videos on Instagram: All Over Sequins Jump Suit with Long Sleeves and V-Neckline.
11. Men's Metallic Gold Jacket with Black Pant and White Sneakers.
12. Crystal Crown Mask Made from Swarovski Crystal Mesh for Men.
13. Men's Bling Carnival Outfits.
14. Jumbo Diamond Pave Ring for Men.
15. Best Men's Bling Videos on Instagram: Multi-Color Long Sleeves and Short Pant Jump Suit.
16. Men's Gold Plated Bracelet with Diamond Pave Clasp.
17. Embellished Rhinestones Bow Tie for Men.
18. Tuxedo Jackets with Sequins for Men.
19. Black Long Below the Knees Long Sleeves Blazer with Sequins for Men.
20. Best Men's Bling Videos on Instagram: Sequin Bow Tie and Sequin Suspenders.
21. Men's Black Rhinestones and Beaded Bracelet.
22. Gold Shining Sequin Bow Tie for Men.
23. Men's Black Ankle-High Flat Sneakers with Rhinestones.
24. Men's Evening Long Line Sequin Coat.
25. Best Men's Bling Videos on Instagram: All Blue Sequin Long Pant.