What IS a mirror dress?
The pinnacle of fashion BIG bling?
Something only TRUE Glitterists aspire to?
A spot of WOW! to brighten any day?
A danger to everyone once the sun hits it?
YES, poppets. A mirror dress is ALL those things. But let's throw around a few more appropriate adjectives.
Astounding. Incredible. Over the Top. Beautiful. Eye burning catching.
Yours Truly, the Queen of All Things Bling, was bowled OVER the first time she squinted at a mirror dress.
And not a lot bowls Miss Cee over.
But mirror dresses did the job because they take bling to the NEXT level. And beyond.
Now kids, mirror dresses are not made of tiny pieces of cut up mirrors. The edges would be too sharp and life threatening for that. Not mention the dress would weigh a TON.
Instead reflective acrylic pieces are used. These come in a variety of colors and are also very light.
The acrylics can be easily cut into any shape AND can also be drilled.
Why?
Because the normal method of attaching reflective acrylics to a dress is with needle and thread. And this can only be done if you drill miniscule holes in the corners of the acrylic pieces first.
If the acrylic mirrors are small enough, a strong fabric glue can be used instead.
When they first appeared a couple years ago, mirror dresses were mainly in silver and on long women's gowns.
These days however you'll find truly inventive and creative patterns, colors and styles used for mirror FASHION.
Which is news to thrill EVERY Glitterist.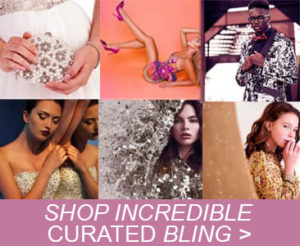 Because it means the concept of BIG bling from mirror dresses is now on everything from bags to men's suit coats.
Here at the SequinQueen Sparkling Life Magazine we scoured the Internet like the slathering, bling obsessed devotees we are to bring you some of the shiniest of shiny mirror dress examples, below.
Well, Min scoured. Yours Truly supervised, chickadees.
Latte in hand.
Naturally we've got even MORE stunning examples on our Pinterest board for mirror dresses.
Just for you.
1. Sequin Silver Mirror Dance Bodysuit on Transparent Fabric.
2. Sequin Disco Ball Leotard Bodysuit Lady Gaga Style.
3. Sleeveless Long Mirror Dress with Halter Neck and Mesh Skirt.
4. One Shoulder Mirror Jacket Stage Dance Clothing GoGo Costume.
5. Boat Neckline Sleeveless Long Mirror Gown.
6. Mirror Corset Over Knee Boots Bunny Mask Dance Costume.
7. Shining Designer One Shoulder Long Sleeves Mirror Short Dress.
8. Mirror & Gold Crystal Stud Bodysuit with Long Sleeves for Performers.
9. Silver Dress with Tiny Mirror Tiles Ornaments on Transparent Fabric with Long Sleeves and Deep V-Neckline.
10. Handmade Sequin Disco Mirror Bodysuit for Women.
11. Short Silver Lacing with Mirror Peices on an Open Back, Deep V-Neck and Strap Dress.
12. Long Mirror Silver Gown with Long Sleeves and Open Back in Silver.
13. Sequin Disco Ball Mirror Sleeveless Maxi Dress with Deep V-Neckline.
14. Sequin Disco Ball Broken Mirror Maxi Gown with Long Sleeves and Open Back.
15. Short 3/4 Sleeves Silver Mirror Outfit.
16. Short Mirrored Dress with Slit Sleeves and a High Collar in Black and Gold.
17. Dazzling Off the Shoulder Sweetheart Neckline Sleeveless Silver Mirror Gown with High Slit.
18. Mirror Cocktail Mini Dress with Cross Straps and Deep V-Neck Sleeveless.
19. Disco Ball Glitter Sparkly Silver "Hexagons" Mirror Jumpsuit.
20. Silver Mirror Disco One Piece Bodysuit with Animal Mask Disco Ball.
21. Silver Mirror Jacket and an Ombre Style Sleeveless Mirror Disco Ball Gown.
22. Sequin Bikini Rave Top Swimwear with Reflective Finish.
23. High Neck Long Sleeves Reflective Short Dress.
24. Short Cocktail Outfits Encrusted in Mirror Sequins, with a Strapless Curved Neckline and Lace-Up Back.
25. Sleeveless Halter Neckline, Adorned with Mirror Acrylics and Featuring a Mid-Open Back.
26. Primavera Couture – 3623 Cut Glass Accent Asymmetric Prom Dress.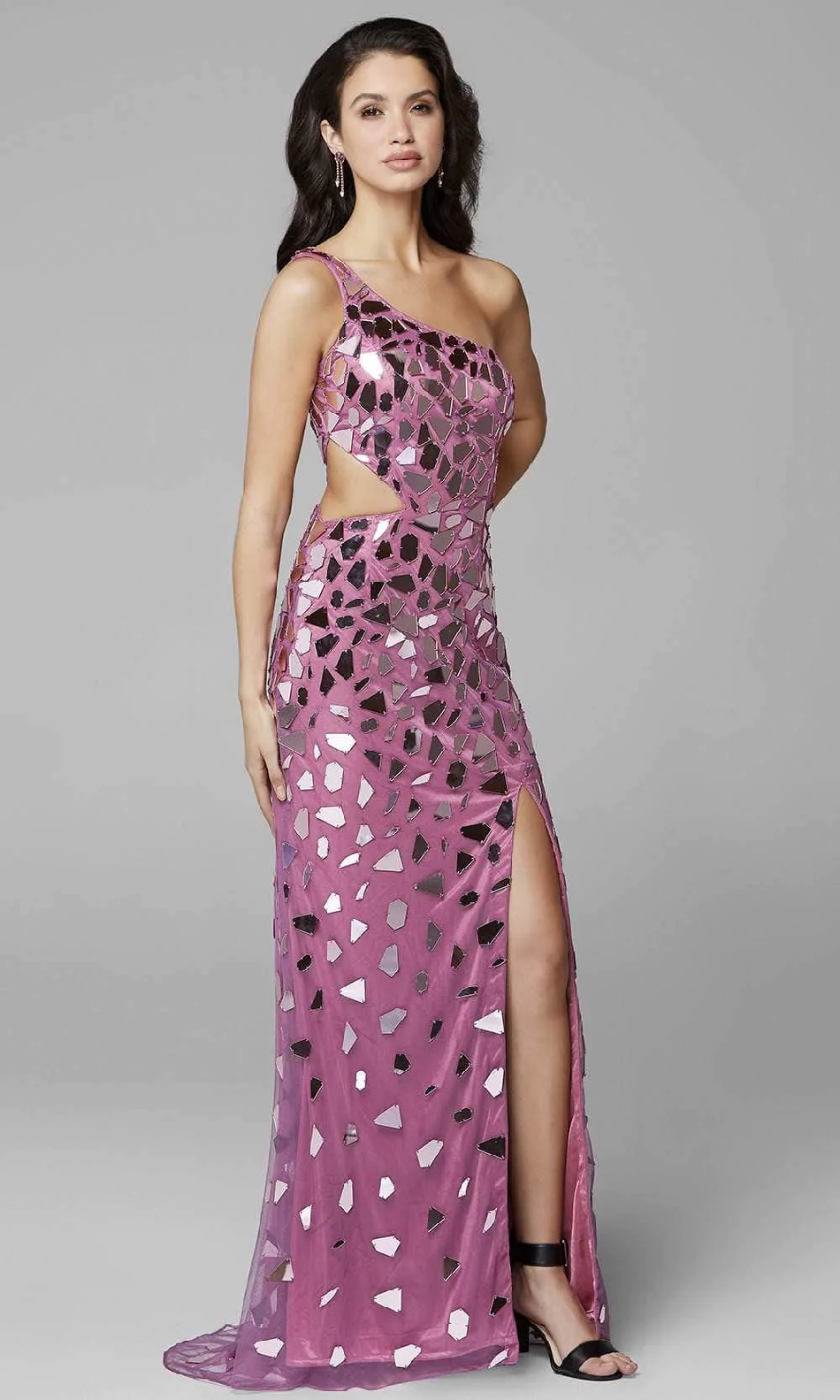 27. Sheath/Column V-neck Long Sleeves Short Dress with V-Neck.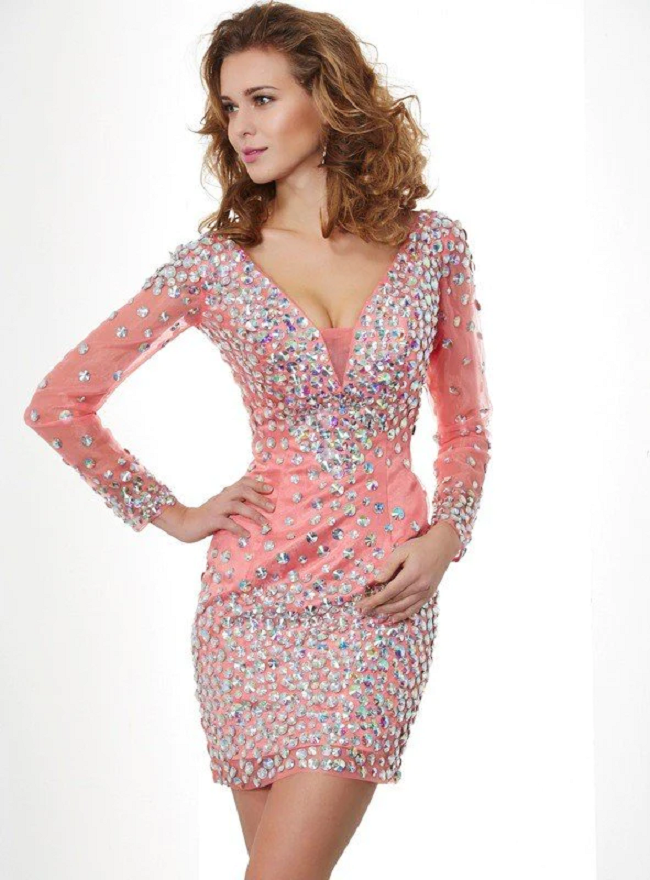 28. Handmade Squamous Sequins Patchwork Nightclub Party Dress Sleeveless.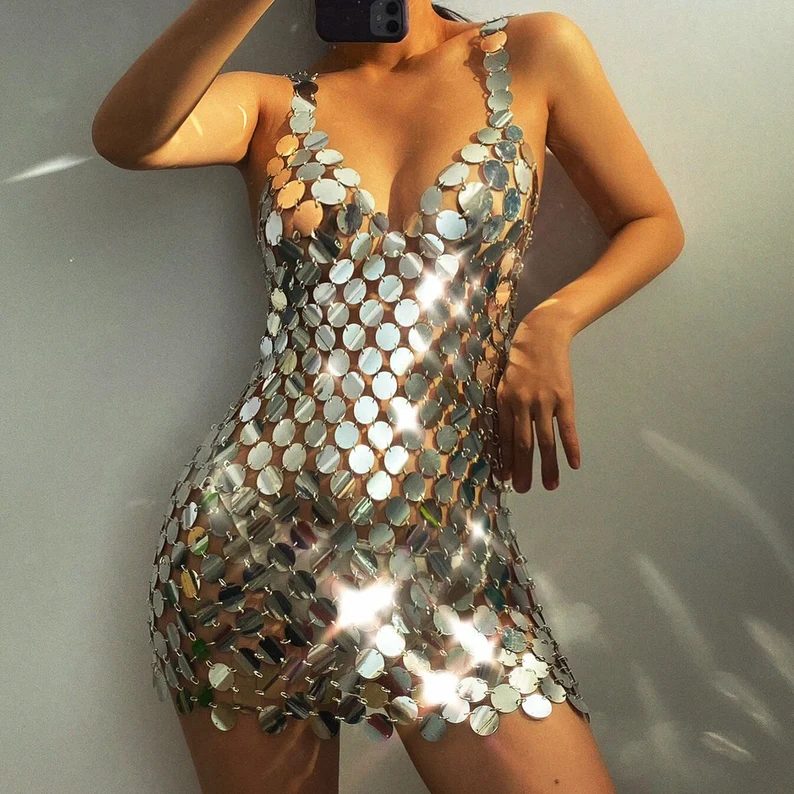 29. Silver Mirror Crystal Diamond Embellished Beaded Rhinestone GAGA Corset Bustier.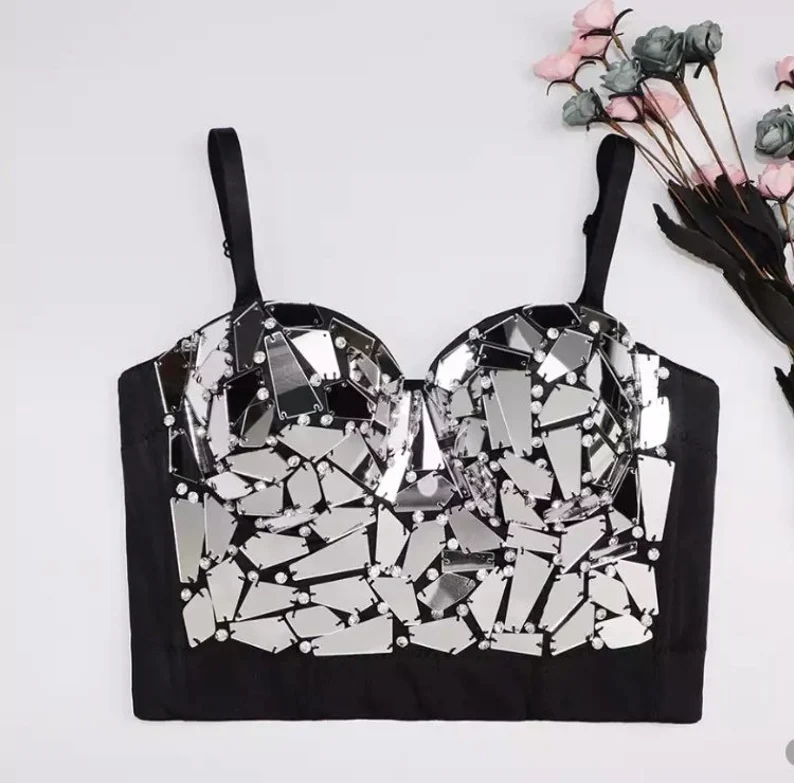 30. Long Sleeves High Neck with Mirror Sequin Dresses.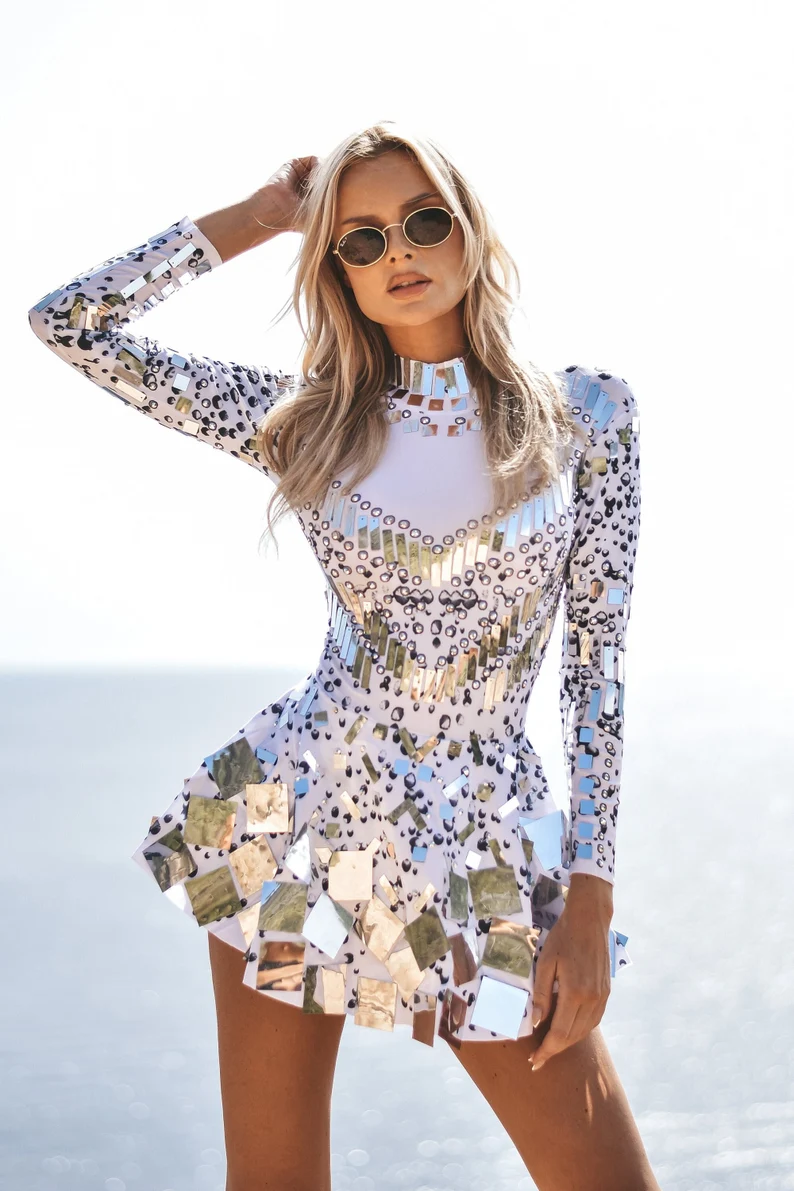 31. Evie Holographic Long Sleeves Jacket and Dress Wear Skirt with Space Disco Costume.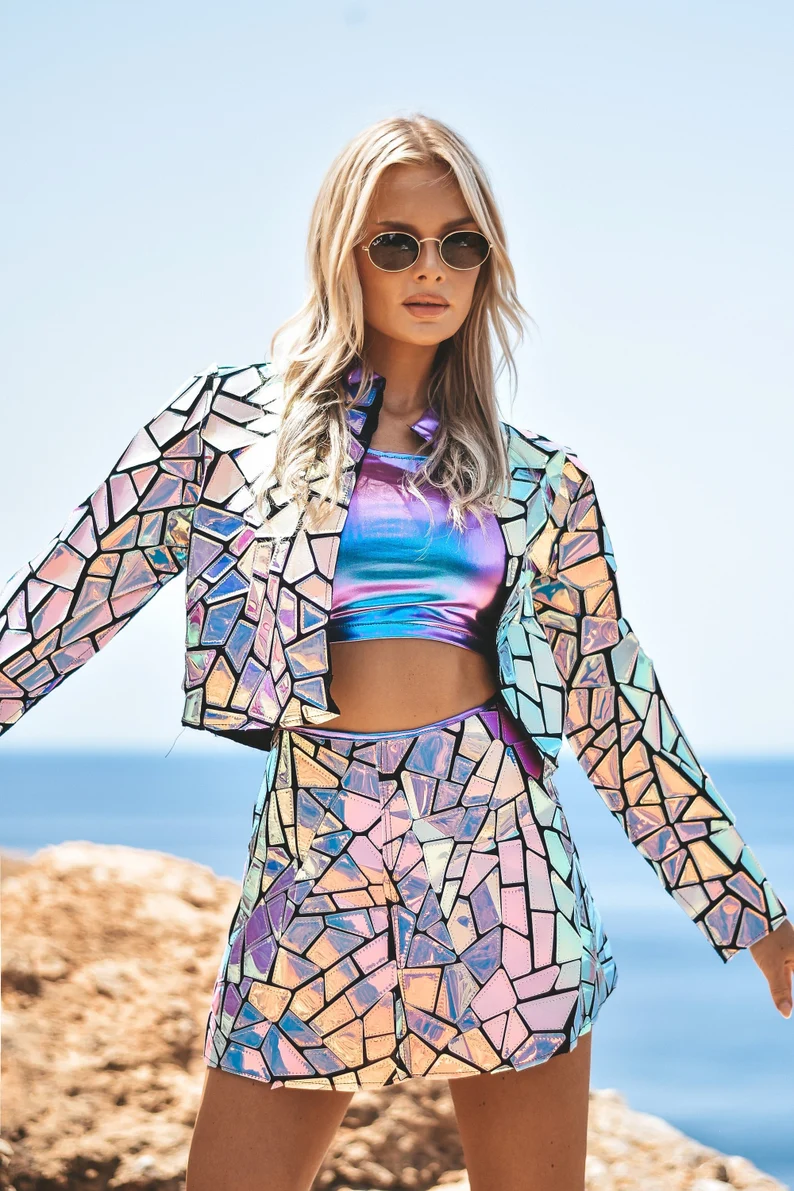 32. Sleeveless African Midi Dress, Shimmery Gown with One Shoulder Dress.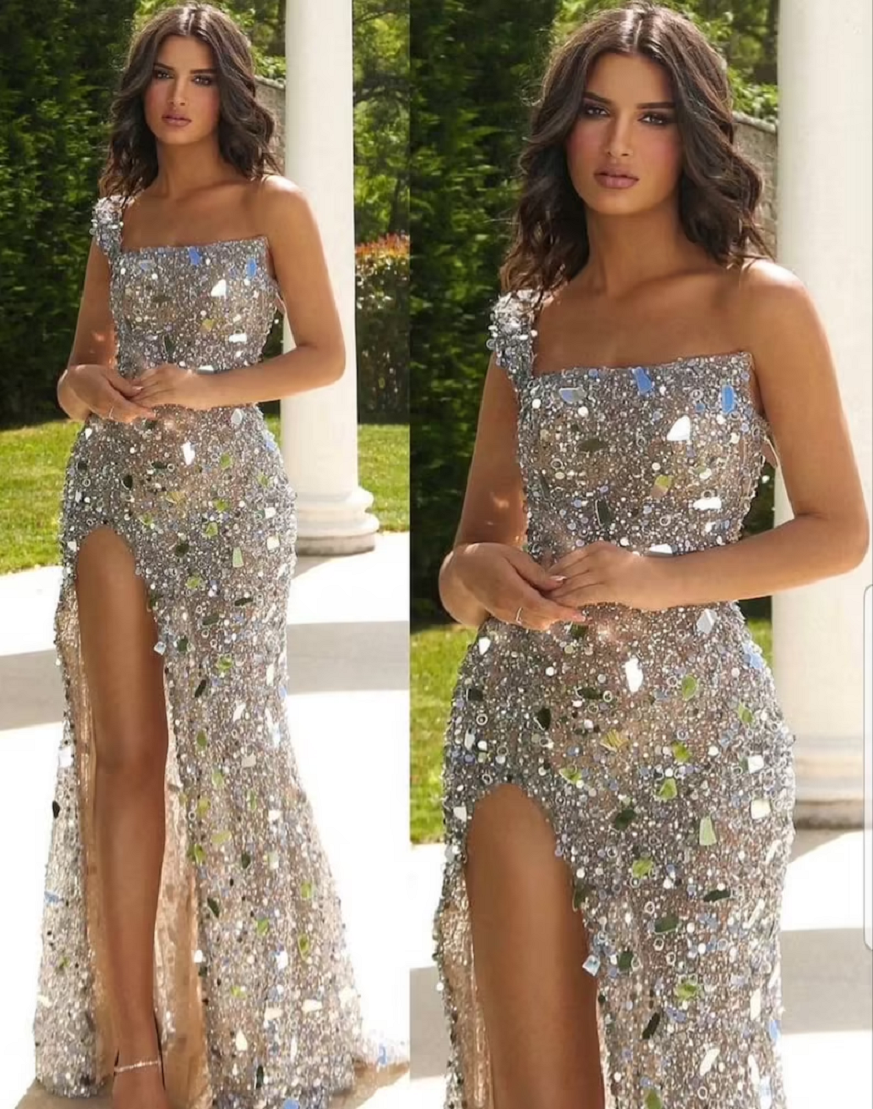 33. Go Go Mirror Gold Off Shoulder Costume Stage Dresses.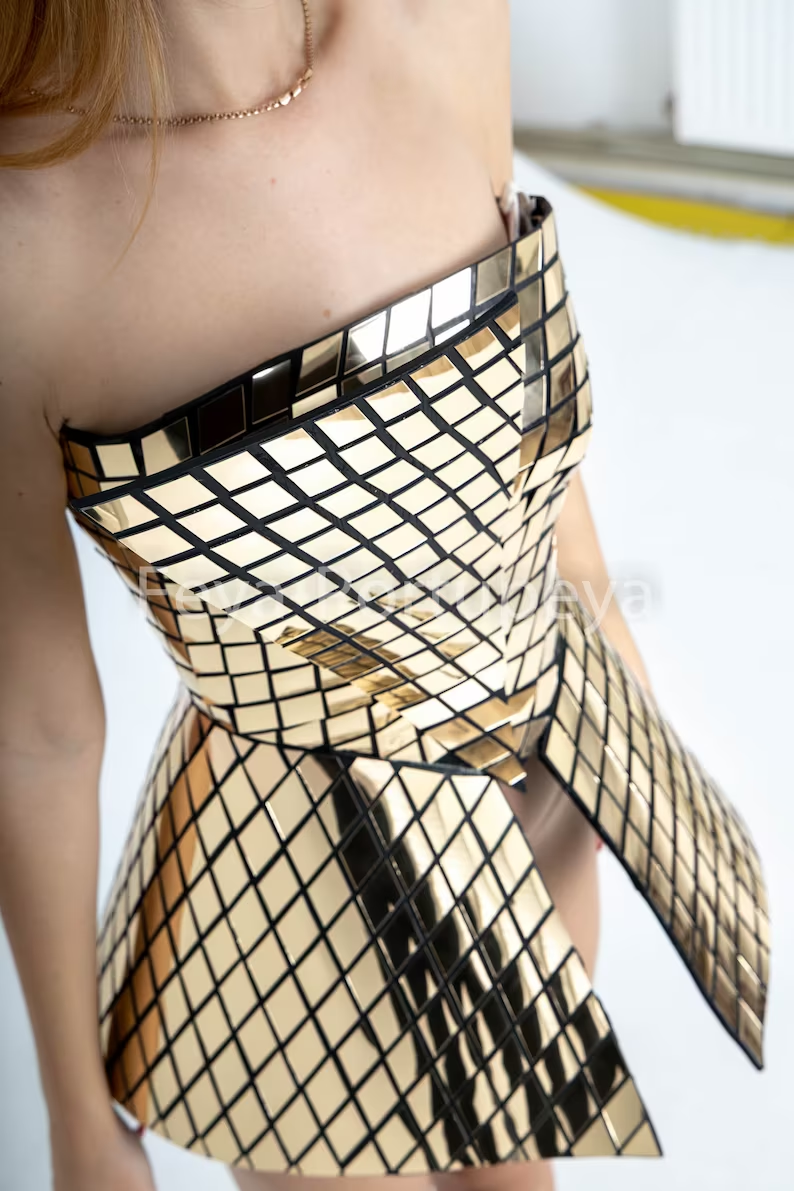 34. Mirror Warrior Princess One Piece Puff Shoulder Bodysuit Short Dress.
35. Sleeveless Spaghetti Strap Mirror Bodysuit ROBE MIROIR Burning Man Outfit.