Shop big bling rings on Amazon. Because there's no point in having an understated ring, luvbugs.
Let's say you buy a huge pair of Big Bling earrings.
First off, congratulate yourself.
EVERYone is going to be looking at your ears slash head.
And that's a good thing.
Because you're gorgeous.
But YOU can't see those earrings yerownself.
Unless you look in a mirror.
Or at the magazine cover you and your earrings are gracing.
But a Big Bling RING is a totally different story, poppets.
YOU can see your hands.
As well as everyone else.
In fact, you look at your own hands constantly.
When pointing at the muffin you know you shouldn't have in Starbucks.
Or showing the police which branch your cat is stuck in.
Even when typing.
God forbid.
But I digress.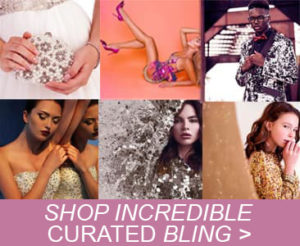 Where WERE we?
Big Bling rings.
Here at the SequinQueen Sparkling Life Magazine we want you to be DRIPPING in bling.
Because no one needs to go unnoticed.
And the best place to start with shimmer and sparkle is a Big Bling ring.
Naturally the best place to find a PLETHORA of selfsame rings is Amazon.
There are all price points too.
You might want a budget ring for a costume party.
Or an enormous diamond ring for your next engagement, Mariah.
So, chickadees, check out these ENCHANTING Big Bling rings we've curated for you from Amazon.
Or take a look at even MORE glittering ring inspiration on our Pinterest massive bling rings board.
1. Shop Big Bling Rings on Amazon: Multicolored Rhinestones Pave Cocktail Ring.
2. Luxury Women's Silver Ring with CT Diamond.
3. Glitter Snowball Rhinestone Cocktail Stretch Ring.
4. Shop Big Bling Rings on Amazon: Cushion Halo Cubic Zirconia CZ Engagement Rings.
5. 14k Gold Plated Created Opal Cubic Zirconia Ring.
6. Custom Angle Wing Statement Ring with Birthstones.
7. Rhodium Plated Blue Fire Opal Aquamarine Gemstone Ring.
8. AAA Grade Cubic Zirconia Rhodium Rose Gold Plated Multi-Stone Ring.
9. Big Size Antique Gold Plated Turkish Style Multi-Colored Gemstone Vintage Ring.
10. Antique Gold Plated Turkish Style Green Gemstone Vintage Ring.
11. Shop Big Bling Rings on Amazon: Gold Plated Colorful Cubic Zirconia Turkish Faith Protection Ring.
12. Yellow Gold-Plated Emerald Cut Genuine Smoky Topaz Ring.
13. Rose Gold Plated Oval Cut Purple and White Cubic Zirconia Double Halo Ring.
14. Platinum-Plated Sterling Silver Swarovski Zirconia Flower Halo Ring.
15. 2 Carat Princess Cut Cubic Zirconia Sterling Silver 925 Ring.
16. Swarovski Zirconia Round Brilliant Cut Solitaire in Sterling Silver Ring.
17. Shop Big Bling Rings on Amazon: 14k White Gold Beautiful Natural Emerald Sapphire Ring.
18. 14K White Gold Natural Blue Tanzanite Ring.
19. Multi-Gemstone and .17 CT T.W. Diamond Ring in 14kt White Gold.
20. Bling Iced Out Big US Dollar Sign Punky Rappers Ring Gold Plated.
21. Wide Square Cluster Engagement Heart Architecture Ring.
22. Shop Big Bling Rings on Amazon: 2.77 Cts. London Blue Topaz Solid 925 Sterling Silver Ring.
23. Sterling Silver London Blue Topaz Ring.
24. Silver Plated Cubic Zirconia Jewelry Square Crystal Ring.
25. Large Simulated Emerald Statement Halo Cocktail Ring with Green Crystal.
26. 0.25 ct. t.w. Diamond Wave Ring in Sterling Silver.
27. Sterling Silver Round Cubic Zirconia Half Eternity Stackable Ring.
28. 14K Gold Plated Stacking Knuckle Thin Marquise & Round Cubic Ring.
29. Pear & Round Shaped CZ Cubic Zirconia Curved Stackable Gold Platted Ring.
30. Open Stackable CZ Cubic Zirconia Sterling Silver Ring.
31. Gold Plated Round Cubic Zirconia Twisted Rope Ring.
32. Blue Spinel Rings 925 Sterling Silver Shimmering Stone Cubic Zirconia.
33. 925 Sterling Silver Twist White Cubic Zirconia Ring.
34. Enamel Leaf Ring 925 Sterling Silver White Cubic Zirconia Flower Jewelry.
35. King 925 Sterling Silver Blue and White Created Sapphire Embellished Ring.