D&G Does Bling – Which is YOUR Favorite? Dolce & Gabbana, also known by the initials D&G, is an Italian luxury fashion brand.
It was founded by Italian designers Domenico Dolce and Stefano Gabbana.
The brand specializes in ready-to-wear, handbags, accessories, cosmetics, clothing and many more.
They had previously designed for the fashion brand of Giorgio Correggiari. In 1983
In 1987, Dolce & Gabbana presented the Women's SS 1988 fashion show entitled
The Leopard line, and in 1989 they began designing underwear and swimming costumes.
Dolce & Gabbana started to export their products to Japan and other countries including the United States, where they founded their showroom
In 1990, the same year they presented their men's collection for 1991/1992, they also launched their first perfume Dolce & Gabbana.
Dolce & Gabbana is one of the best examples of the explosion in Italian ready-to-wear that occurred during the mid-1980s.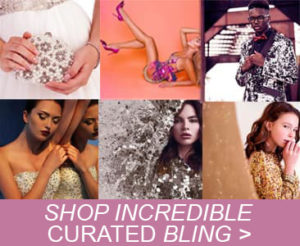 Here's SequinQueen's curated selection of the best D&G's Bling on Insta, just for you.
1. Kitty Spencer Wearing D&G's Bling Jewellery.
2. Gold Rhinestones Embellished Evening Handbag with Gold Chain Cross Strap.
3. Red Sequin Embellished Ruched Strapless Gown with Sweetheart Neckline.
4. Red Satin Draped Top, with Swarovski Crystal Mesh Buttons.
5. Gold Hanging Earrings with Rhinestones and Matching Ring.
6. Trendy DG Logo Hanging Earring with Tear Drop Crystal and Fashion Eye Glasses.
7. Jewelled Armour Entirely Embroidered with Crystals, Pearls, Gold-Wound Thread, and Seed Beads.
8. Silver Bodice in Laminated Satin Crepe Embroidered with Crystals and Glass Bugle Beads.
9. Necklace with Multicolour Gems, Diamonds, Pearls, Moonstones and Coins Paired with Matching Gold Earrings.
10. Matching Bracelet and Earrings In Yellow and White Gold with Multi-Colour Precious Glittering Stones.
11. Knee Height Embellished with Green and Gold Brooches Mixed with Precious Crystals.
12. One-Of-A-Kind Silver Jewelled Embellished with 321 Diamonds In Round Dial Watch.
13. Gold Embroided Mens Jacket with Crystals and Special Floral Brocade.
14. Denim Jacket with Matching Oversize Denim Jeans with Rhinestone Details.
15. Sequinned Jacket and Bucket Hat Embellished with Multicolour Crystals.