Best plus size bling dresses on Amazon.
Because when you shop from home who cares if you had an extra doughnut yesterday?
Lordy LORD, don't get Miss Cee started on the term 'plus size'.
Unfortunately, you'll find yourself typing those two words often when shopping online for bling dresses.
And THAT'S because the fashion industry has decided that skinny is PREFERABLE.
Now there's nothing wrong being skinny. PA-lenty of people just are, naturally.
But if you're starving yourself to be thin then something is wrong.
Because you're trying to conform to an INDUSTRY'S idea of what body type or look is preferable.
'To all the girls that think you're fat because you're not a size zero, you're the beautiful ones. It's society who's ugly.'
Bravo.
That quote is often attributed to Marilyn Monroe. But Miss Cee thinks that's a bit dubious. The idea of size zero didn't exist in her day.
But the sentiment is spot on, poppets.
So eat well and healthily.
Enjoy your food. It's one of THE great pleasures in life.
Get some regular exercise. Whatever exercise you like best.
And then just DO NOT worry about what size you are.
If you've got a partner who wants you to be thinner, dump 'em.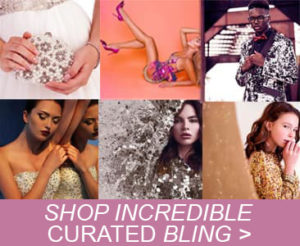 They only care what people think about THEM. They don't care about YOU.
You know Miss Cee's not one to sugar coat things.
Here at the SequinQueen Sparkling Life Magazine we feel blessed to be able to bring you all things bling. Especially all bling DRESSES that suit different tastes, styles and body sizes.
So until we live in a world where more models are realistic sizes of size 14 and up.
Or until ALL clothing automatically comes in ALL sizes.
Or until you don't need to type 'plus size' to find normal sizes that fit the majority of women.
Then SequinQueen's curated a fabulous selection below of the best HEALTHY SIZED women's bling dresses.
Just for you.
Because you're wonderful, fabulous and beautiful EXACTLY the size you naturally are.
Once you get done here, you'll find a load more NORMAL SIZE ideas on our Pinterest bling dress board.
1. Plus Size V-Neck Party Cocktail Evening Stretchy Mini Bodycon Dress.
2. Plus Size Sequin Tunic Top & Pant Set.
3. Plus Size Glitter Tank Top Sleeveless Camisole Vest.
4. Plus Size Mermaid V-Neck and Sleeveless Long Gown.
5. Plus Size All Over Sequin Gown with Capelet.
6. Plus Size 2 Piece Outfits Glitter Sequins Sweatshirt and Pants Set.
7. Plus Size Embroidery Mermaid Evening Gown with High Neck and Short Sleeves.
8. Plus Size Sequin 3/4 Sleeves Evening Party Long Maxi Dress.
9. Plus Size Tea Length Dress with Sequin Detail.
10. Navy Tie Plus Size Front Sequin Tea Length Dress with Short Sleeves and V-Neck.
11. Best Plus Size Bling Dresses on Amazon: Lace with Sequins Matching Top and Pant Set.
12. Plus Size Rhinestone Beaded Sleeveless Dress with Capelet.
13. Plus Size Sequin Bodycon Stretchy Mini Party Dress.
14. Plus Size Top Drawer Premium Sequin Nurse Corset Dress Costume.
15. Sequin V-Neck Embroidery Plus Size Mermaid Evening Dress.
16. Plus Size Sequin Flutter Sleeve Long Dress with V-Neck.
17. Plus Size Long Sleeve Sequin Gown with Side Split and Deep V-Neckline.
18. Plus Size Shimmer Tank Top Sparkle Glitter Embellished Sleeveless Vest.
19. Plus Size V-Neck Sequin Maxi Dress Long Sleeves Evening Gown.
20. Plus Size Cold-Shoulder Sequin Dress with Sweetheart Neckline with Long Sleeves.
21. Plus Size Evening Women's Metallic Knit Blouse with Long Sleeves and Embellished Rhinestones.
22. Plus Size V-Neck Party Cocktail Stretchy Mini Bodycon Dress.
23. Plus Size Empire Waist Maxi Dress with Sequins and Ruffle Split Semi Sheer Solid Dress.
24. Plus Size Sequin Dress V-Neck Sleeveless Cocktail Bodycon.
25. Plus Size Sequins Cape Overlay Bodycon Party Cocktail Pencil Dress.
26. Plus Size Sequin Ruffle Edge 3/4 Sleeves Solid Color Zipper Back Round Neck Dress.
27. Plus Size Round Neck Sparkle Tunic Top.
28. Plus Size Short Sleeve Studded Swing Tunic Top with Round Neck.
29. Plus Size Sequin Shimmer Sparkle Sleeveless Cami Tank.
30. Plus Size Shimmer Strappy Camisole Tunic Top with Sequins.
31. Plus Size Loose Fit T-Shirt Tunic Tops Chiffon with Rhinestones.
32. Plus Size Knitted Cold-Shoulder Top with Silver Studs.
33. Plus Size Off The Shoulder Tops Embroidery Mesh Long Sleeves with Sequins.
34. Plus Size Loose Fit Sequin Dolman Sleeve Evening Blouse.
35. Plus Size Rhinestone Embellished Long Sleeve Mesh Sheer See Through Bodycon.