Did your darling and sainted mother have any Hip-Hop street cred?
Prolly not.
So Miss Cee is going to fill in some blanks and serve up some Trudy-style Facts of Life realness.
People wearing grillz tend to be HOT.
People wearing iced out grillz tend to be even hotter.
Well, until they open their mouths and begin lisping.
Or some drool falls on their prom date.
Yes, siree. HOT
Grillz: A history
Now, the first time someone mentioned putting 'grills' in your mouth, Miss Cee thought they meant doing something unmentionable, and possibly unhygienic, to that guy on TV who runs around in the forest half-naked eating granite and bits of fricasseed pine bark.
What IS his first name?
Badger? Moose? Skunk?
Something animal-y at any rate.
Actual grillz, on the other hand, go ALL the way back to the distant 1980s and 1990s (i.e. a time before mobile phones) where they started life as gold caps for the teeth of rappers and Hip-Hop artists like Flavor Flav.
Old skool proto-grillz
In fact, ornamenting teeth goes even further back, to the ancient Mayan civilisation (i.e. a time before dental anaesthetic) when people who were obvs bored OUT of their minds drilled bits of semi precious stone into their soon-to-be-not-so-pearly whites.
Fast forward back to the present day in the ol' US-of-A and grillz have become popular enough to be banned in skoolz, spesh in the South.
Partly this is because dentists tut-tut about keeping grillz in the mouth too long, trapping enamel-eating bacteria against the teeth.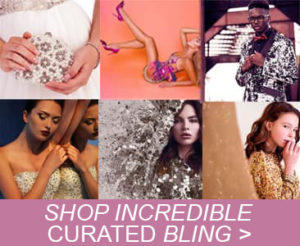 But mostly, Miss Cee hazards to guess, teachers are heartlessly, and YET again, infringing on their students' god-given rights to par-TAY and express themselves.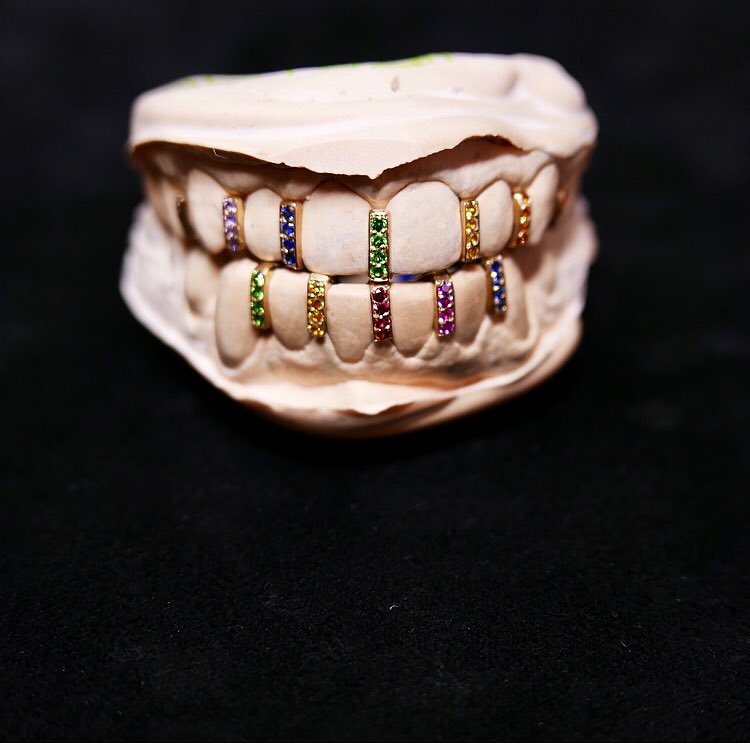 Types of Grillz
Grillz, sometimes also called fronts, or gold slugs, come in all shapes and types and colors–from partial grillz to rose gold grillz, grillz with a few diamonds and even grillz with dangling stones.
Snaps for the creativity. Perhaps remove before eating a hamburger
Not a big talker, but there's all kinds of artistic expression going on. ALL kinds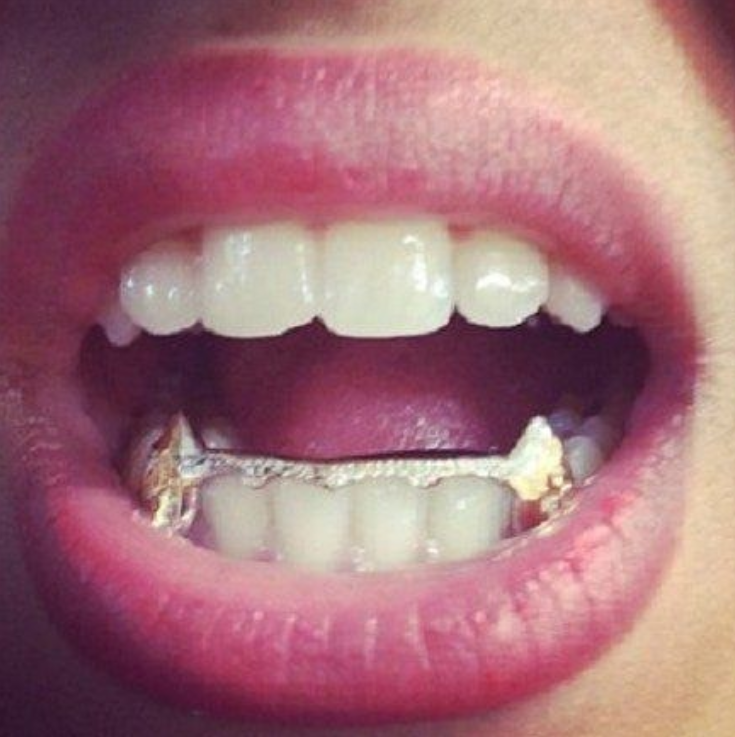 Iced Out Grillz
No matter which of the endless permutations you're partial to, the grillz with the most bang for your buck, natch, are the fully iced-out style.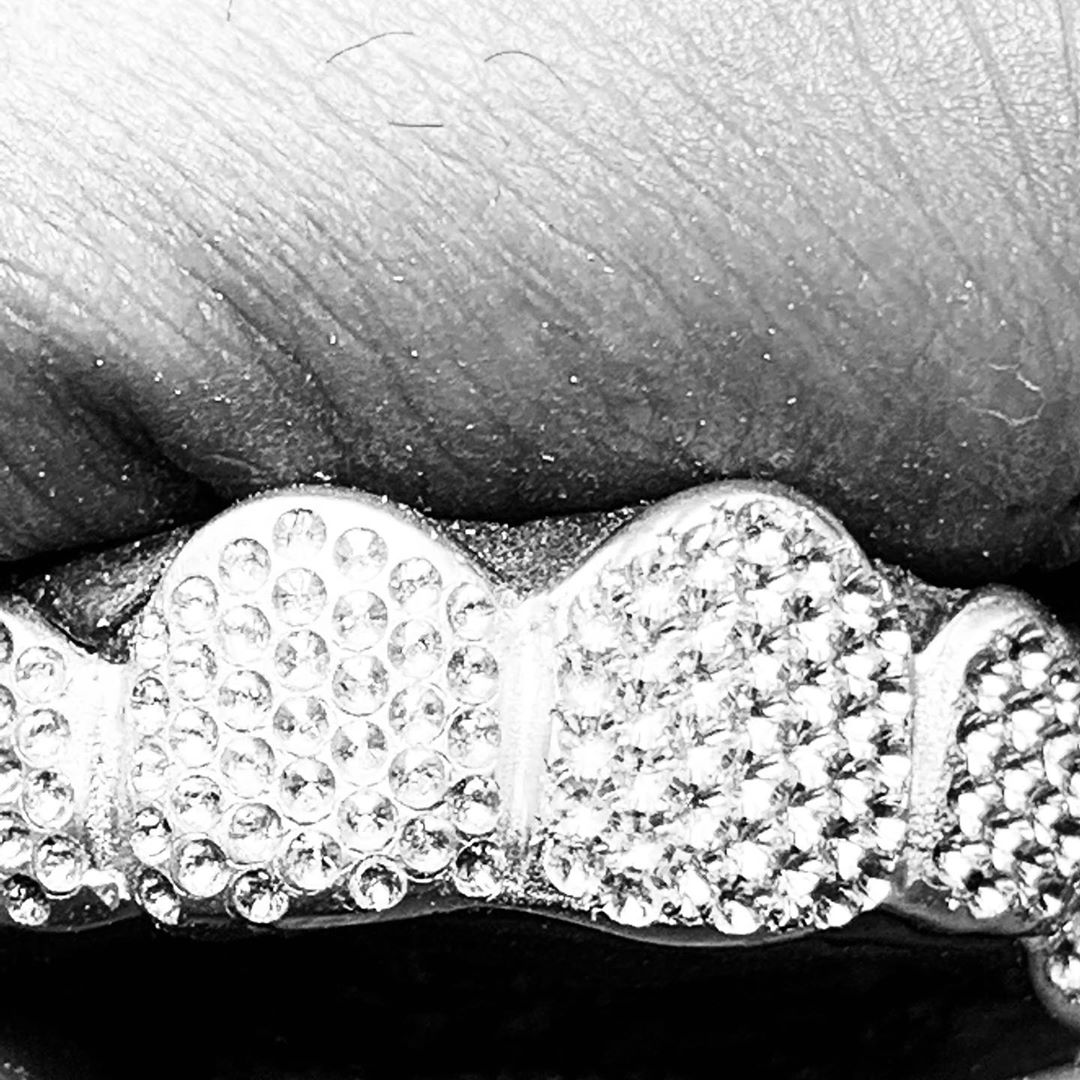 Usually made with a pave setting of smaller white diamonds, which must be a bee-atch to brush food out of, these babies are the ULTIMATE Snap-on Smile.
And most grillz CAN be snapped in and out.
But a few brave, shimmering and hardcore Glitterists elect to have their grillz 'cemented in' over the top of their teeth.
In it for the long haul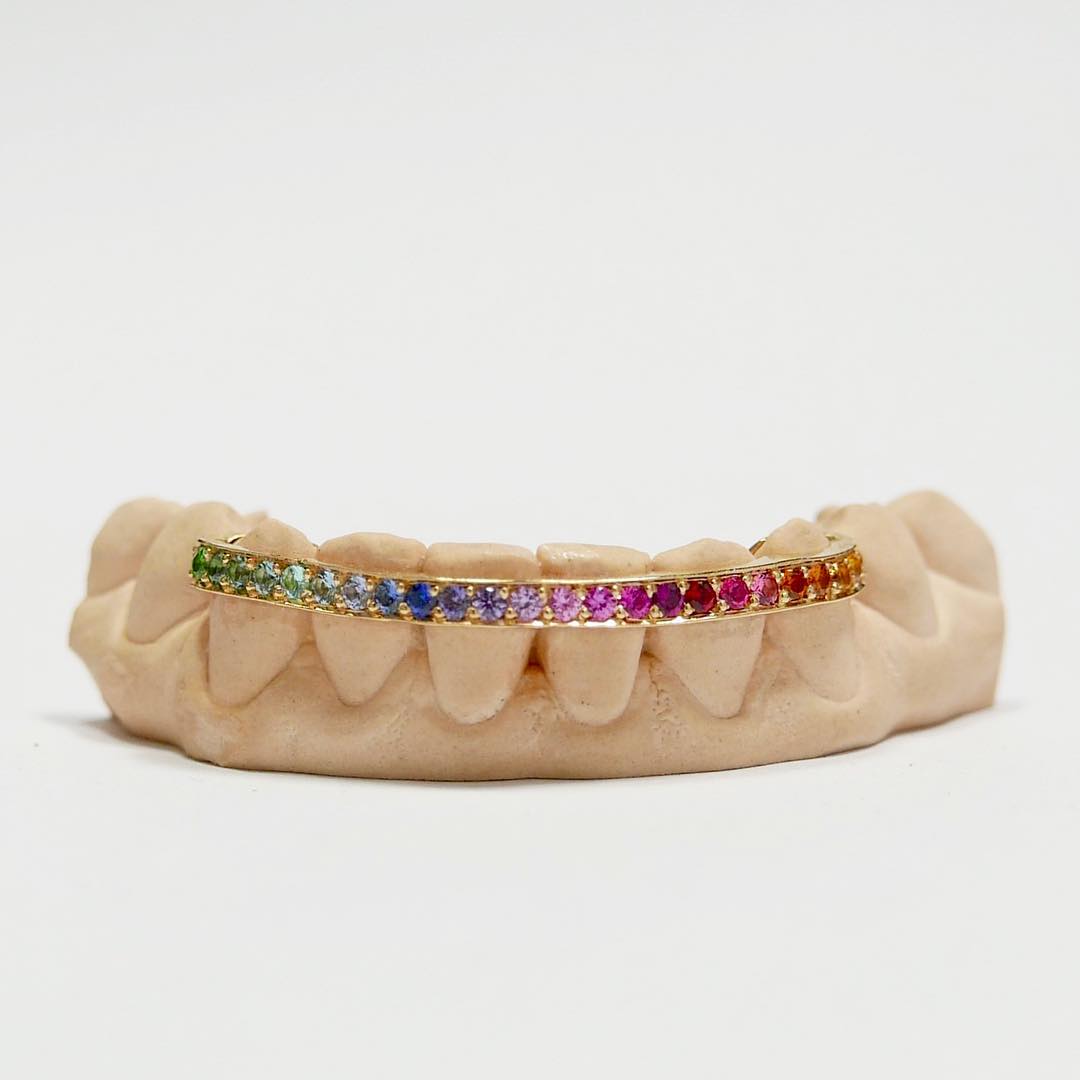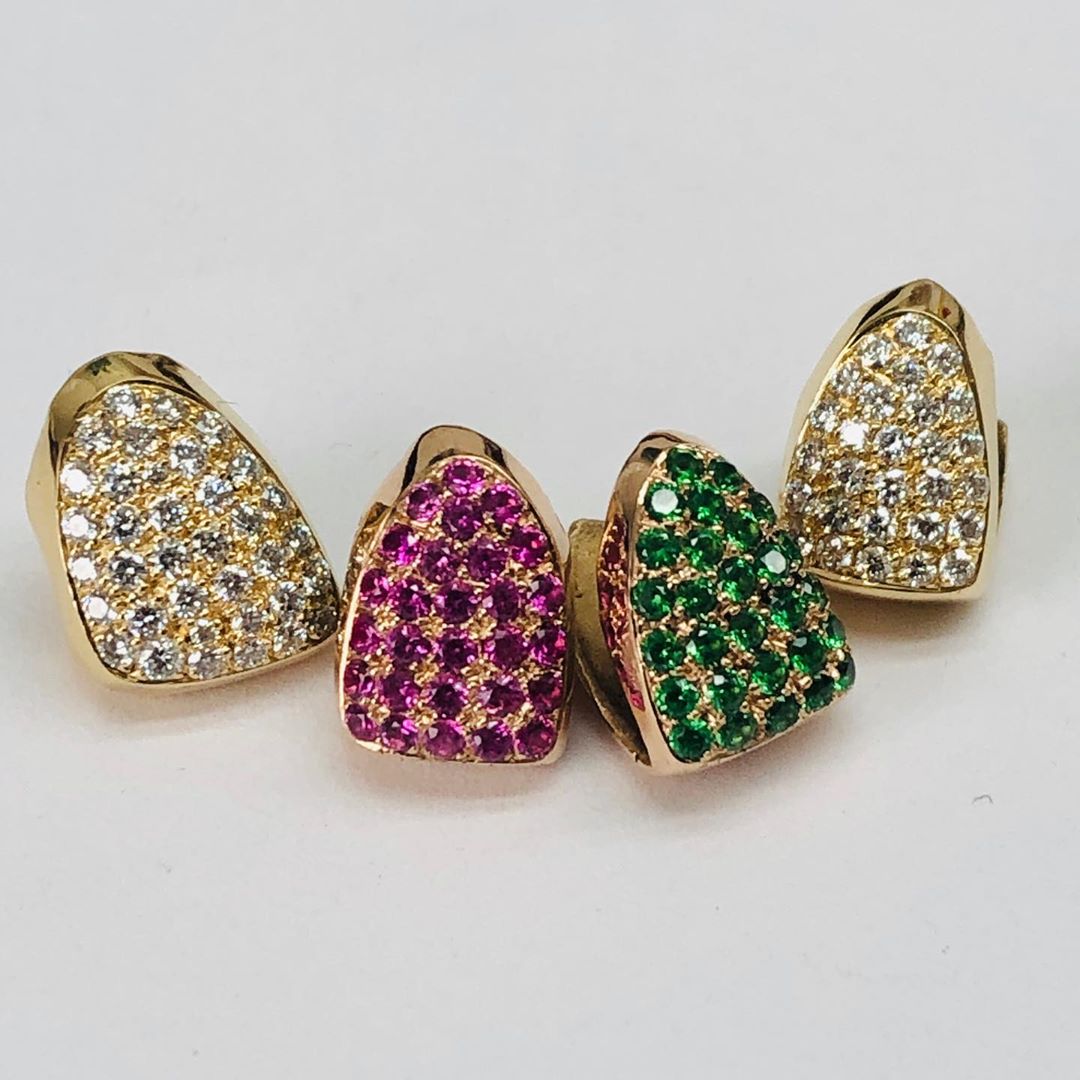 Of course, when it comes to diamonds, poppets, there is NO SUCH THING as too big.
That goes double for the ones you put on your teeth, like the set below, which Miss Cee has decided are THE ones for herownself.
And though they don't look to be genuine diamonds, that wee oversight is easily fixed.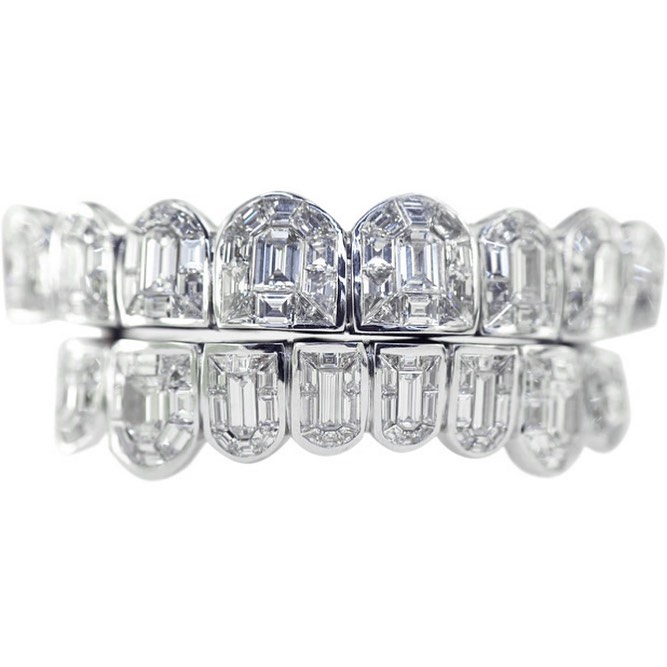 Get Your Own Grillz
A quick Google search will turn up a MULTITUDE of both online and bricks-and-mortar stores selling grillz. Most of these offer the snap in and out style, plus the novelty variety of grillz.
In other words, the kind of temporary grillz you get to give your mother seven kinds of heart attack the next time you go home for a nice fambly dinner.
But if you're willing to invest a small fortune (such as ten thousand big ones or much, MUCH more) then jet off Beverly Grove in Los Angeles and unhinge your jaw and your wallet at IF & Co. Custom Jewelry.
But first check out their super-duper high quality grillz to get the lingo down and not make a fool of yerself in their shop.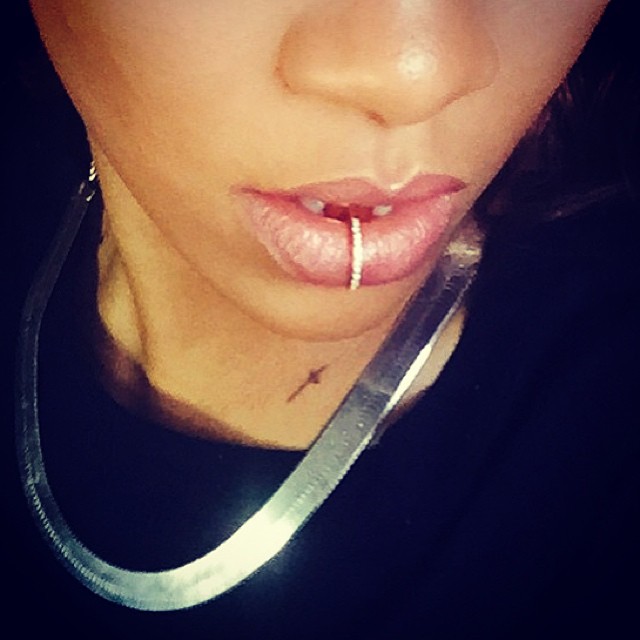 Or divert your jet to Paris, as in the one in France, and go see gorgeous little Dolly Cohen, who makes grillz for the much-lusted-after likes of Drake, Rihanna and that elfin imp Cara Delevingne, whom we know loves the odd bit o'bling.
DRINK in Mz. Cohen's Hannibal-Lecter-fava-beans-hockey-mask realness here first though, so you know what you're in for.
Conclusion
Are iced out grillz worth the time and money?
It depends on you, your job, your outlook.
Plus your level of cred, cool and cash.
But if'n you're a unique soul with a heart wrapped in sequins, rolled in beads and dusted in crystals, how the HELL could you say no?
And on that glittery note, here's one of the Competitor Queens of Bling to serenade us out with Miss Cee's very favorite song of ALL time.
Happily it also shows off more of Divine Dolly's grillz. Spesh on the woman hanging upside-down and later tied up on the bed and being held hostage by Rihanna.
As we ALL want to be.
And no, this vid is not for kiddies nor safe for the office, poppets.