Plus size sequin dress videos on Instagram. Because any sequin dress smaller than plus size just does NOT have enough bling on it.
Ah, the good old sequin dress.
But as big as possible.
To maximize the stun, glamour and glare.
Now as all of stalkers fans of Miss Cee know, she is a larger lady herownself and gets QUITE hot under the embellished collar when talking about plus sizes.
SPECIFICALLY that plus sizes are actually NORMAL sizes.
And that stingy fashion houses the world over prefer tiny models to photograph their clothes on so they can save money on fabrics and development costs.
And this is especially true for expensive embroidered sequin or crystal fabrics.
So girls, PROUDLY flaunt your curves.
And if a man or significant other doesn't like those curves?
Well, poppets, there are pa-lenty of men and sig-oths in the world who will.
Now as a fashion forward NORMAL sized woman you may be wondering what is cookin' in the world of sequin dresses.
And thank the LORD you asked.
Here at the SequinQueen Sparkling Life Magazine we've sifted through Instagram to find their VERY best sequin dress videos.
Which are also divine, wonderful and fabulous.
So if you've got an event coming up where you need ALL eyes on you, here is a WHOLE passel of inspiration.
Don't forget SequinQueen's handy rule for how to accessorize a sequin dress.
Because once you know the rules you'll be able to break them.
And have FUN doing it.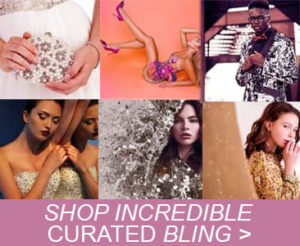 What type of plus size sequin dress do you most love?
What style of glittering gown will look the most flattering on you?
If you're not sure just take your time and DROOL over the FABULOUS inspirational plus size sequin dress videos we've curated for you from Instagram below.
And if that's STILL not enough sequin gown inspiration take a look at all the NORMAL sized sequin outfits in our Plus Size Bling Pinterest board for even more!
1. Plus Size Sequin Dress Videos on Instagram: Plus Size Short Sequin Dress with Long Sleeves V-Neck and Key Hole Back.
2. Gold Sequin Dress with Long Sleeves and Classic Neckline.
3. Plus Size All Gold Sequin Short Designer Dress.
4. Plus Size Sequin Long Red Gown with High Neck and Long Sleeves.
5. Plus Size Gold Sequin Short Dress with Beaded Long Sleeves.
6. Plus Size White Strap Short Dress with Mirror Sequins.
7. Plus Size Sleeveless V-Neck and Back Short Dress.
8. Plus Size Sleeveless Above The Knee Sequin Dress with V-Neck and Open Back.
9. Plus Size, Beaded Fringe Short Dress with Deep V-Neck and Open Back.
10. Plus Size Sequin Gown with Deep V-Neck and Open Back Tie Up.
11. Plus Size Deep V-Neck Sleeveless Sequin Gown with High Slit and Floral Design.
12. Plus Size Sequin Wrap Bridal Shower Dress with Long Sleeves.
13. Plus Size Silver Sequin Off Shoulder Short Dress with Beaded Fringe Hemline.
14. Plus Size Long Sleeves Coat Pattern Dress in Black and Silver Stripes.
15. Plus Size Gold Long Sequin One Shoulder Dress with Long Sleeves and Back Slit.
16. Plus Size Elegant Blue Short Dress with Long Sleeves and V-Neckline.
17. Plus Size Gold Sequin Short Dress with Classic Neckline.
18. Plus Size Black Sequin See Through Long Sleeves Gown.
19. Plus Size Elegant Cream Bridal Embellished Gown with Long Sleeves.
20. Plus Size Long Strap Sequin Gown with Side Slits and Deep V-Neck.
21. Plus Size Short Above the Knee Sequin Dress with A Key Hole Neckline.
22. Plus Size Long Sleeves Embellished V-Neck Wrap Dress In All White.
23. Plus Size Gold Sequin Short Dress with Long Sleeves.
24. Plus Size Short Black Sequin Dress with Straps and Open Back.
25. Plus Size Black Sleeveless Sequin Dress with Fringe Hemline.