Bling makeup is an easy and instantly rewarding way to up your fashion game.
Knowing how to add some shimmer to your makeup gives you an incredible amount of bling for your buck.
That's because lipstick, eyeshadow, blusher and glitter are relatively cheap.
And because your face is your most prominent feature once someone is up close.
But the choices of how to add some bling to your makeup can be overwhelming.
Take a look at how other Glitterists are applying glitter or rhinestones or crystals to their own makeup.
Once you find the bling makeup style that's right for you, see if you can copy it!
Scroll down through SequinQueen's curated collection of our favorite shiny, shimmery and glittery makeup effects.
Inspiration abounds!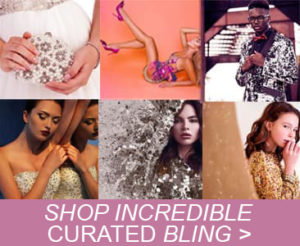 So don't wait. Try out the bling makeup look you love the best right now.
Once your makeup is sparkling you'll have the urge for more bling. Check out the SequinQueen Sparkling Life Magazine online shop for the best bling women's fashion and accessories today!
1. Star Glitter Eye Makeup Bling.
2. Face Jewels Rave Makeup Rhinestones Sticker.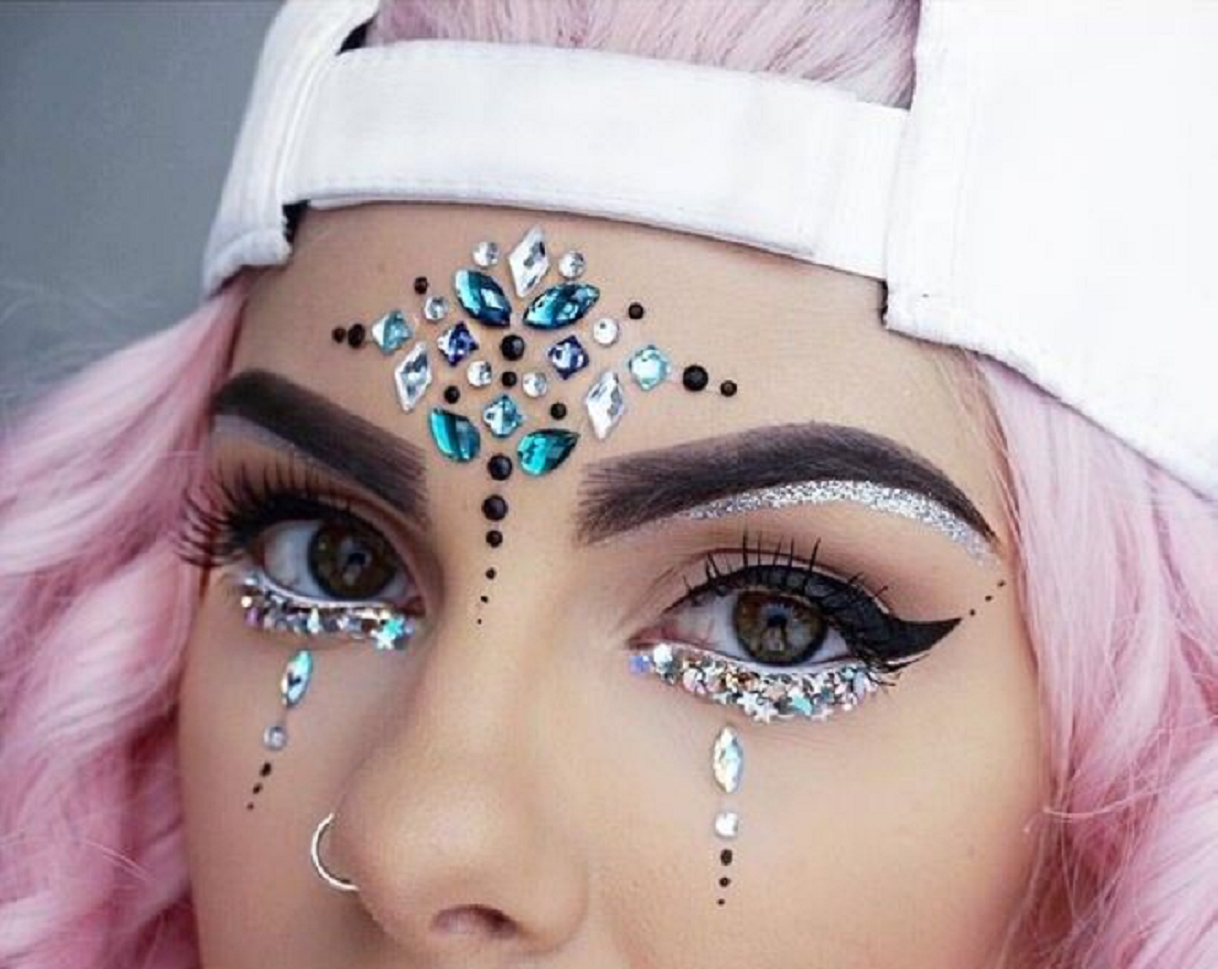 3. Glittering Face Jewels Makeup with Rhinestone Stickers and Glitter Makeup Paint.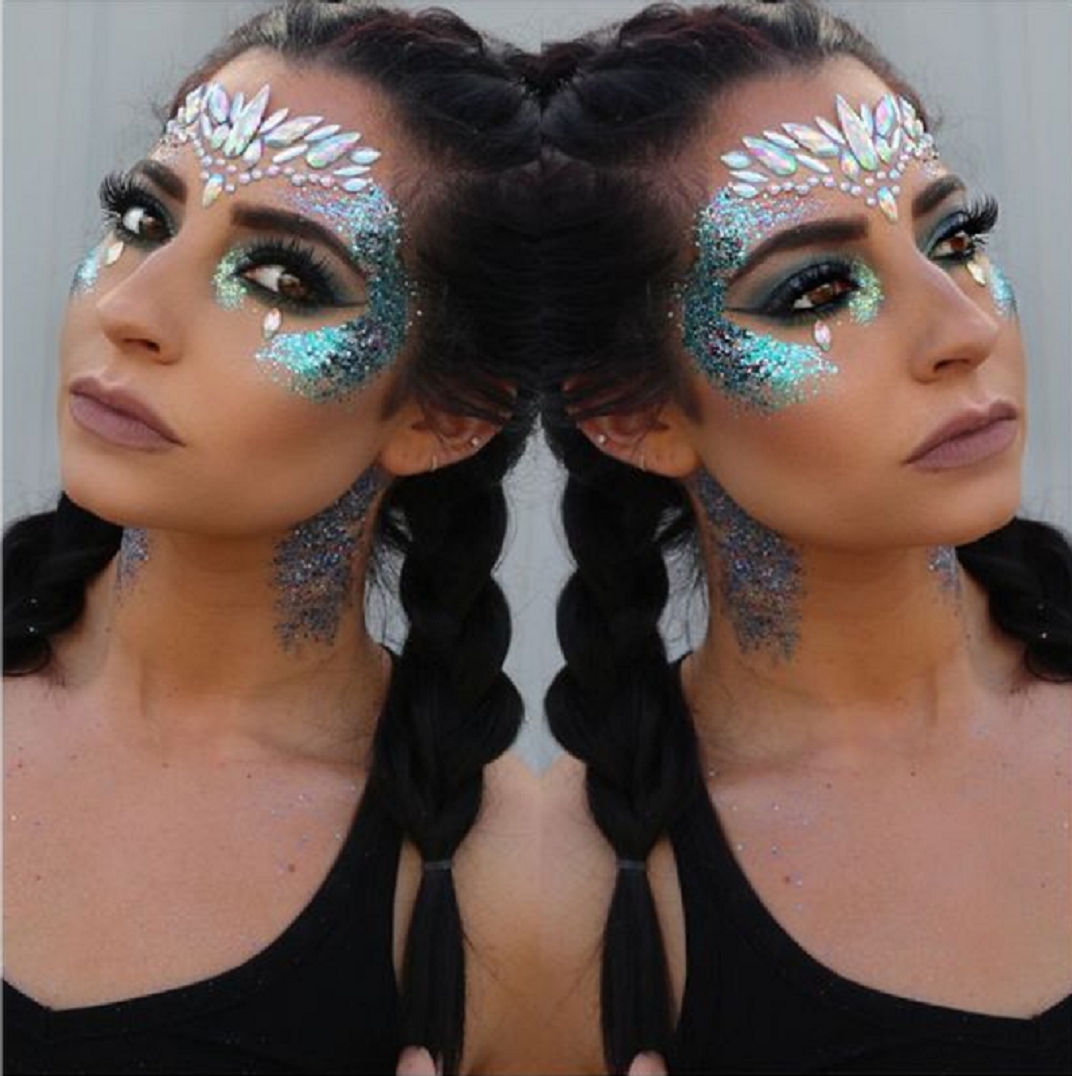 4. Sparkling Eyes with Gold Glittering Mascara.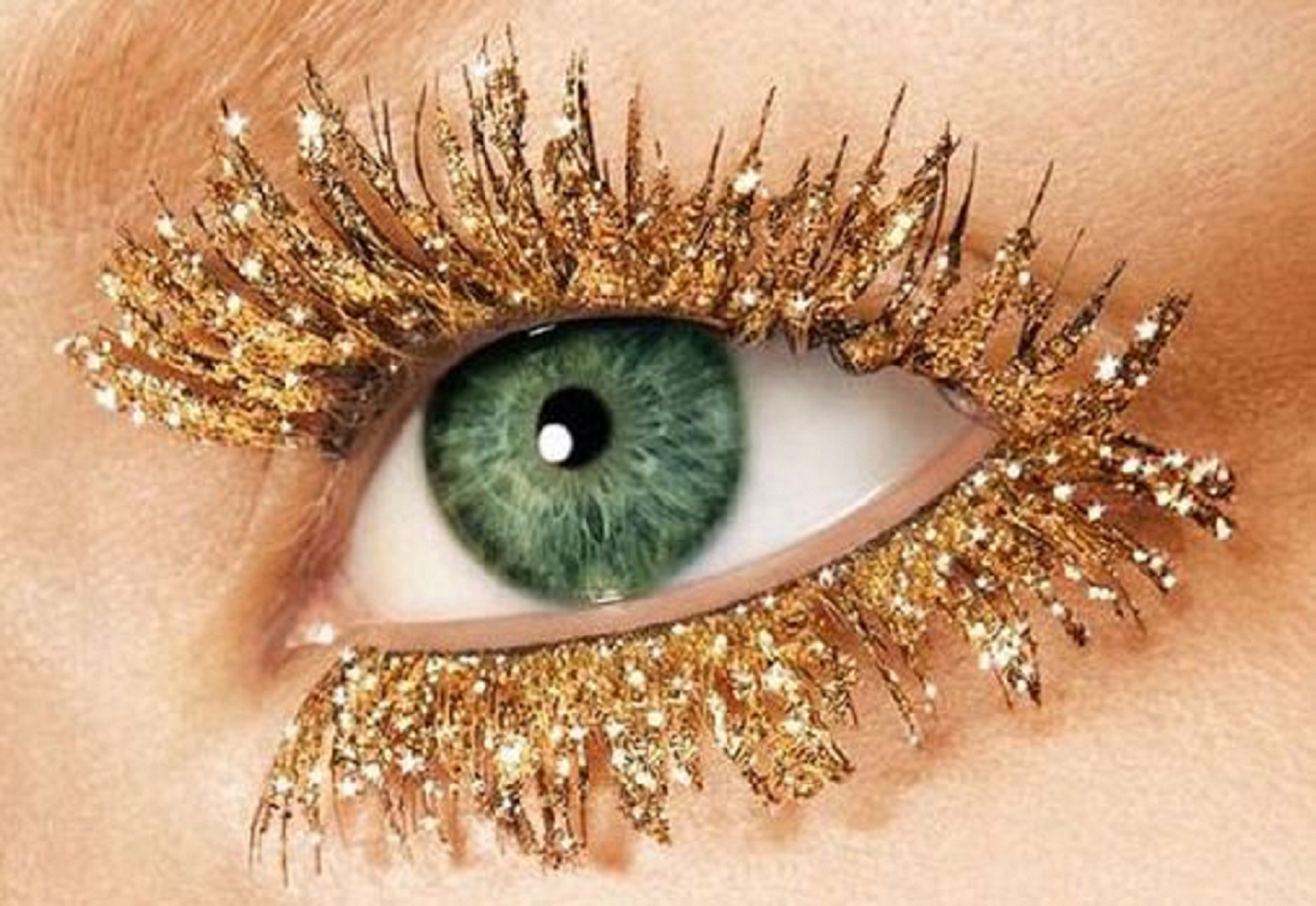 5. Glittering Rhinestone Lips and Fingernail.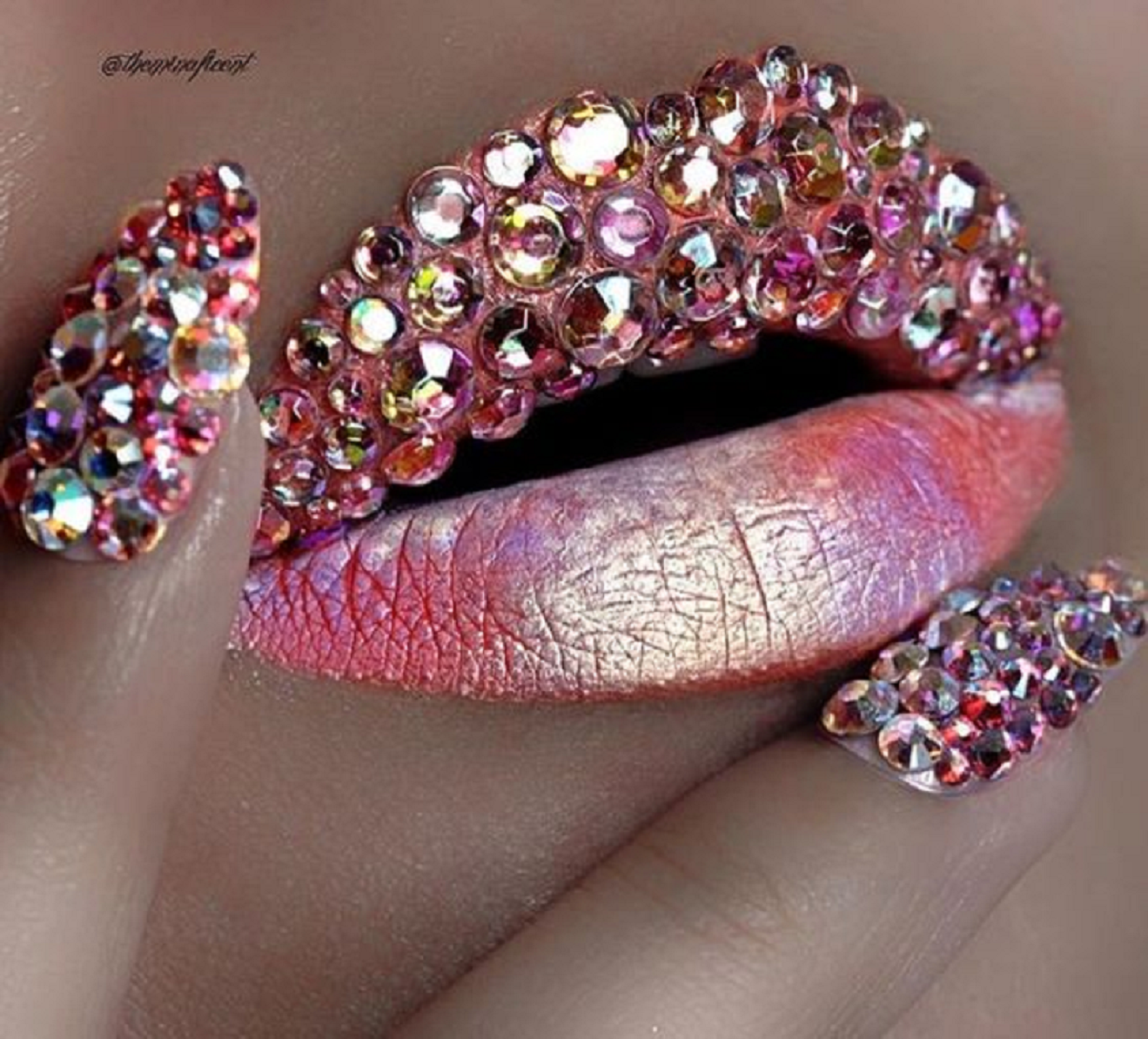 6. Iridescent Star Glitter Makeup Around One Eye and Cheek.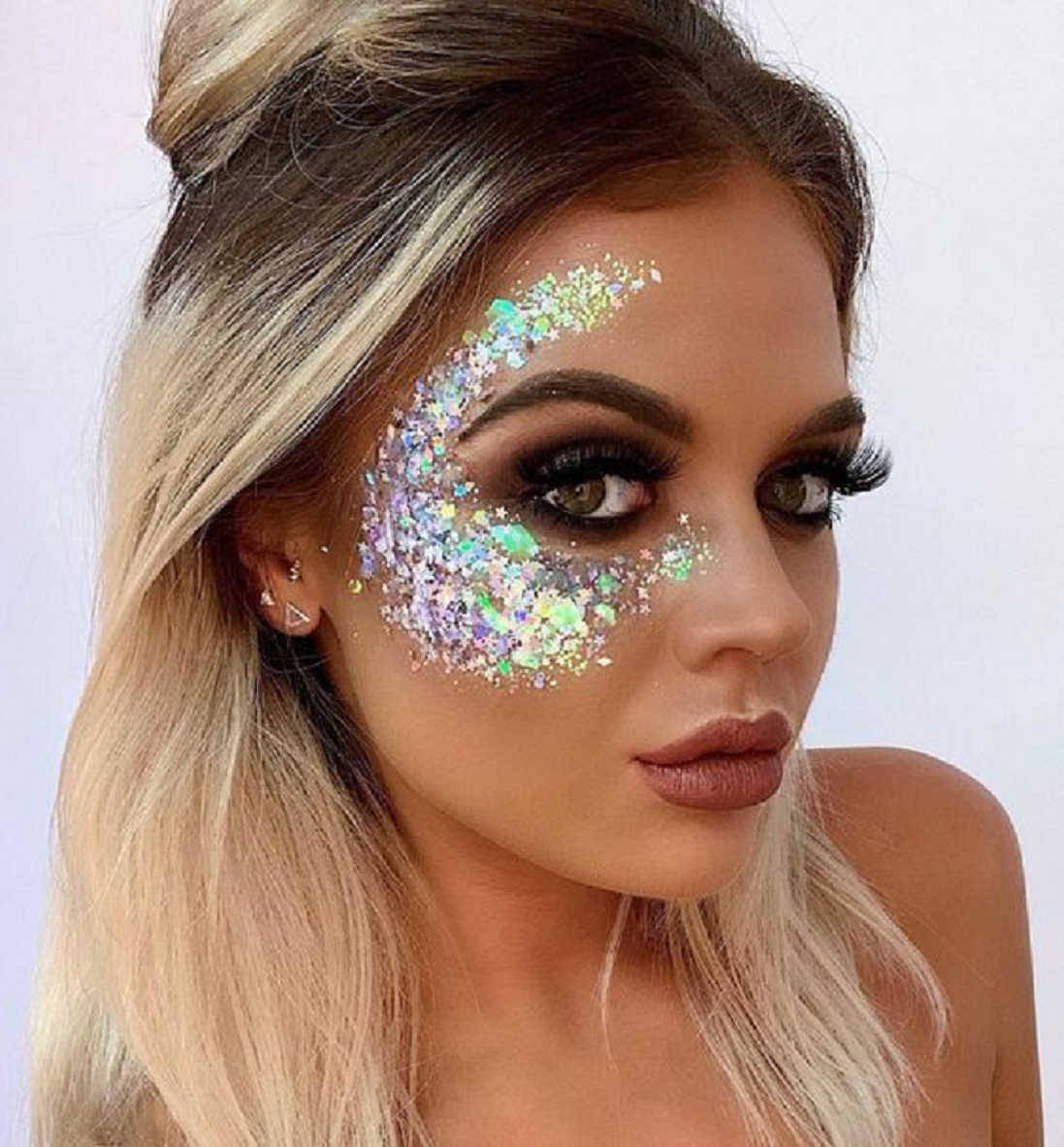 7. Glittering Rhinestones and Crystal Makeup Bling on Cheek, Forehead and in the Hairline.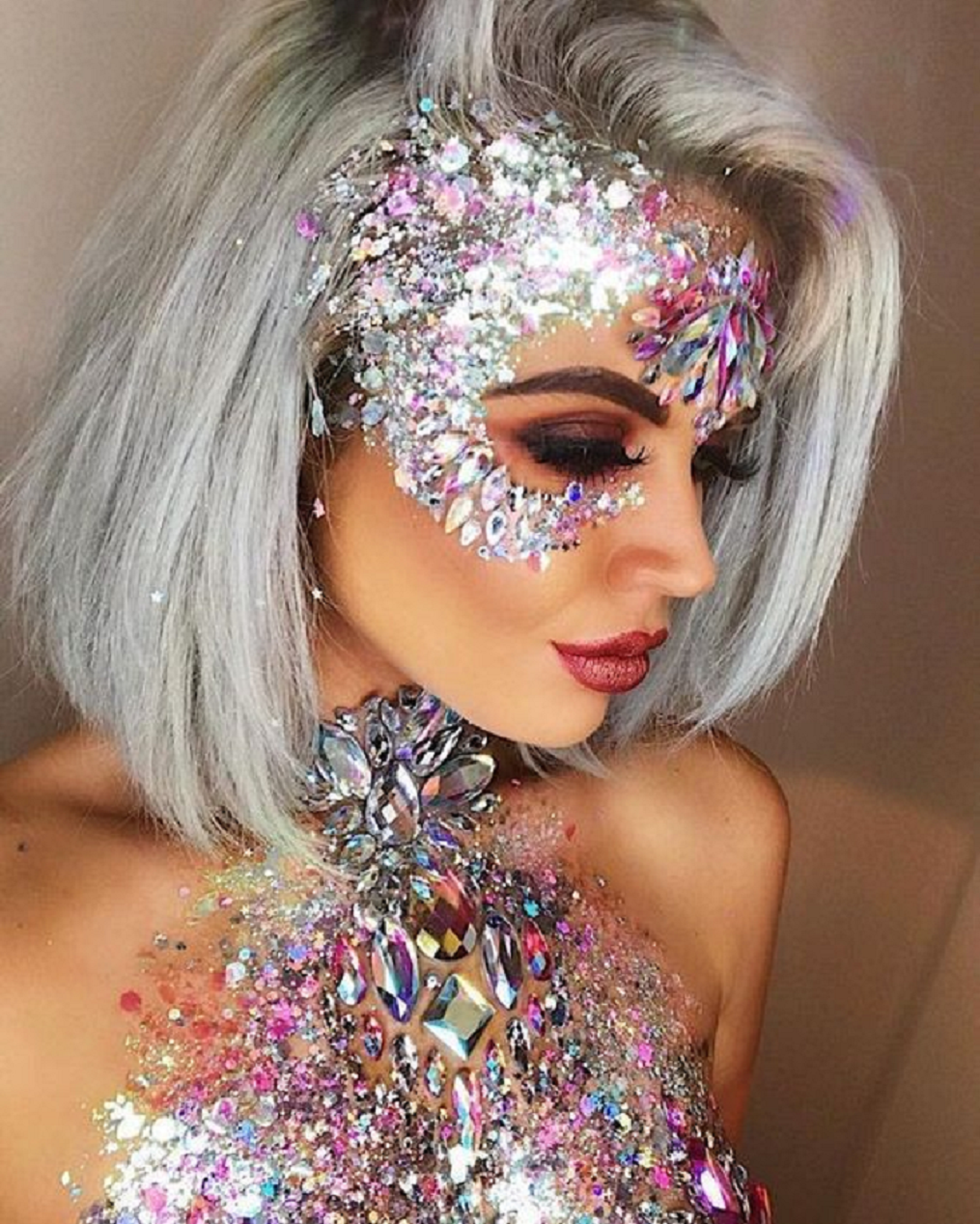 8. Glossy Glittering Lipstick with Silver Rhinestone Trim.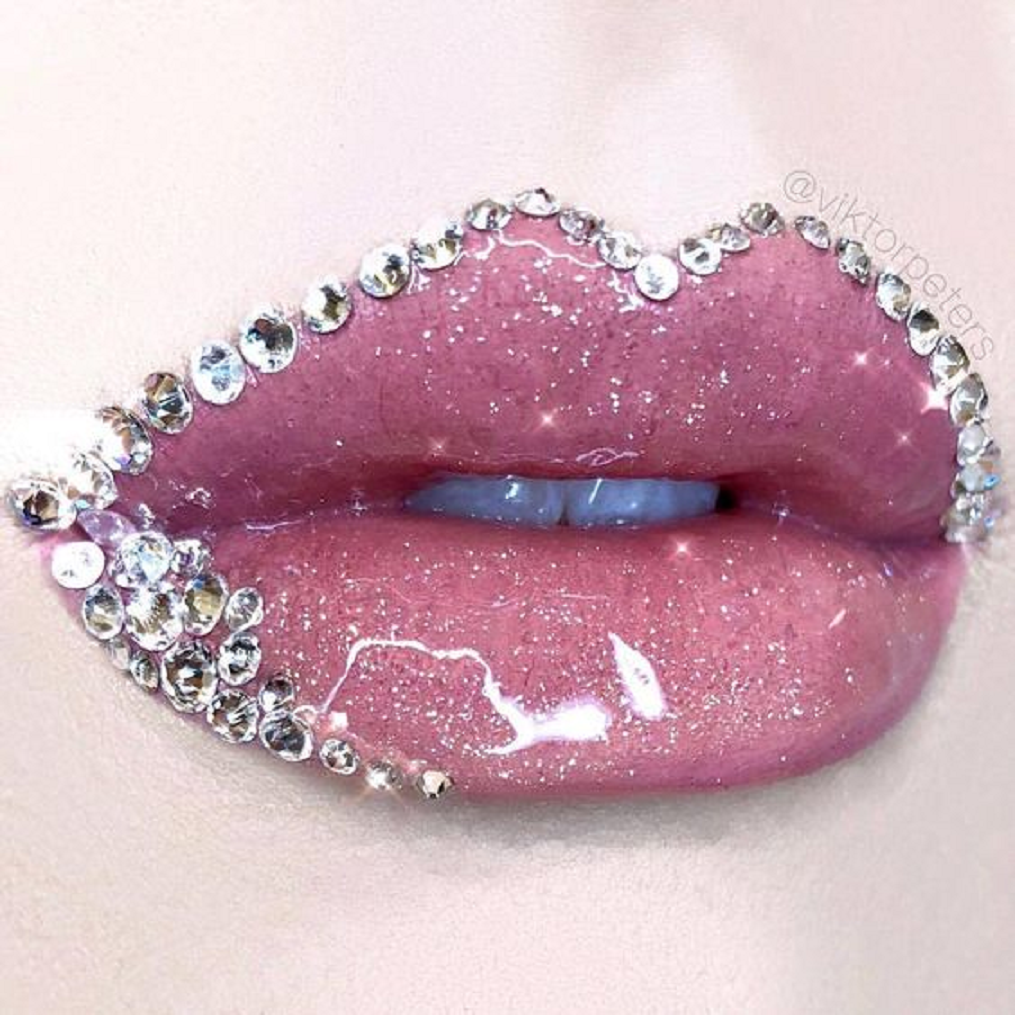 9. Black Glitter Lipstick with a Jumbo Rhinestone.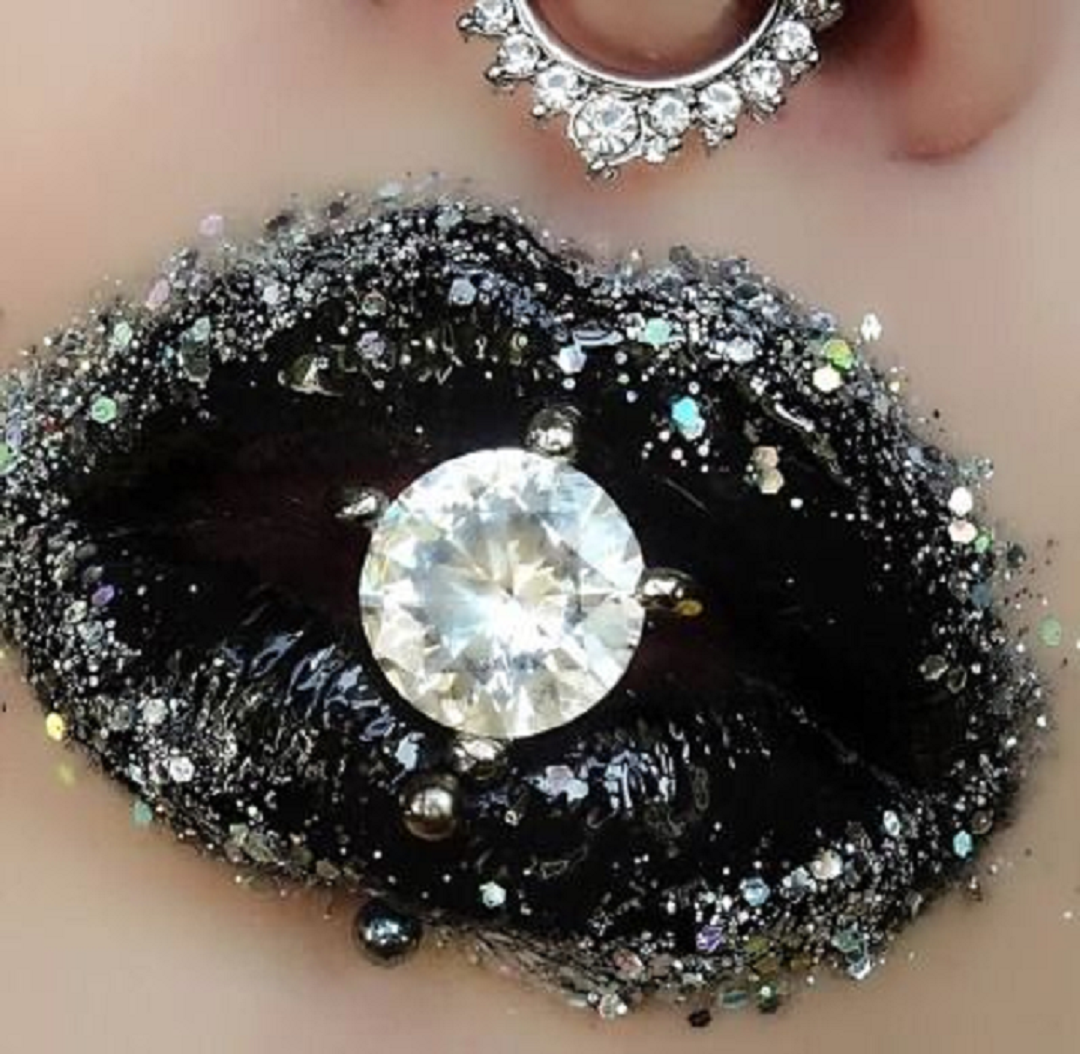 10. A Combination of Holographic Stars, Silver Glitter and Large Round Holographic Spheres Face Makeup Bling.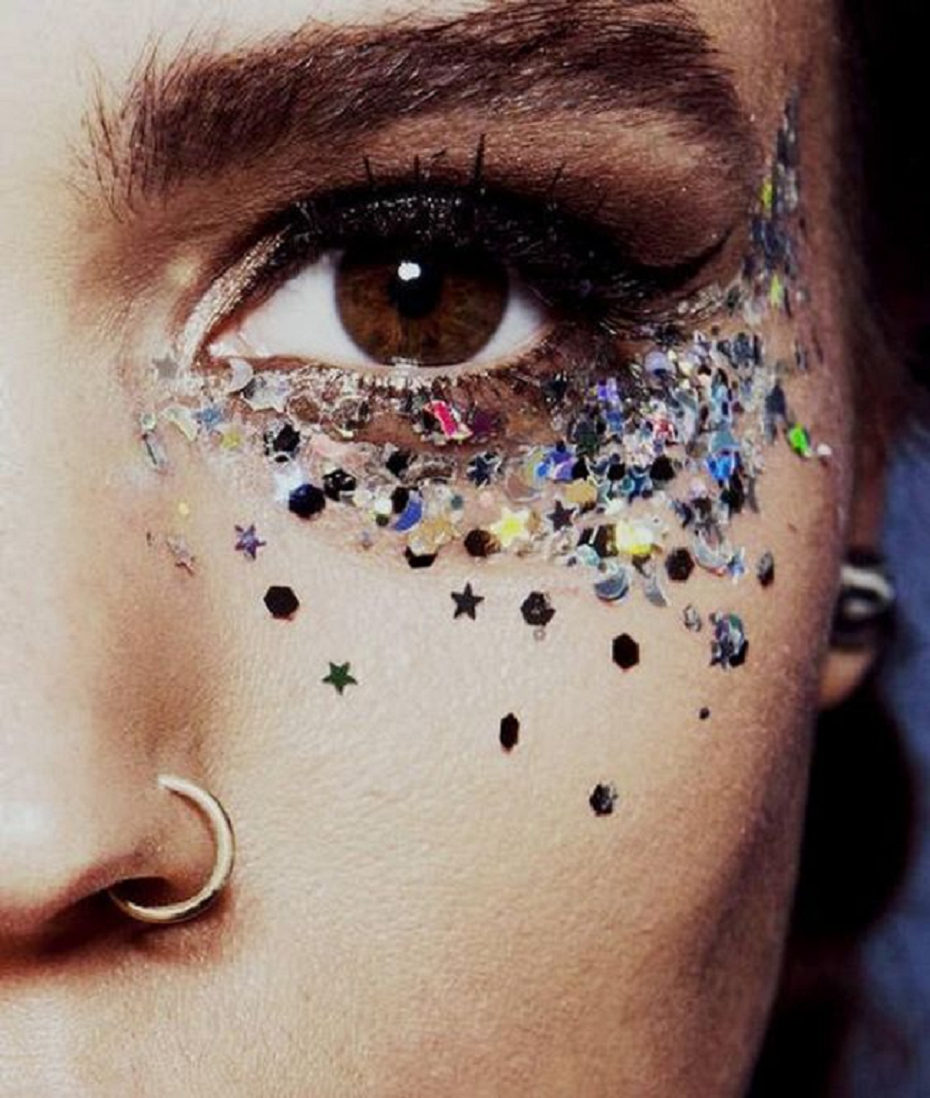 11. Silver and Iridescent Rhinestones Applied Around the Eye.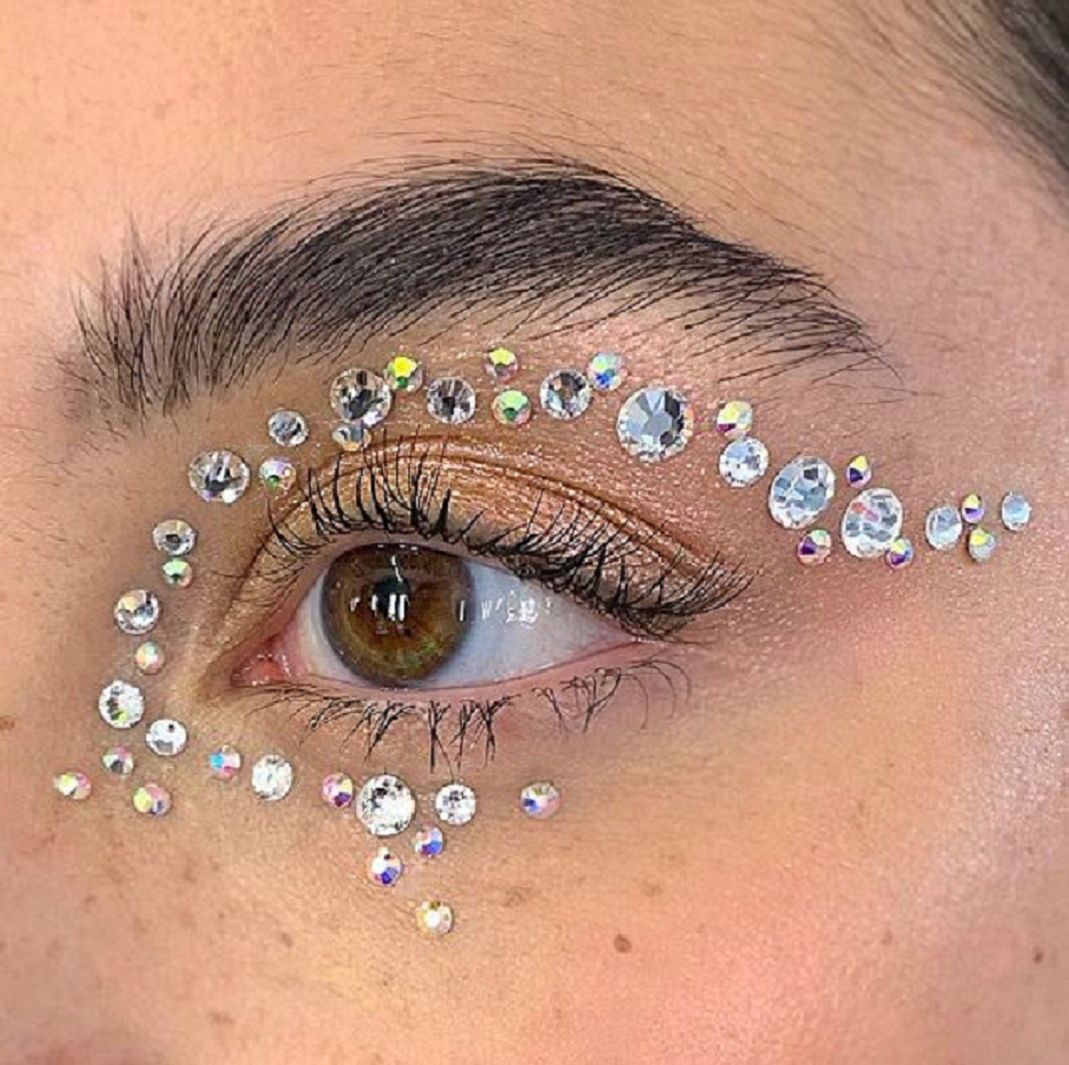 12. Crystal Rhinestones Around Both Eyes.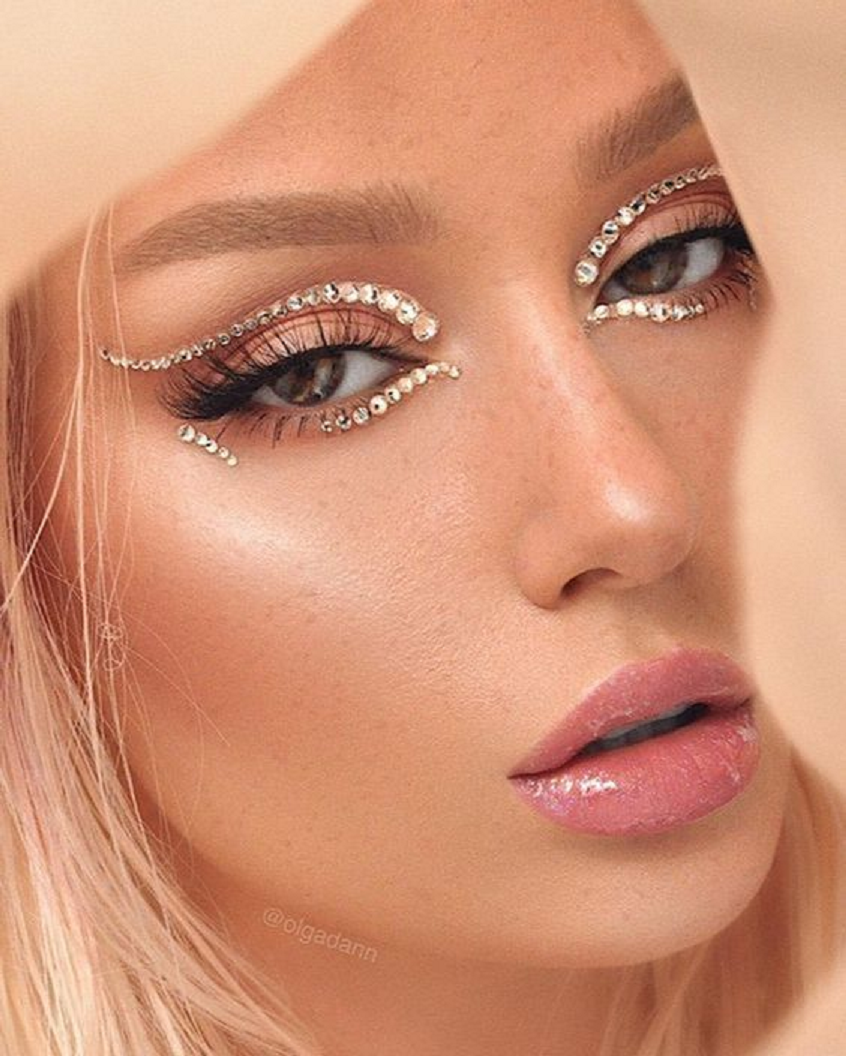 13. Purple Eye Shade with Hologram Glitter Under the Eyes and Fingers Makeup Bling.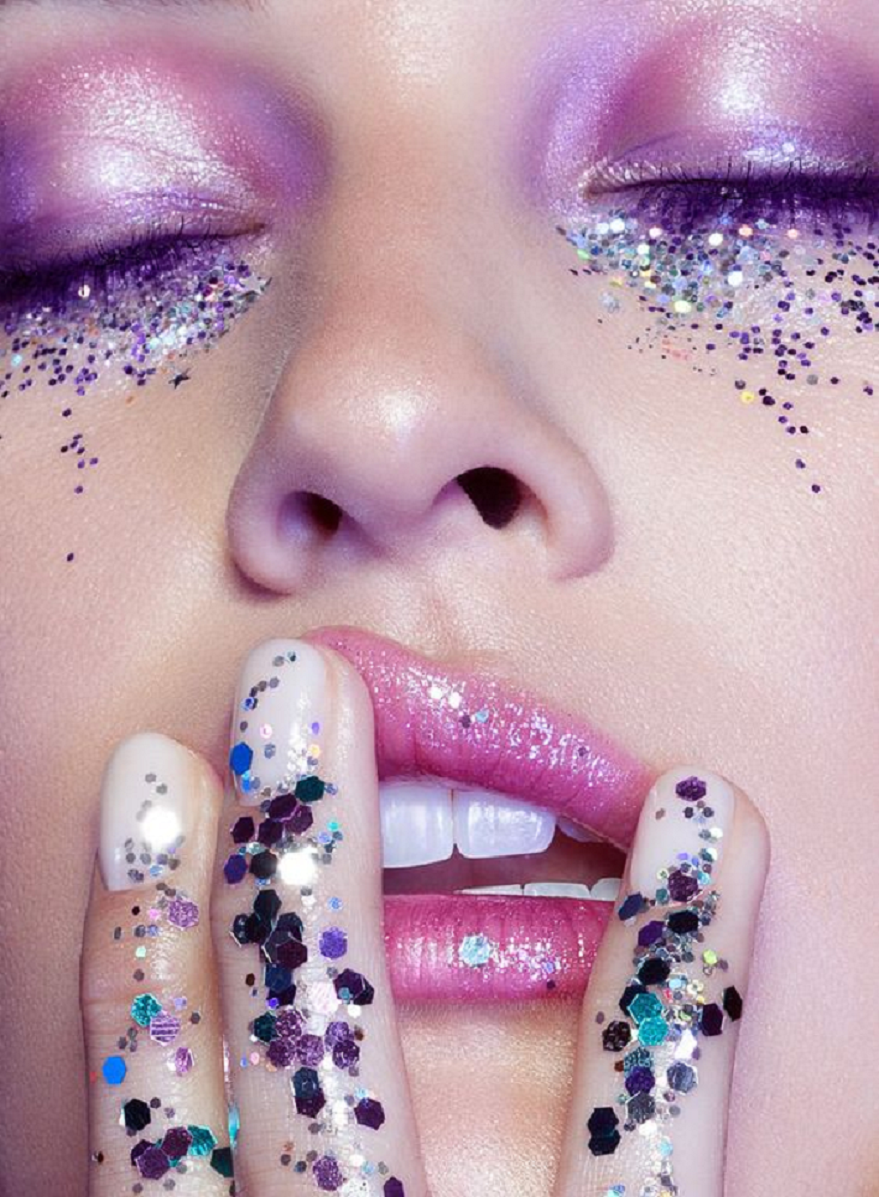 14. Bling Bling Pink Eyes Colour with White Pearls Around the Eye and on the Eyelid.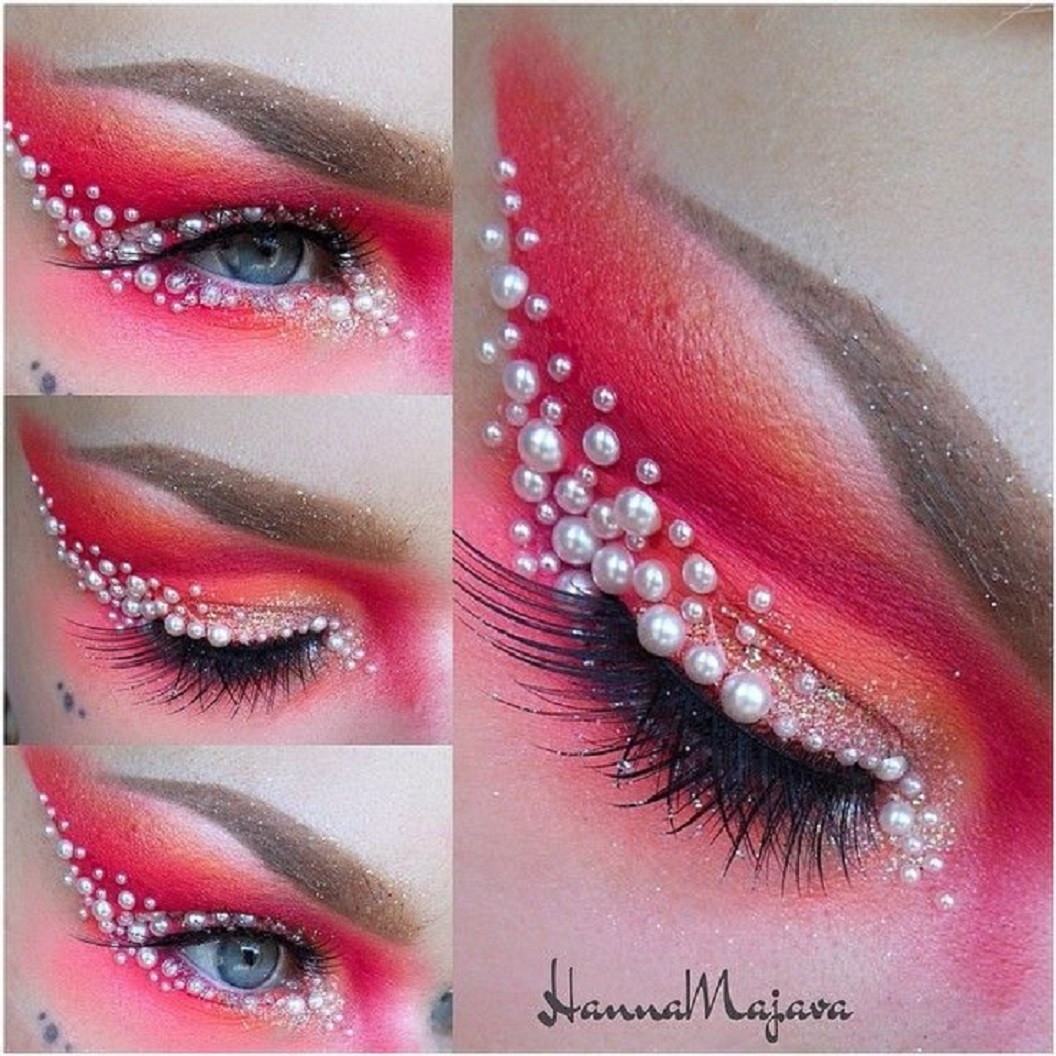 15. Black Eye Liner with Multi-Color Rhinestones Around the Eye and on the Lips.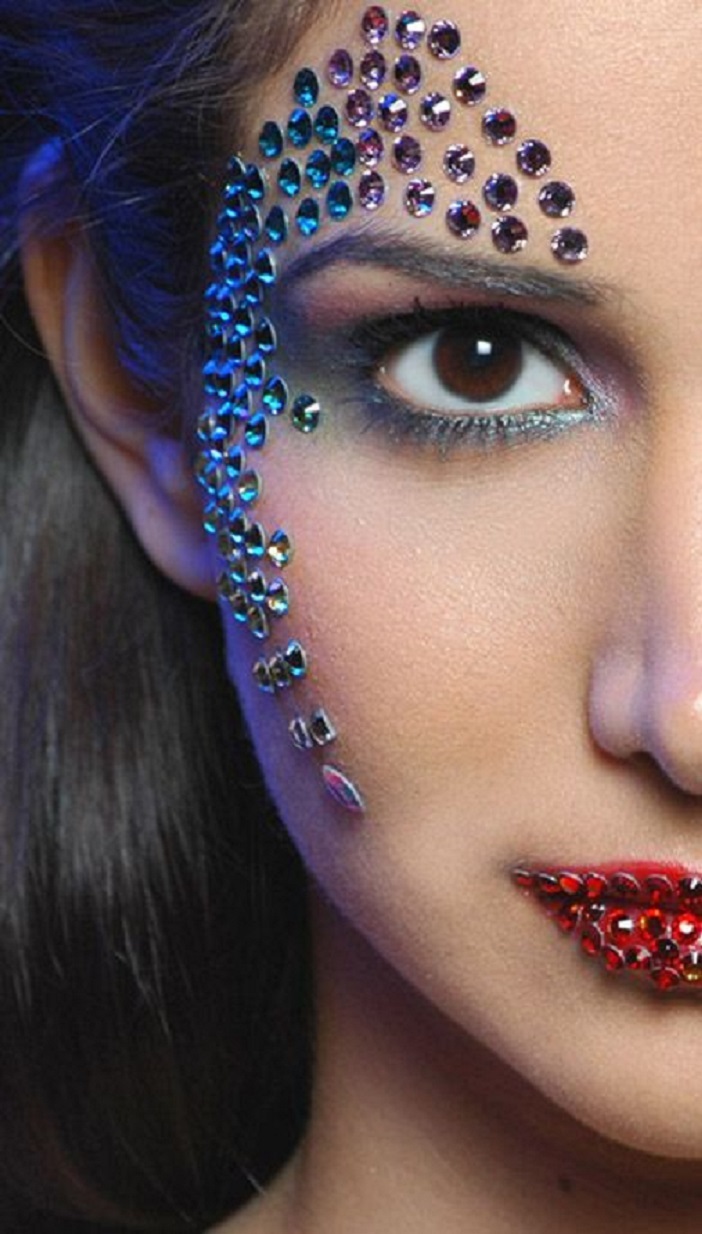 16. Glittering Black Rhinestones on the Lips with Black Lipstick Underneath.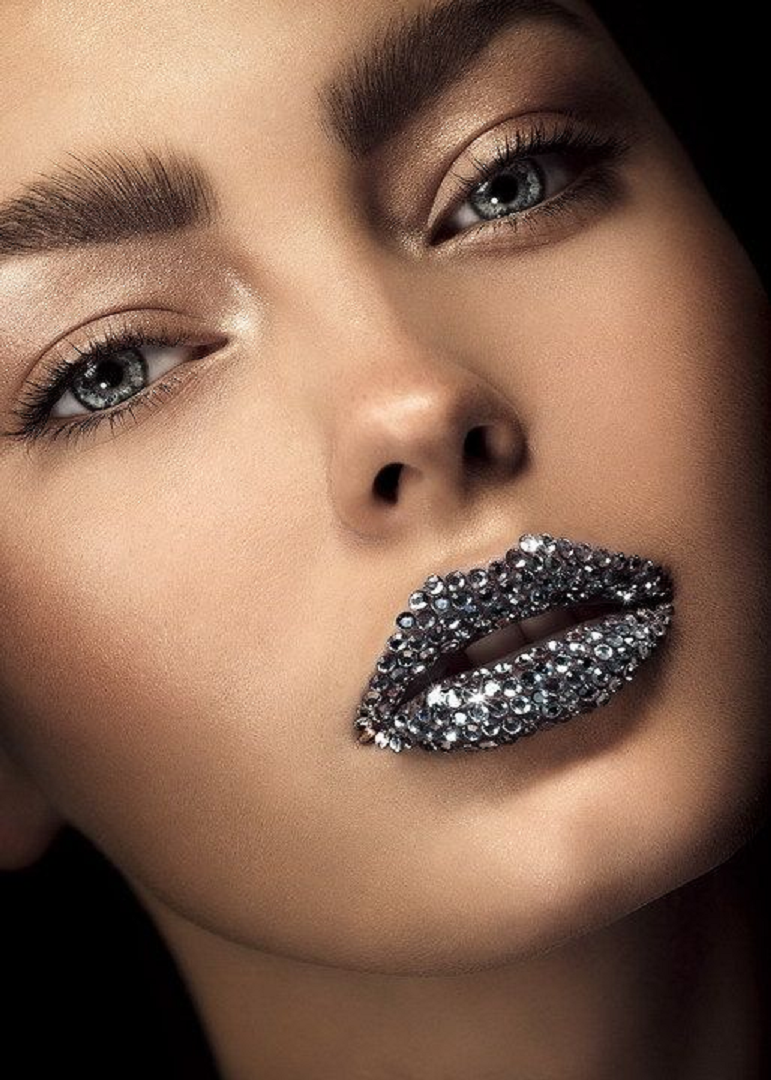 17. Classic Black Rhinestones and Sequins Around the Neck.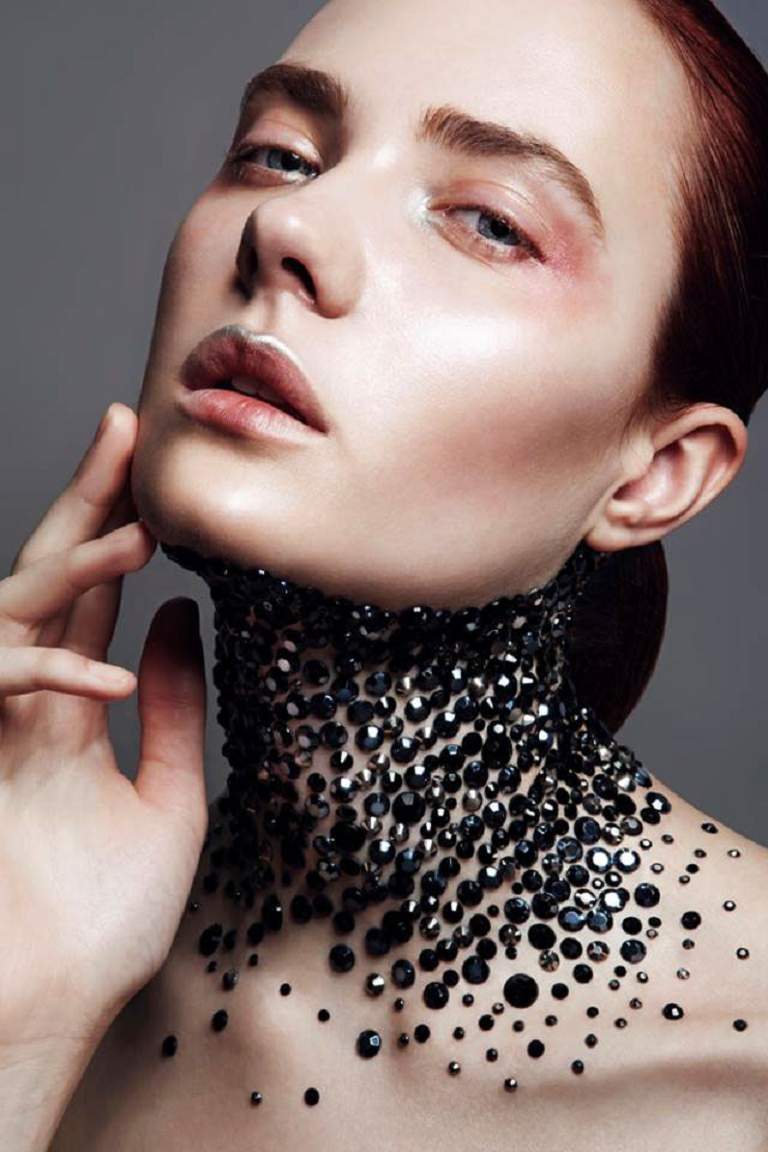 18. Irregular Gold Sequins and Rhinestones Around One Eye and on One Ear.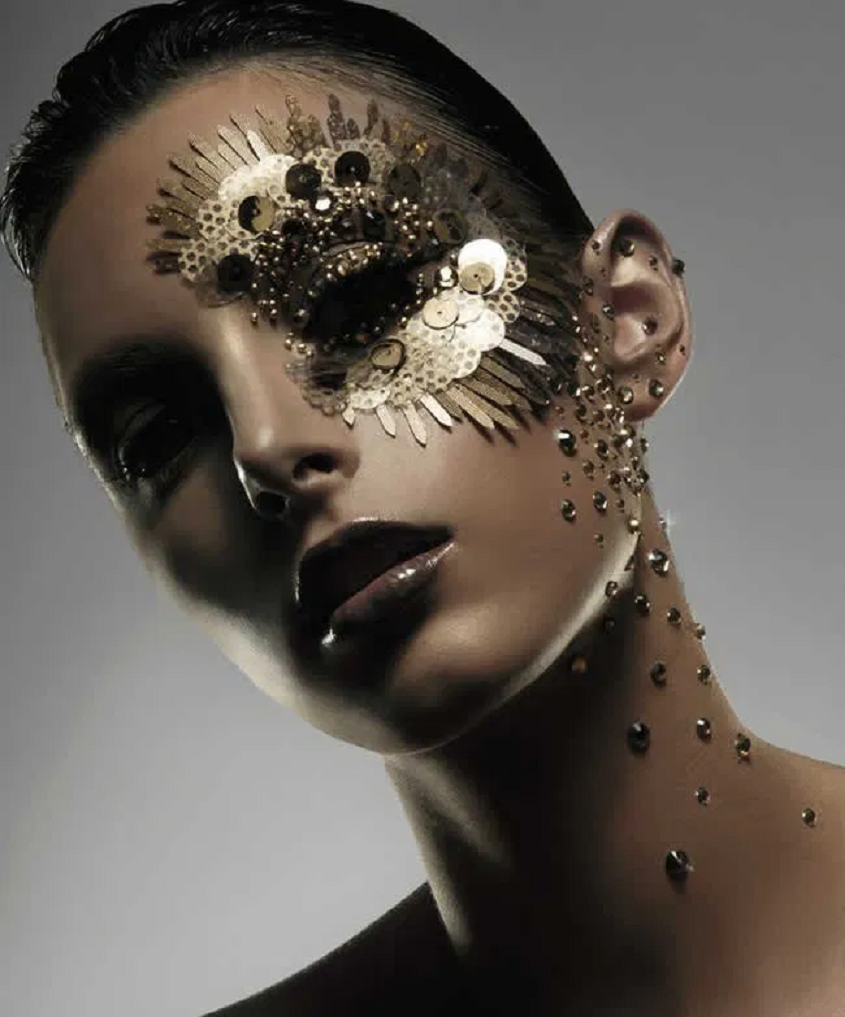 19. Black Eye Liner with Silver Glitter Dust Around the Eyelids.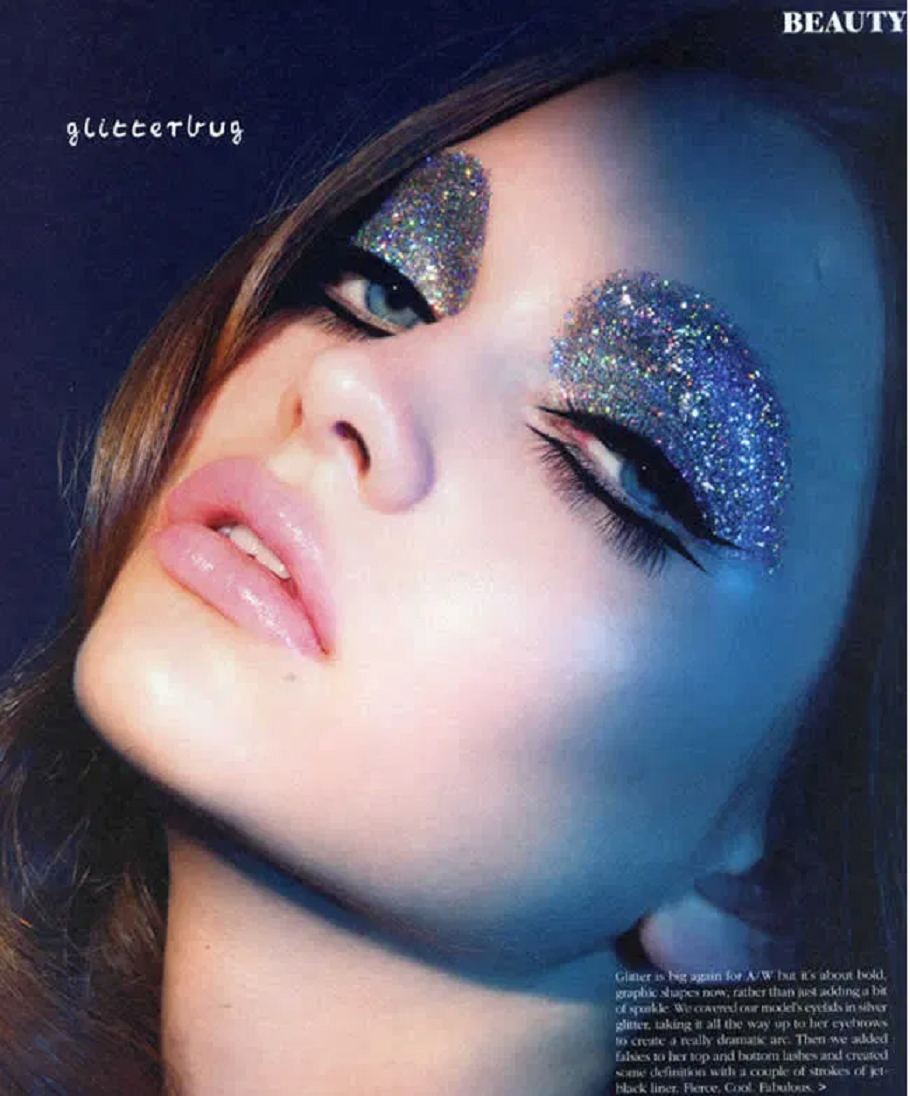 20. Smoky Black Eye Shade with Long Eyelashes and Silver Rhinestones and Crystals.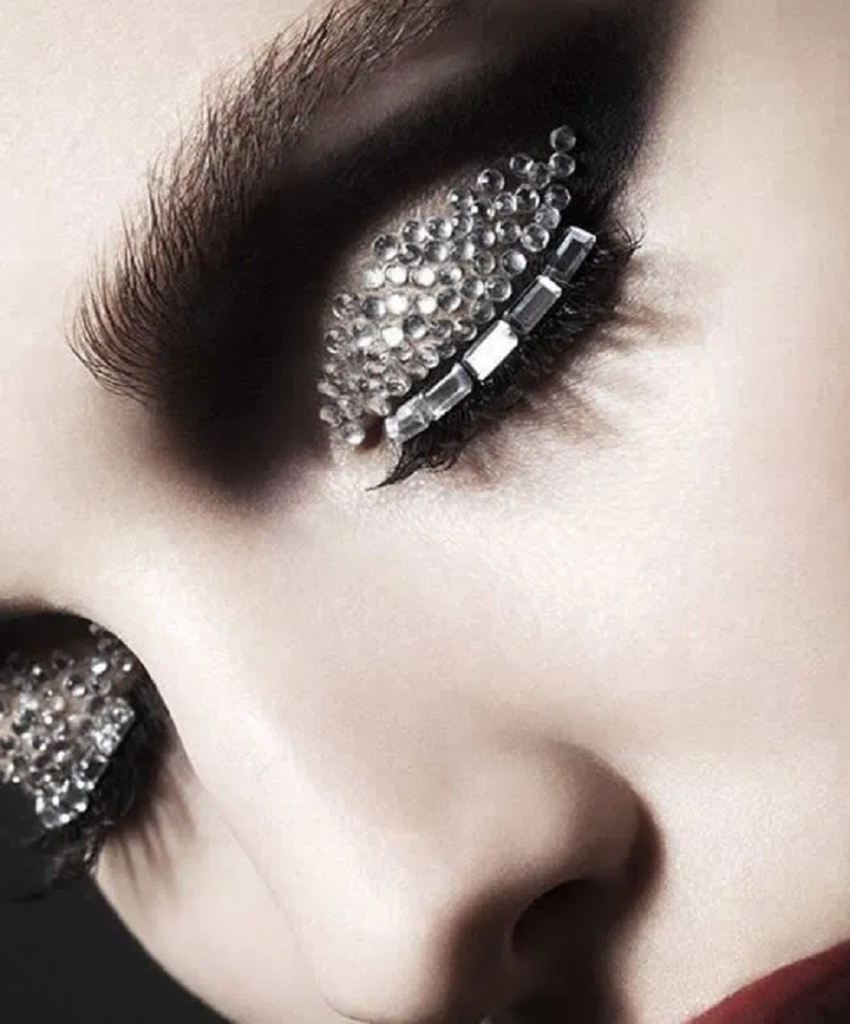 21. Iridescent White and Gold Sequins on Eyebrows.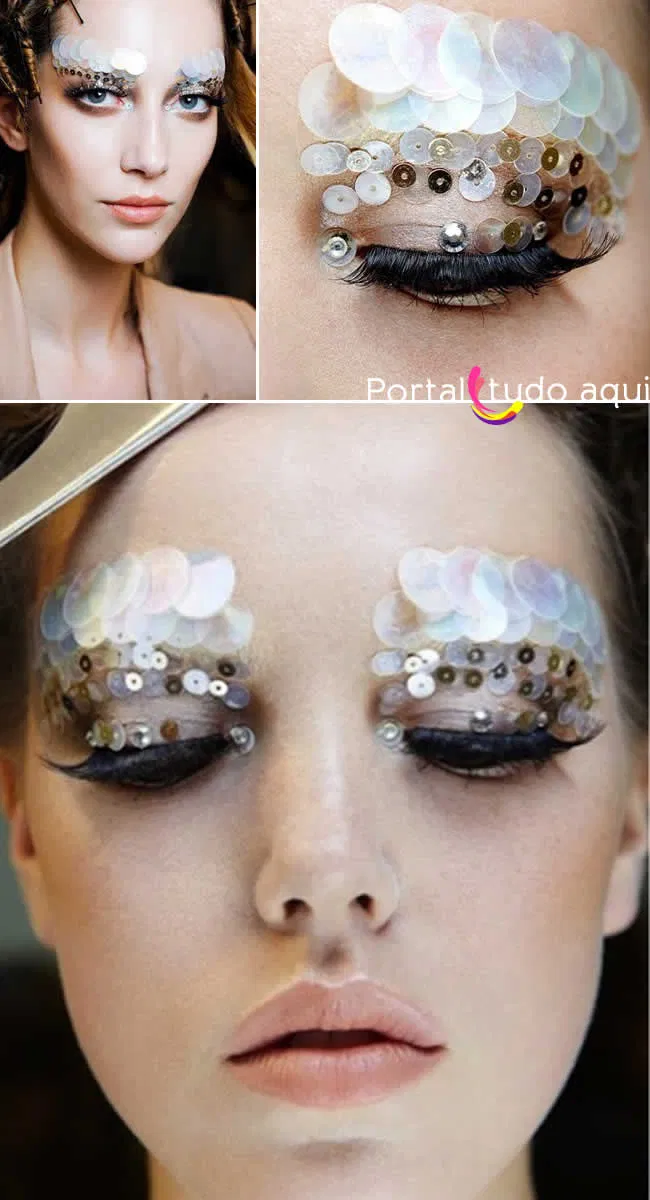 22. Black Eye Shadow with Glittering Silver Rhinestones Carnival Makeup.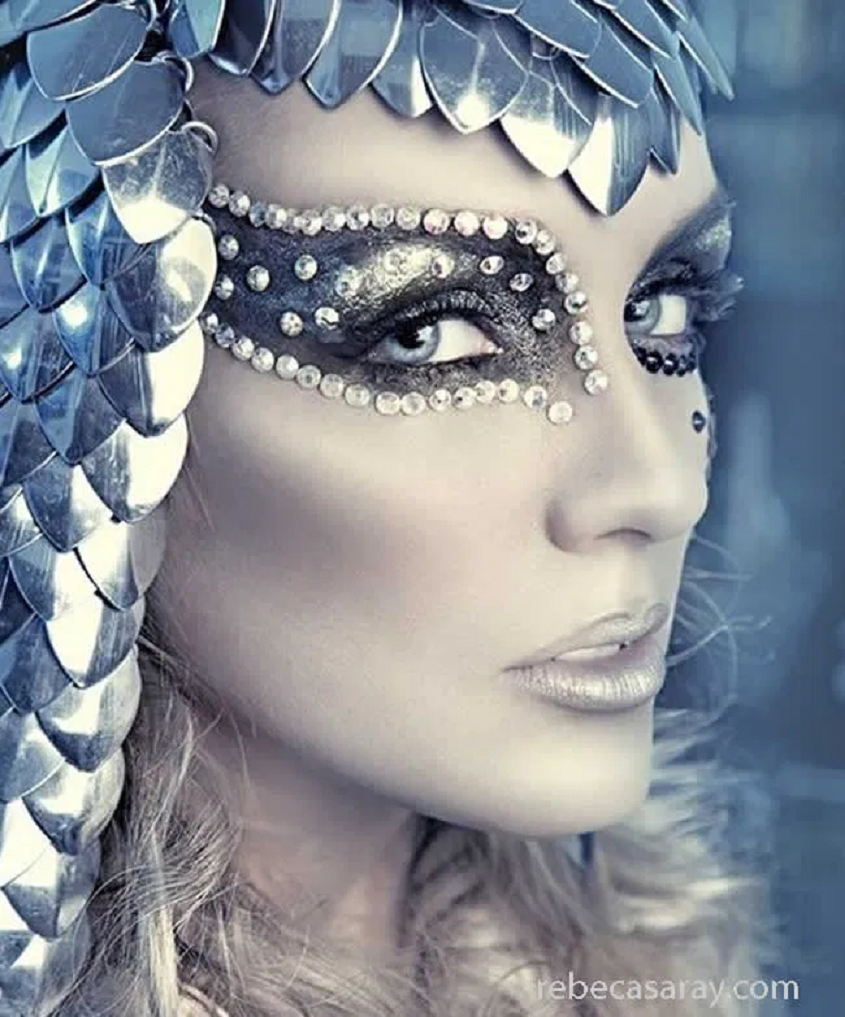 23. Green Eye Shade with Glittering Sequins with Rhinestones.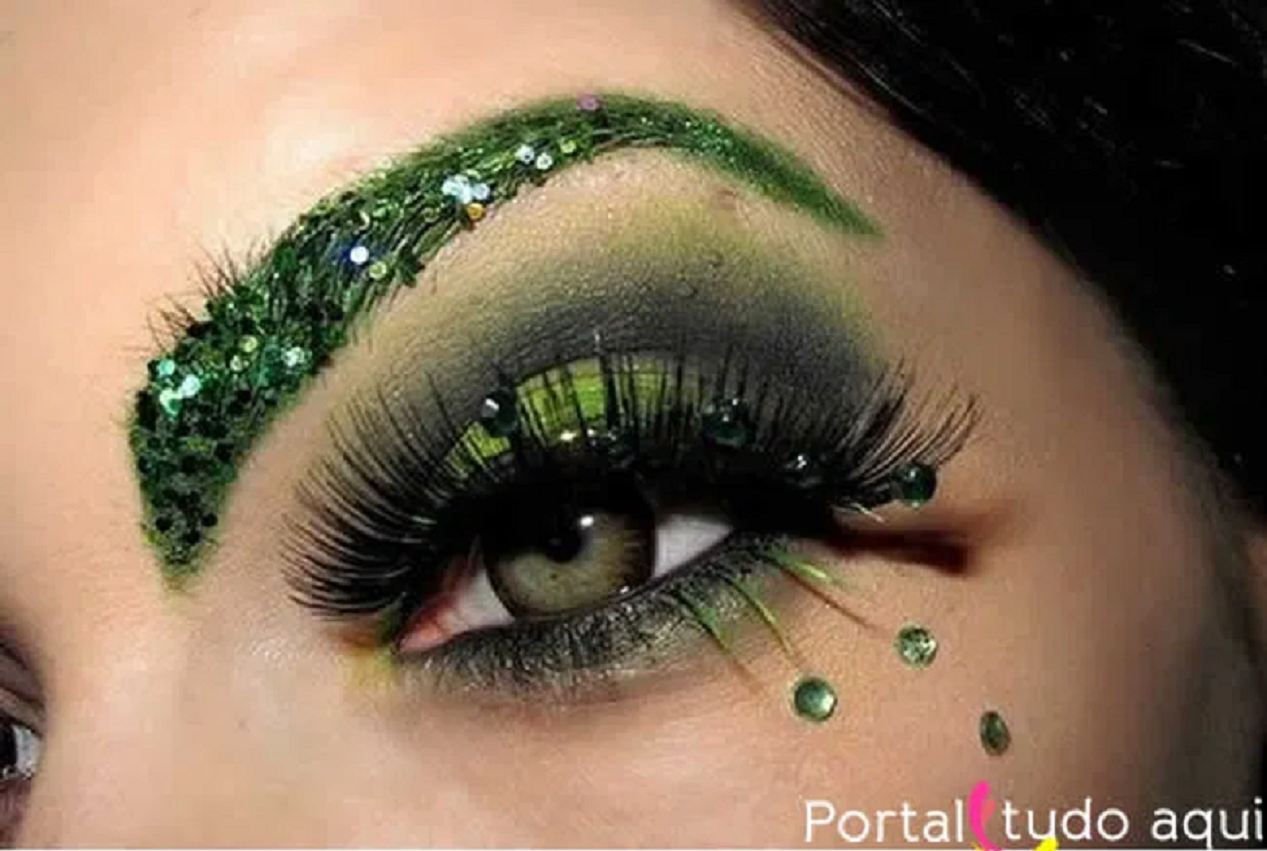 24. Crystal Face Mask with Black Eye Shade.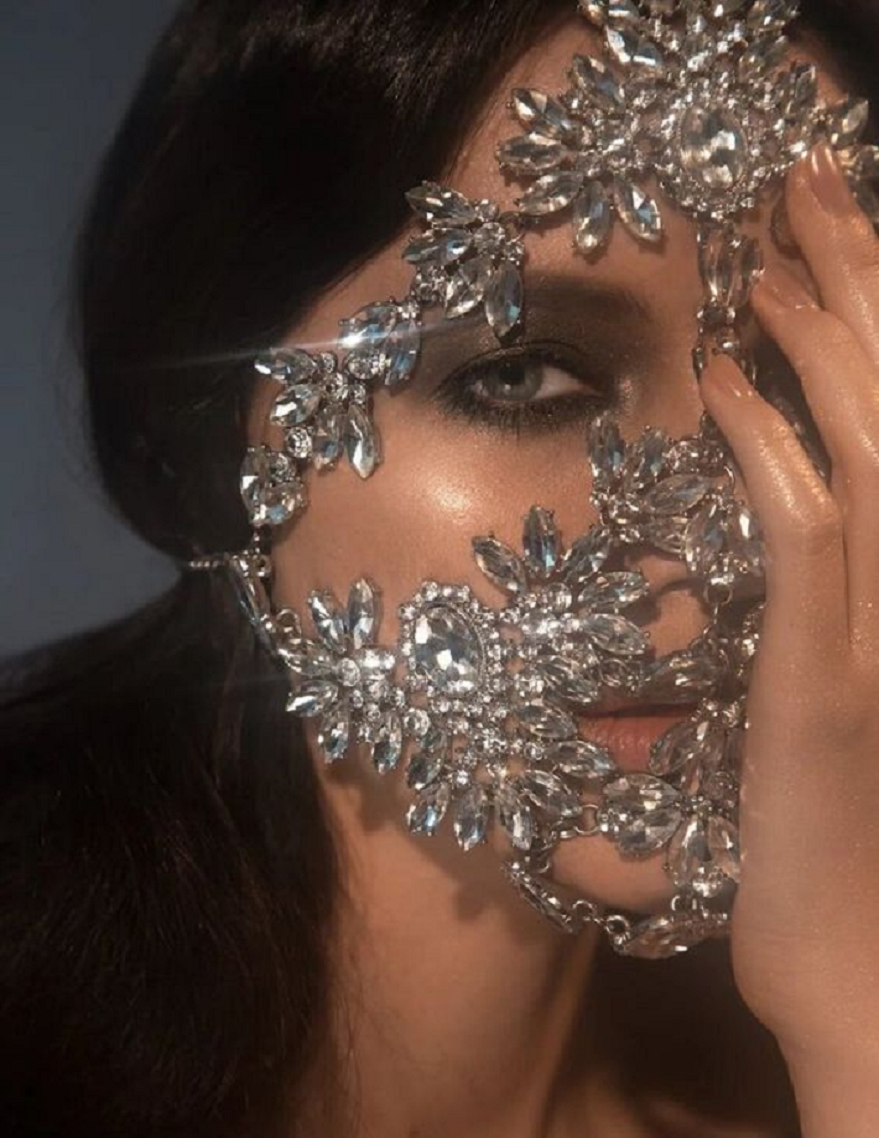 25. Bling Makeup: Light Blue Unicorn Dust Glitter with Crystals on the Forehead.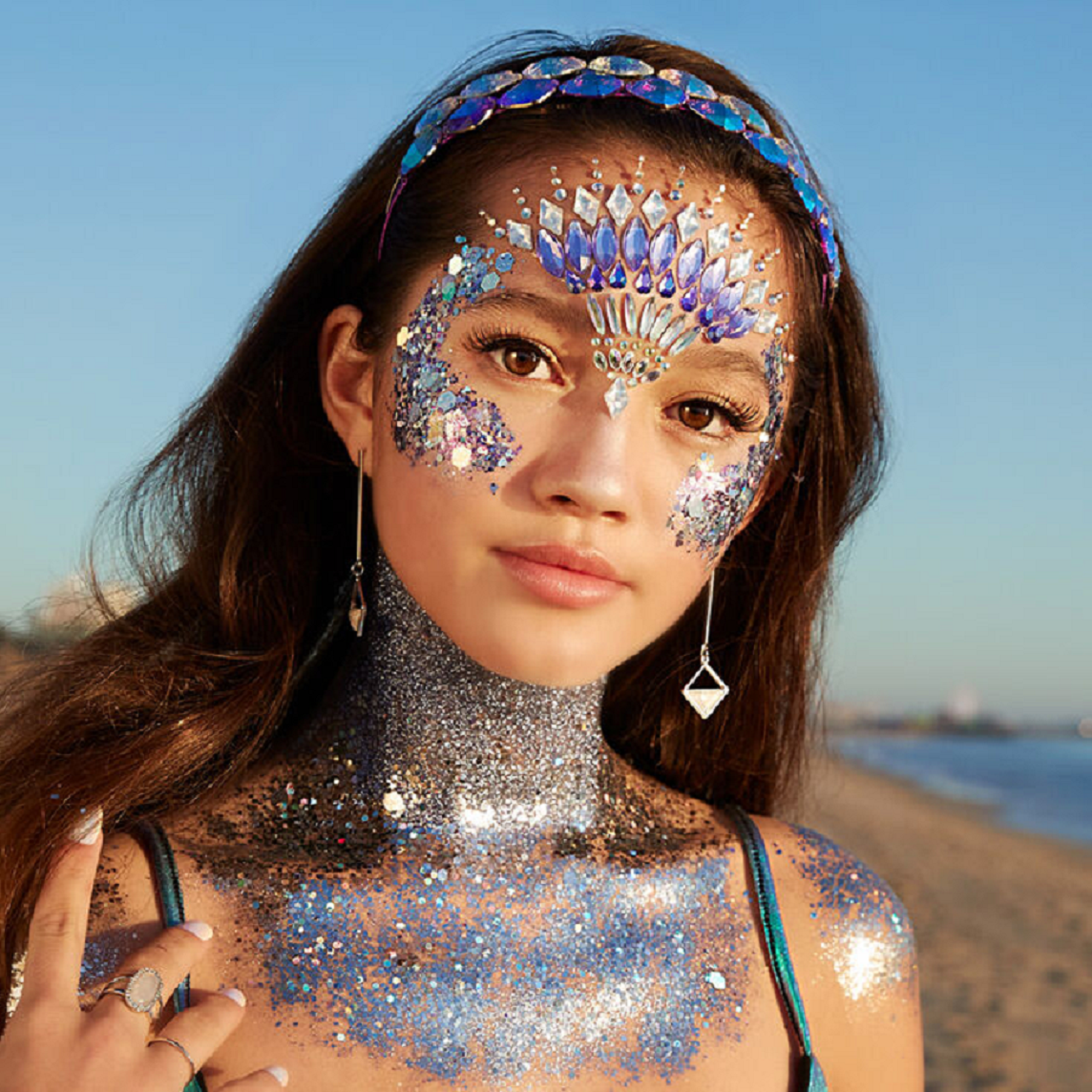 Bling Makeup Conclusion
Sparkly makeup is often best deployed at special events.
In fact we normally recommend keeping your makeup fresh, natural and subtle if you're wearing a sequin dress or blingy accessories.
But carnivals, festivals and even weddings are all perfect opportunities to up your glam factor.
You can even layer bling on special occasions to fearlessly combine shiny fashion, shoes, bags and jewelry!