Bling Women Shoes – Which is Your Favorite?
Introducing high heels or flats into your everyday look invents an element of glamour that can encourage your style to elevate by proxy.
Those sparkling new earrings or some new shiny rings can be complemented perfectly by a glittery set of Bling Women Shoes while you still get to enjoy your favourite casual clothes.
Bling Women Shoes can even be an instant confidence booster.
The right pair of women's heels or flats don't just look great— they make you feel great too!
There is so much incredible fashion-forward bling footwear online now.
Here at the SequinQueen Sparkling Life Magazine we've edited the best Bling Women Shoes into one post.
Buying shoes online does not have to be a scary process in fact it can be quite helpful not having to fight the shopping malls for a car park or to juggle the kids around.
These may not be the creations you end up buying.
But they will certainly whet your glitter's whistle.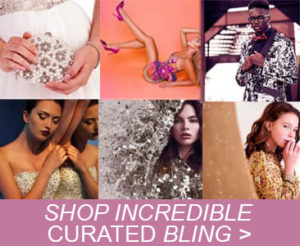 And if these are not enough take a look at our amazing Pinterest boards packed full of bling fashion and accessories.
Once you've got your shoes the next step is learning how to style and accessorize embellished fashion. Our handy style guides will make you a bling style expert!
Need some more sparkling fashion ideas? SequinQueen's curated range of Women's Bling Fashion and Women's Bling Accessories has got your back there too.
Here's SequinQueen's curated selection of the best Bling Women Shoes on Instagram, just for you.
1. Flat Open Toe Crocs Slipons with Embellished Rhinestones to Beat The Summer Heat.
2. Pointed Toe High Heels Leather Shoes with Back Strap with Rhinestones.
3. Pointed Toe High Heels with Ankle Strap Shoes.
4. Stilettos Open Toe High Heel Sandals with Straps and Embellished Rhinestones.
5. Stelletio High Heels with Open Toe Sandals and Embellished Hanging Rhinestones at The Back.
6. High Heels Open Toe Strappy Sandals with Butterfly Design and Embellished Rhinestones.
7. All Black, Pointed Toe High Heel Shoes with Gold Brooch with Rhinestones.
8. High Heels Open Toe Sandals with Knee High Straps with Embellished Rhinestones.
9. Long Stiletto High Heels with Pointed Toe and Knee High Boots.
10. Stunning Open Toe High Heels with Rhinestones Ankle Straps.
11. High Heels Pointed Toe Shoes with Back Strap and Rhinestone Embellished.
12. All Gold Open Toe High Heels Sandals with Ankle Strap and Rhinestone Brooch.
13. High Heels Pointed Toe with Transparent Front and Embellished Rhinestone Straps .
14. Black High Heels Peep Toe Sandals with Back Ankle Strap and Embellished Rhinestones.
15. High Stellieto Heels Pointed Toe Shoes with Pearls and Rhinestones.