Best Instagram phone bling videos. Because phones are EVERYONE'S main accessory these days and MUST sparkle too.
MUST sparkle?
Yes, poppets. MUST.
Because bling makes the world a better place.
And your phone is a bling beacon.
Yes, yer prolly confused at this point. So let Miss Cee skool you.
First, the back of your phone has a LOT of empty real estate on it.
Second, your phone spends a LOT of time right near your face and in your hand.
Or flying through the air if'n you're a bad tempered actor or supermodel.
In ALL those cases your phone is presenting you with a shimmering opportunity to sparkle.
And to sparkle a LOT.
The amount of bling you can pack on the back of a phone is off the charts, luvbugs.
Here at the SequinQueen Sparkling Life Magazine we REVEL in bling. And the more the better.
But in terms of bling for your buck, a bejewelled and embellished phone case takes the cake.
You would have to buy a whole suite of massive jewels to get the same effect. Rings, necklaces, earrings, tiaras. The whole works.
And then wear them all at once. Which would also be fine.
But you'd be spending a fortune on icing yerownself up in that case.
Even if they were all paste.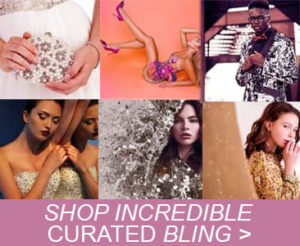 Bling iPhone and cell phone cases on the other hand are cheap as chips.
Mix it up by having a different one for each day of the week.
Or for special occasions.
To help you get inspired we've edited some of the best Instagram phone bling videos below. AND for even more dazzle check out our Cell Phone Bling Pinterest board.
Find YOUR favorite mobile phone bling beacon today and sparkle like never before!
1. Best Instagram Phone Bling Videos: Colorful Rhinestone Embellished Mobile Back Case for iPhone with Stand.
2. Transparent iPhone X Back Case with Colorful Rhinestones, Crystals and Pearls.
3. Multi-Color Rhinestones and Beads Flexible iPhone Back Cover with Neck Chain.
4. Black and Silver Rhinestones Mobile Case with Custom Dog Design.
5. 3D Cases Made with Themes of Beetlejuice and MCR Mobile Case with Colorful Rhinestones.
6. Pearls and Rhinestones Embellished iPhone XR Phone Cover.
7. Pink Phone Back Cover with Pearls Embellished with Fruits and Flowers Design.
8. Box Shapped Mobile Back Case with Colorful Rhinestones and Hanging Neck Strap.
9. Tiny Rhinestone Mobile Back Case in Silver and Black.
10. Customized Ladybug Design Phone Back Cover with Rhinestones.
11. Customised Phone Back Case with Rhinestones.
12. Colorful Diamonds in Animal Print Mobile Back Case.
13. Hello Kitty Phone Back Case with Rhinestones.
14. Gold Hard Plastic Mobile Case with Rhinestones for iPhone.
15. Best Instagram Phone Bling Videos: Red Mobile Case with Rhinestones and Heart Design.
16. Customized Colorful Pearls and Rhinestones Phone Back Cover.
17. Crystal Phone Cases with Embellished Rhinestones.
18. Attached Grip with Rhinestone Trims on the Back of the Mobile Case.
19. Customised Mobile Back Cover Cases with Rhinestones and Name Written.
20. Beautiful Cartoon Inspired Mobile Back 3D Designed Cover with Rhinestones.
21. Mobile Phone Holder with Rhinestones.
22. Silver Jumbo Rhinestones on the Mobile Back Case.
23. Pink and Black Designed Rhinestones Mobile Back Cover for iPhone.
24. Best Instagram Phone Bling Videos: Transparent Mobile Back Case with Gold Sequins.
25. Cardi B Has Been Offically Bling'd Up in This Mobile Back Case.