Wedding dress bling is almost mandatory.
Sure, you can opt for an understated wedding gown. Maybe even a quite simple one.
But why not let your inner Glitterist out?
Your wedding day is your big day.
It's your time to shine. Literally!
And the best way to do that when all eyes are on you is with bling on your wedding dress.
At SequinQueen we love weddings. We have a whole section devoted to weddings.
Why?
Because you'll never have another opportunity to sparkle like your wedding.
But how much bling is just the right amount on your wedding dress?
You don't want to go completely over the top. Or maybe you do, which is fine too.
The best rules of thumb are:
your wedding dress will look amazing when you have a mix of sequins, beads and crystals on it
the individual sequins and the crystals should be small to tiny in size
ensure the rhinestones are Swarovski crystals as these are cut to be shinier and will not fade
the embellishment should highlight the lacework rather than being in blocks or patterns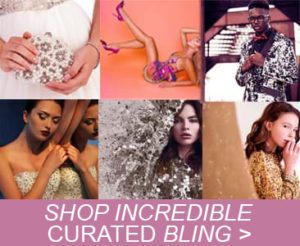 Probably the best rule though is to find a wedding gown that you love.
Everyone will have an opinion. From your mother to your bestie.
But if you choose the bling wedding dress you like then your inner sparkle on your big day will match your outer sparkle.
And that's what counts.
1. Elegant Long Sleeve Wedding Gown with Pearls and Rhinestones.
2. Strapless A-Line Bridal Dress with Sweetheart Neckline and Embellished with Lace, Rhinestones and Beads.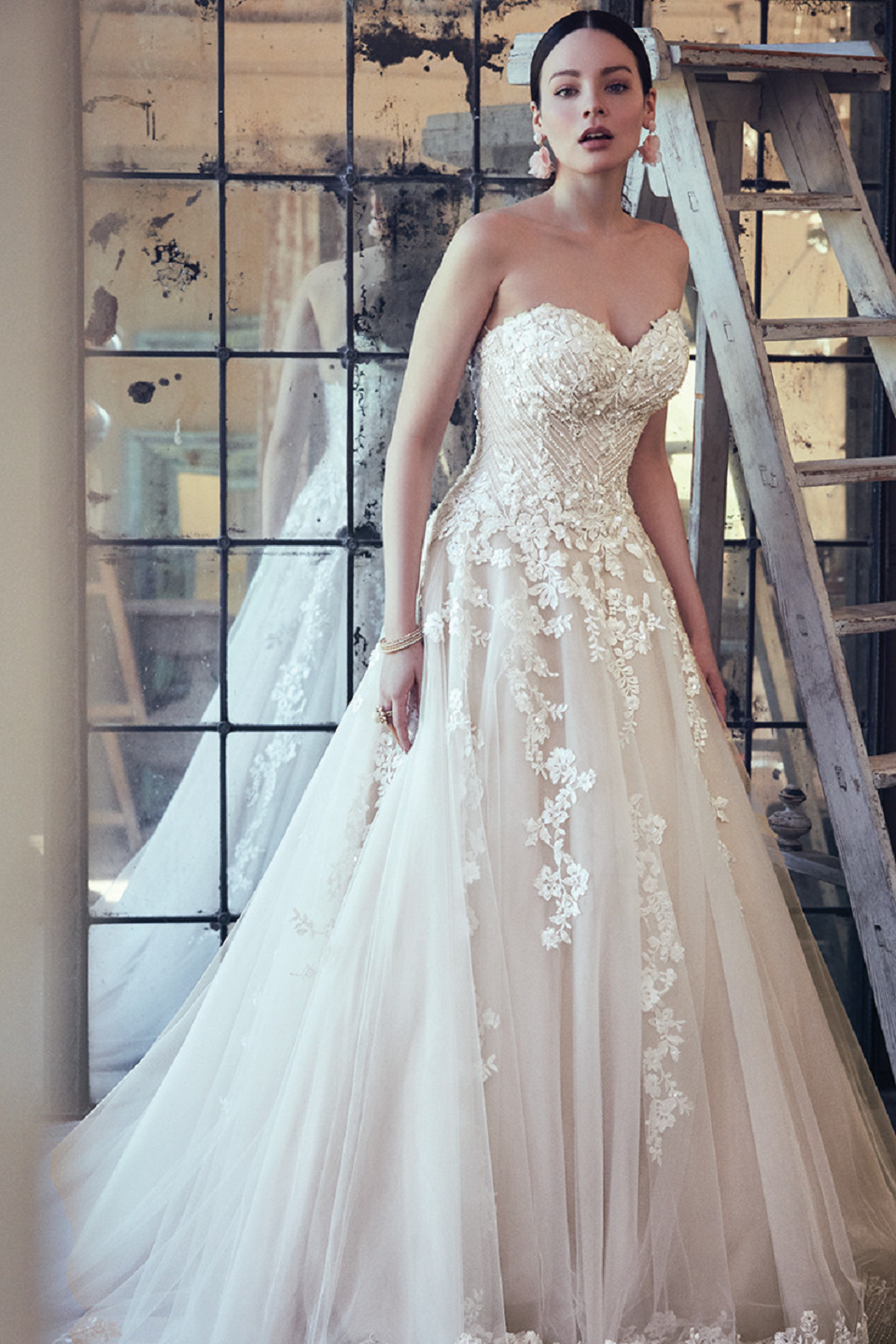 3. Long-Sleeve Sequined Tulle, Silver Beaded Bodice and Long Train Bridal Gown.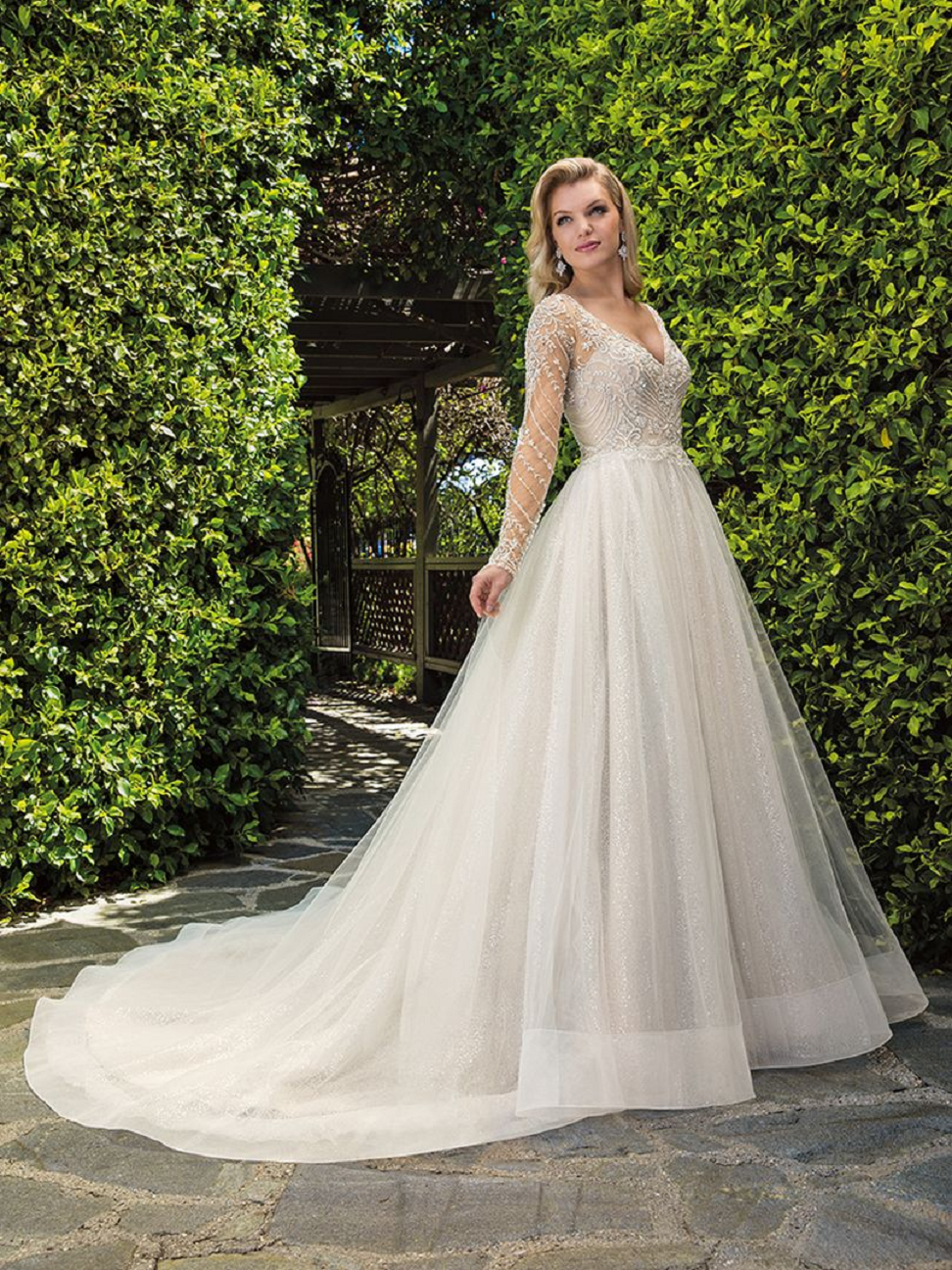 4. Luxury Crystals Beading with 3D Floral Bling Fairy Wedding Dress.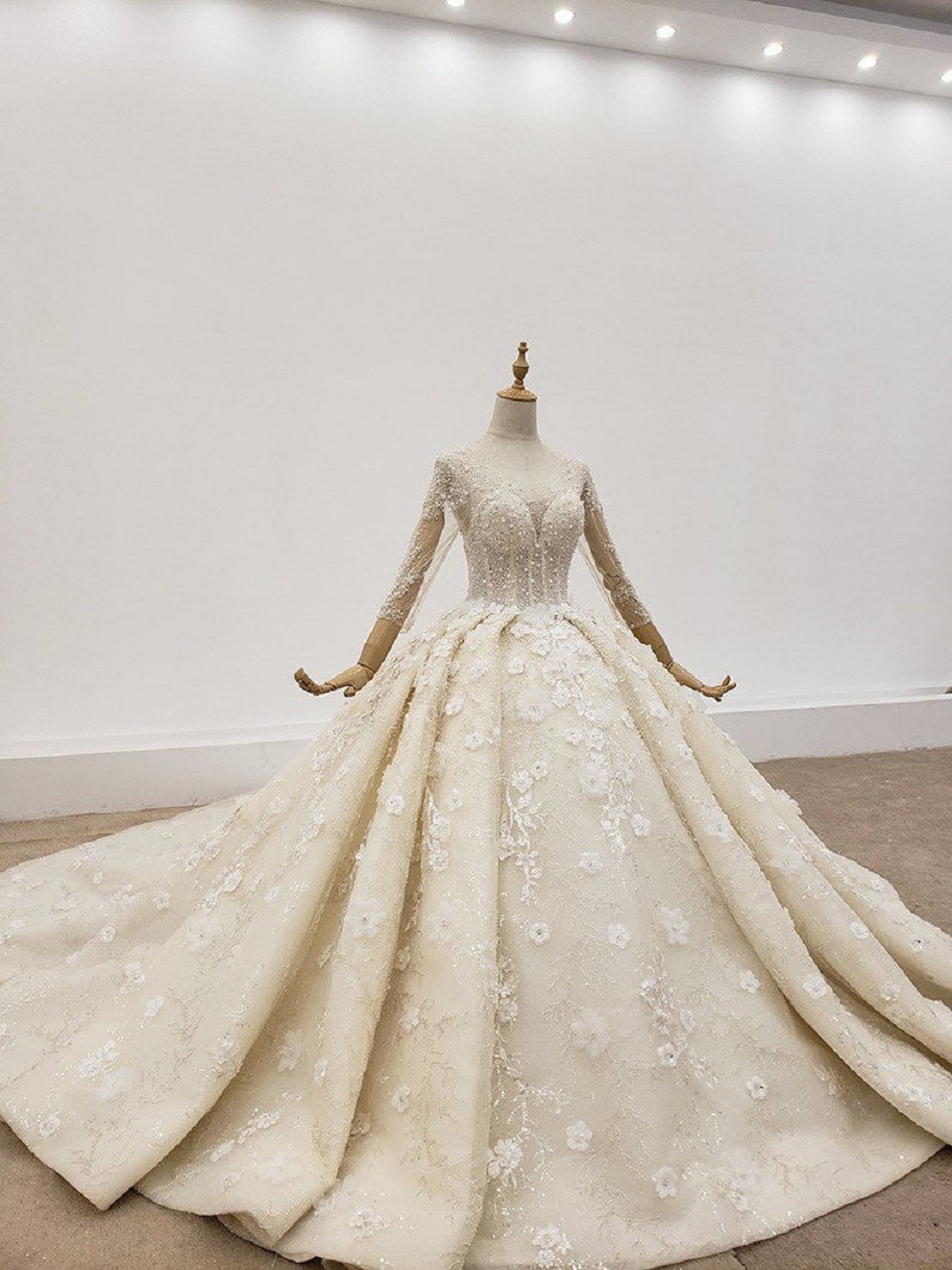 5. Luxury Crystal Beaded Embroidery Bling Wedding Dress.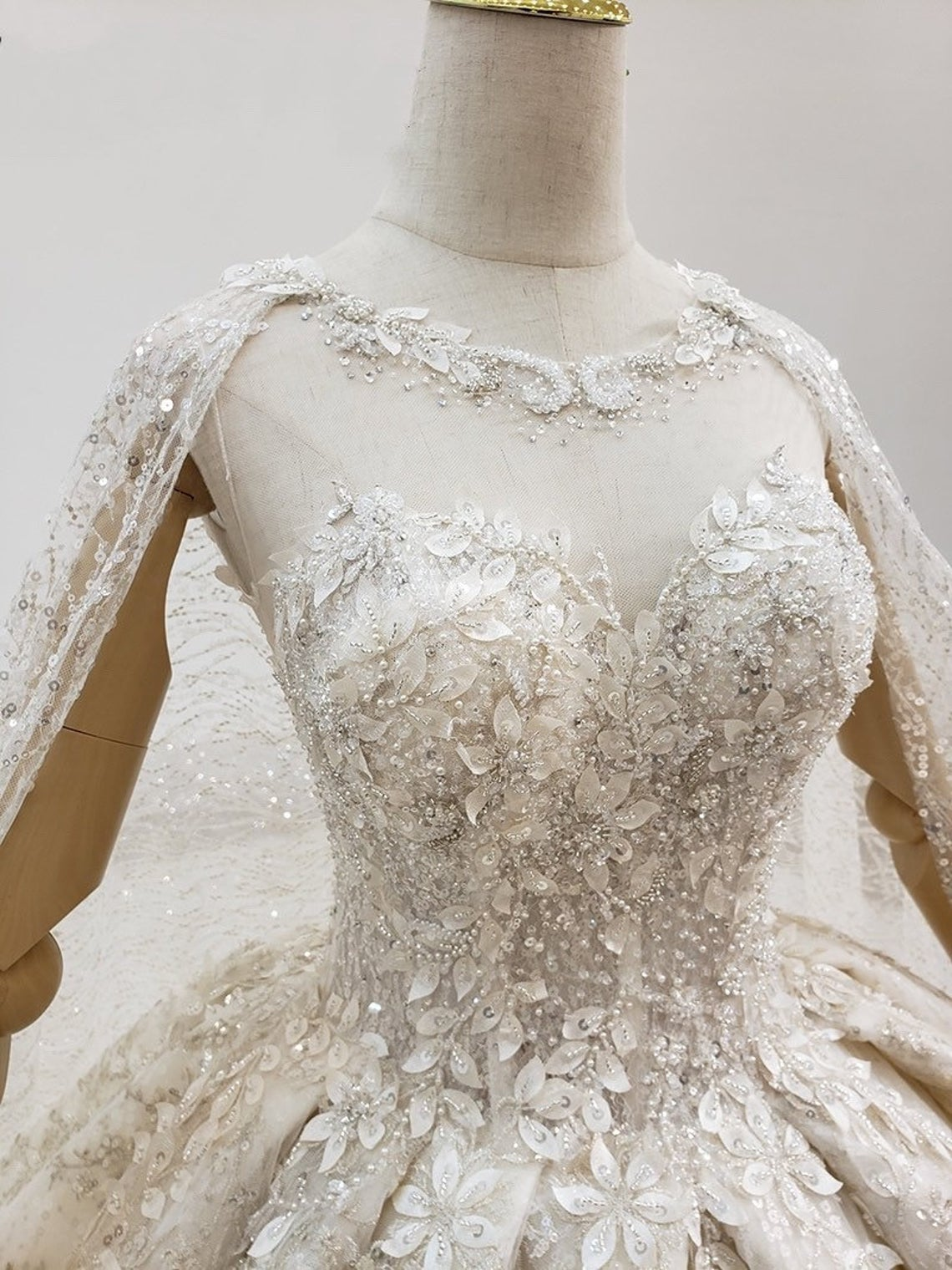 6. Off The Shoulder Wedding Dress with Long Sleeves and Crystal and Bead Embellishments.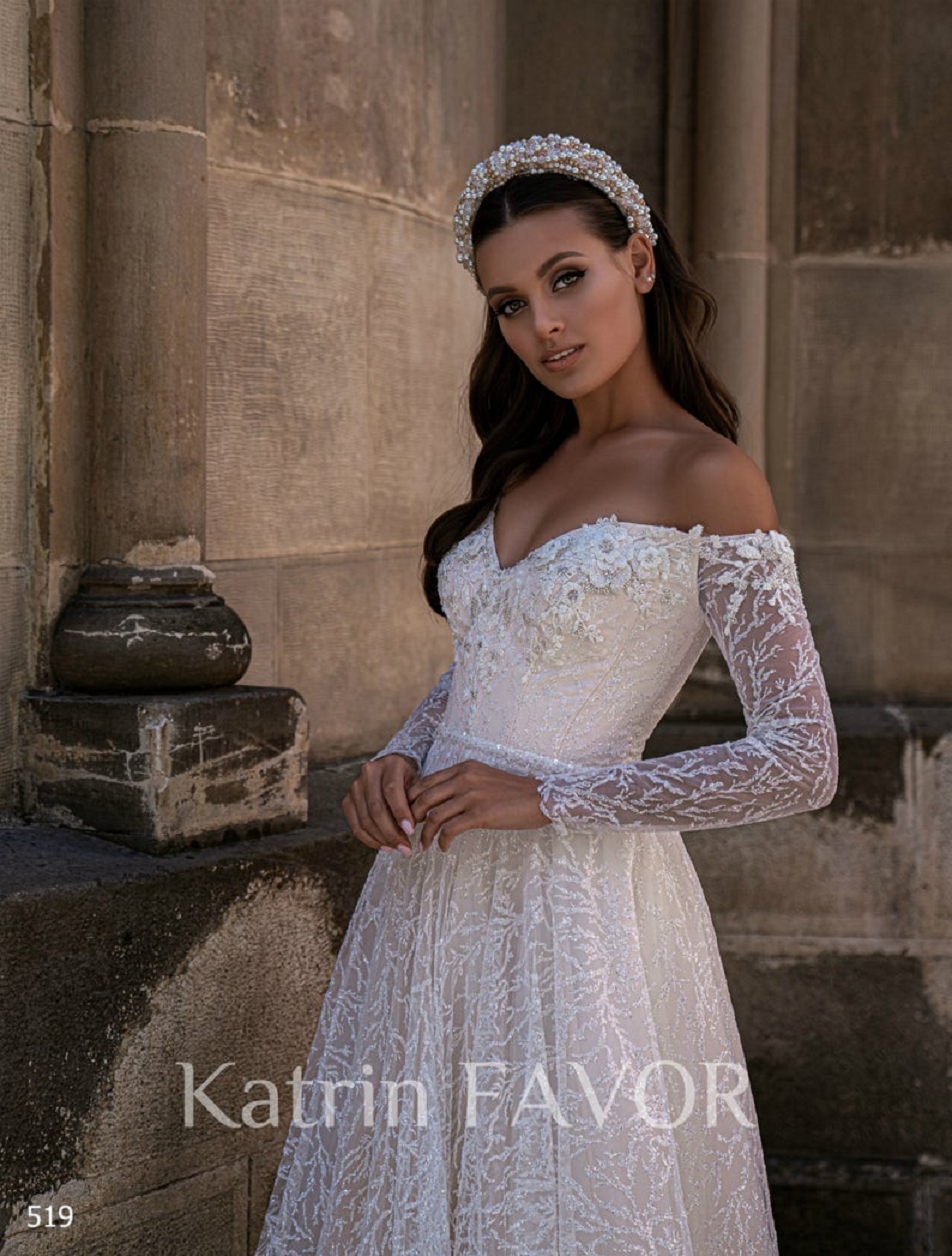 7. Glittering Deep V Neck, Long Sleeves Bridal Gown Embroidered with Beads and White Pearls.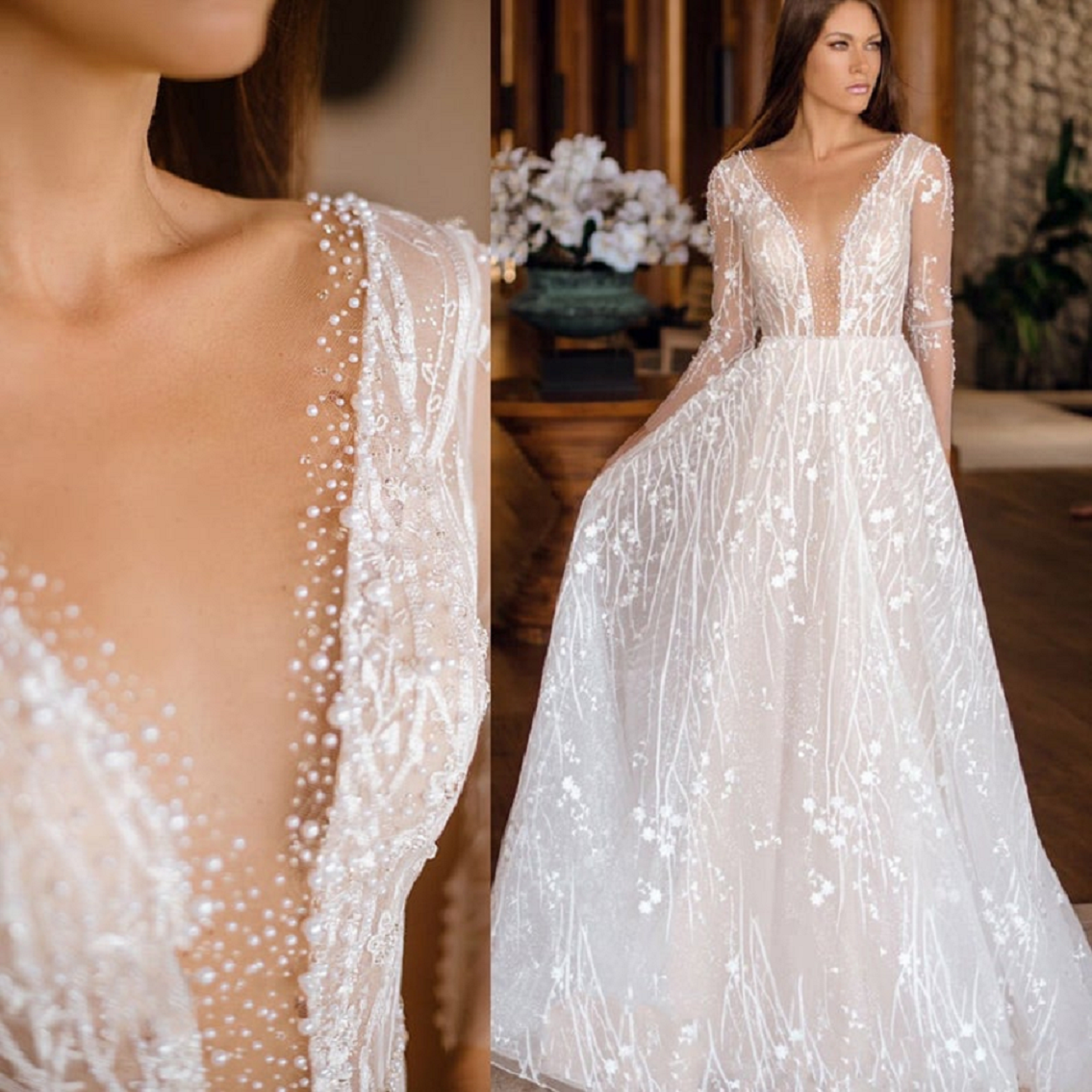 8. Off The Shoulder, Sweetheart Neckline with Long Sleeves Wedding Gown Highlighted with Crystals on the Lace.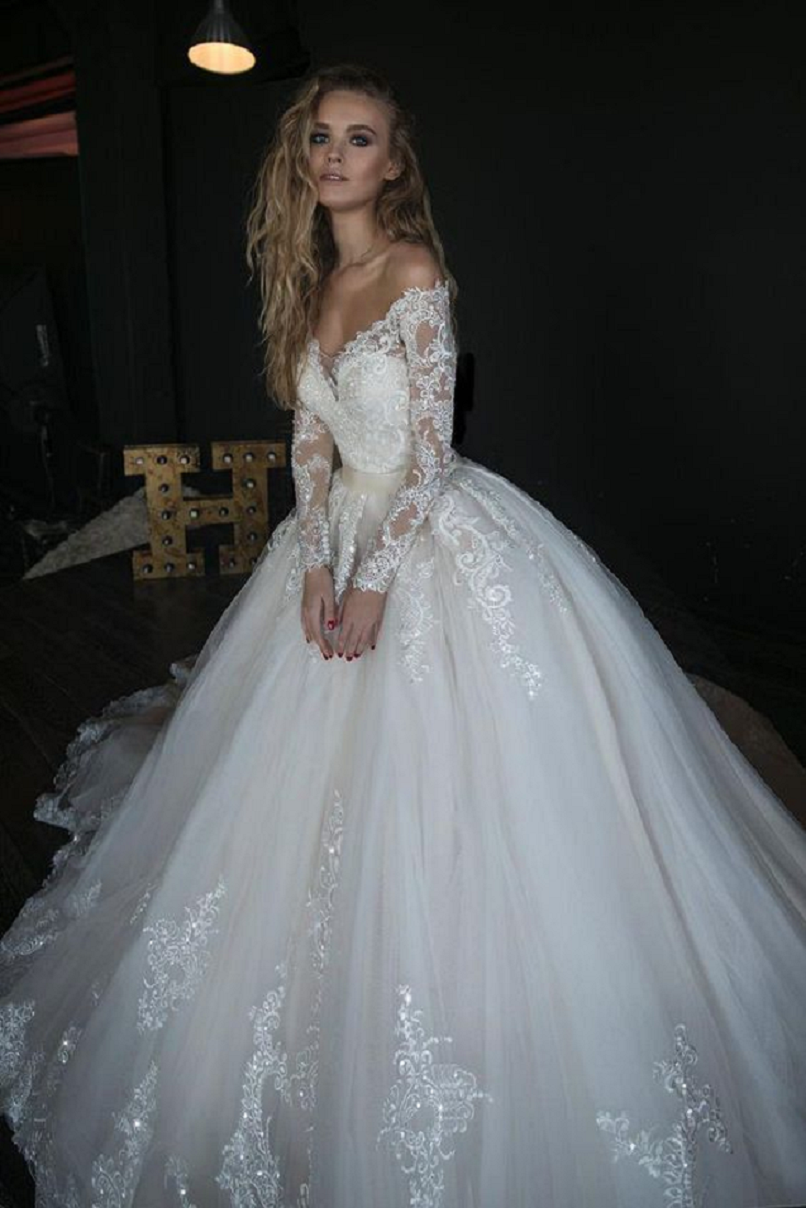 9. Sheer Long Sleeve Flower Embroidery Wedding Gown with Bead and Pearl Embellishments.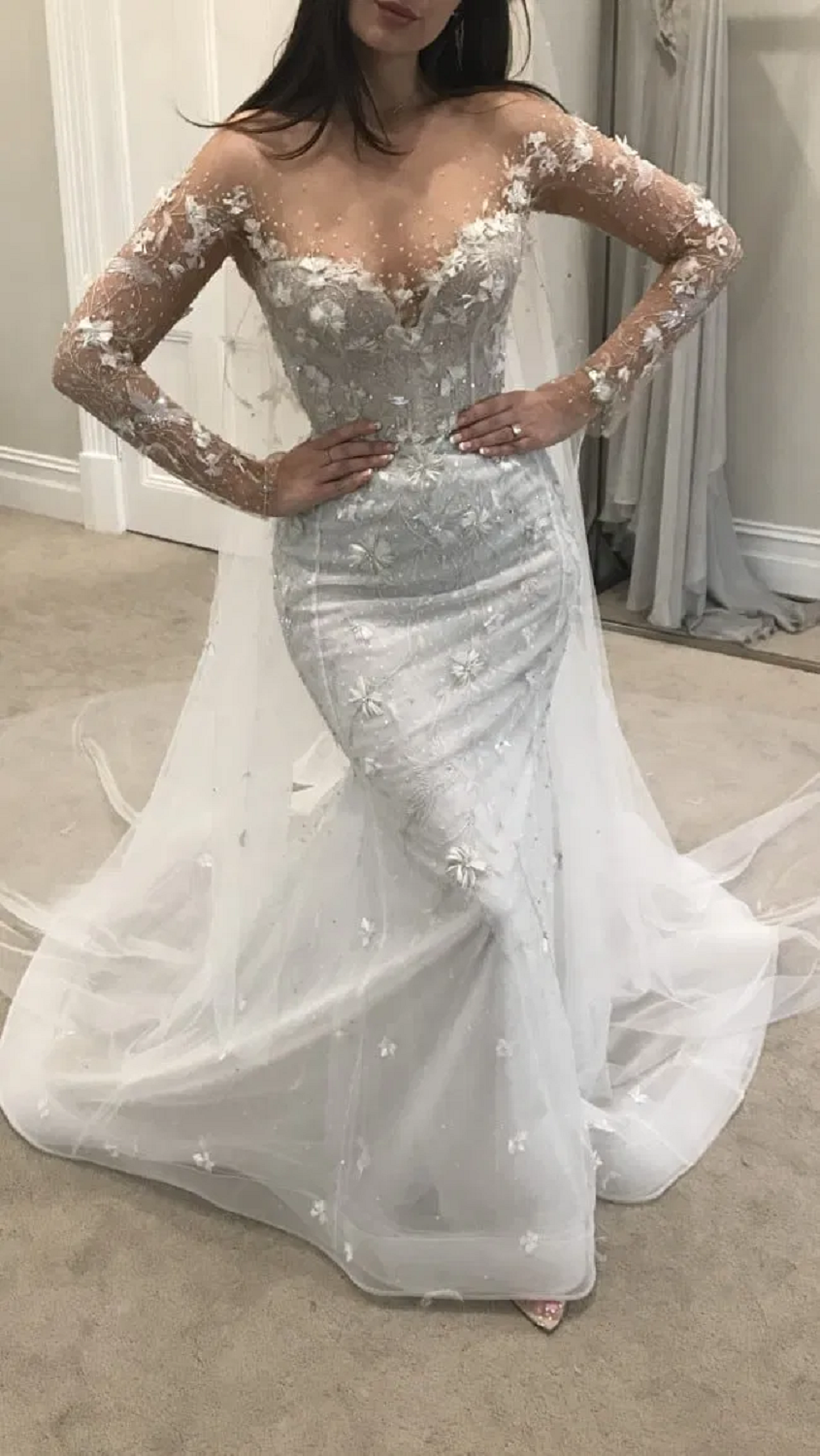 10. Beaded Lace Embroidery Strapless Sweetheart Neckline Bridal Gown.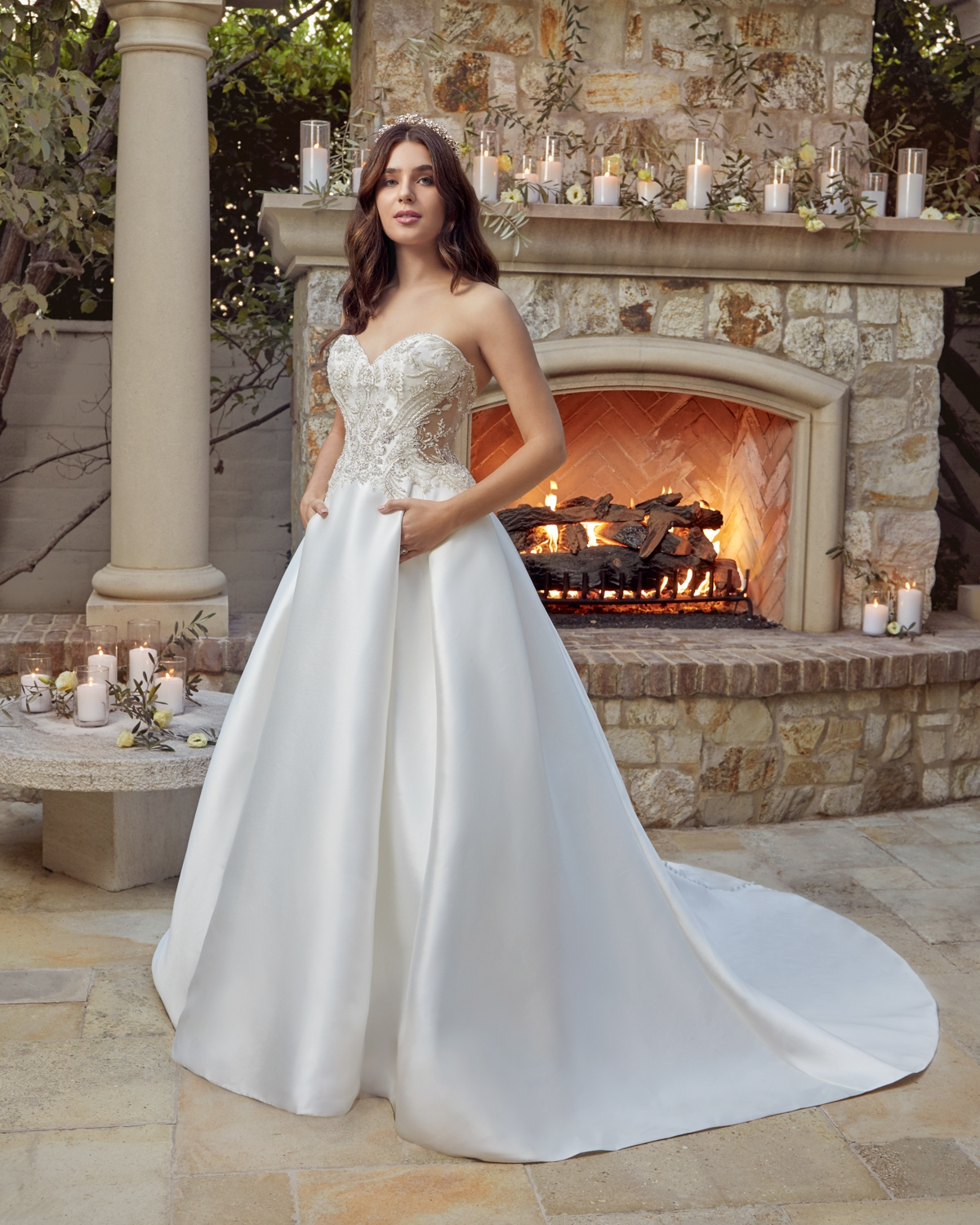 11. Beige Ball Gown Tulle Bead and Crystal Appliques Short Sleeve Wedding Dress with Train.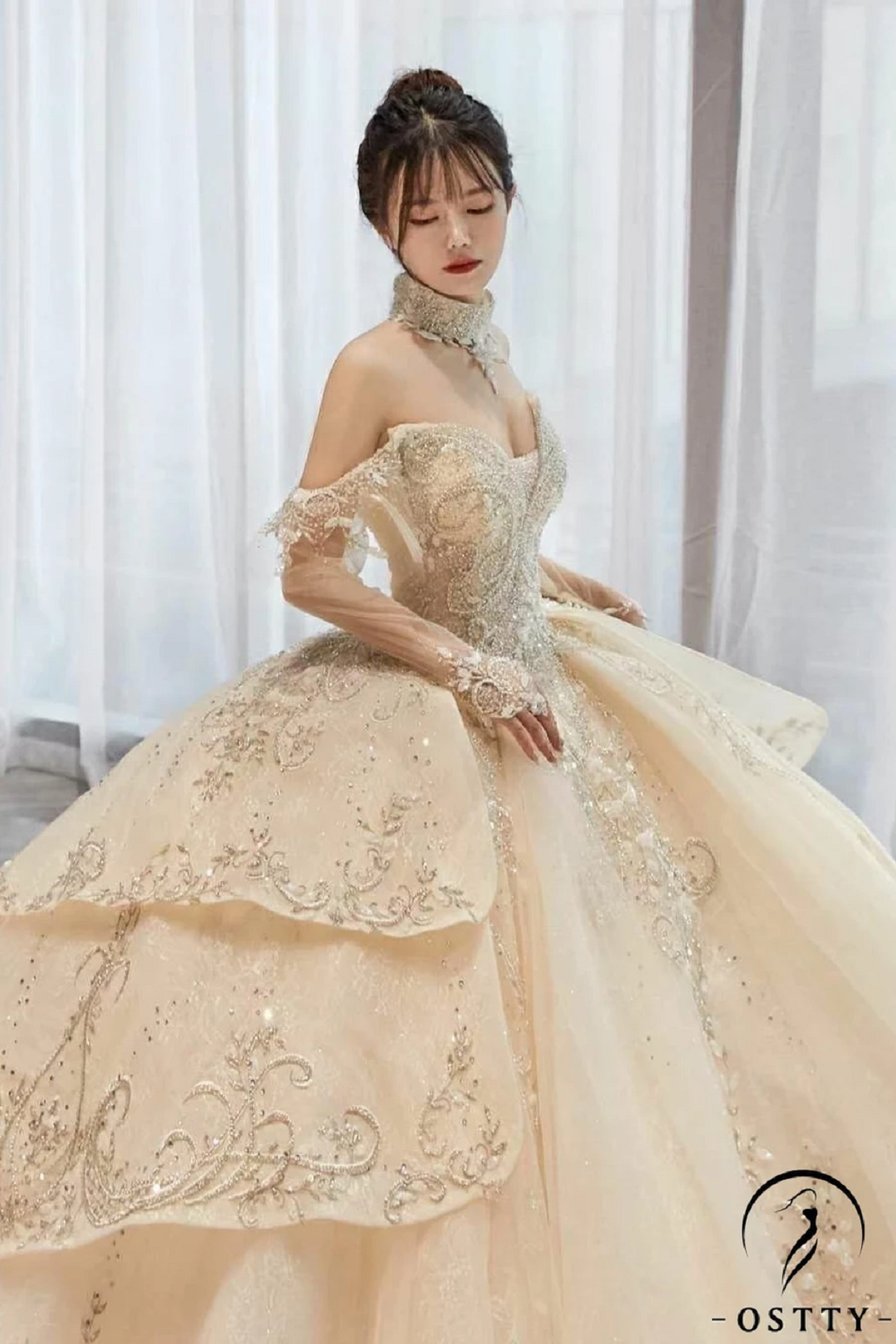 12. Elegant A-Line Sweetheart Neckline Off The Shoulder Glittering Bridal Gown.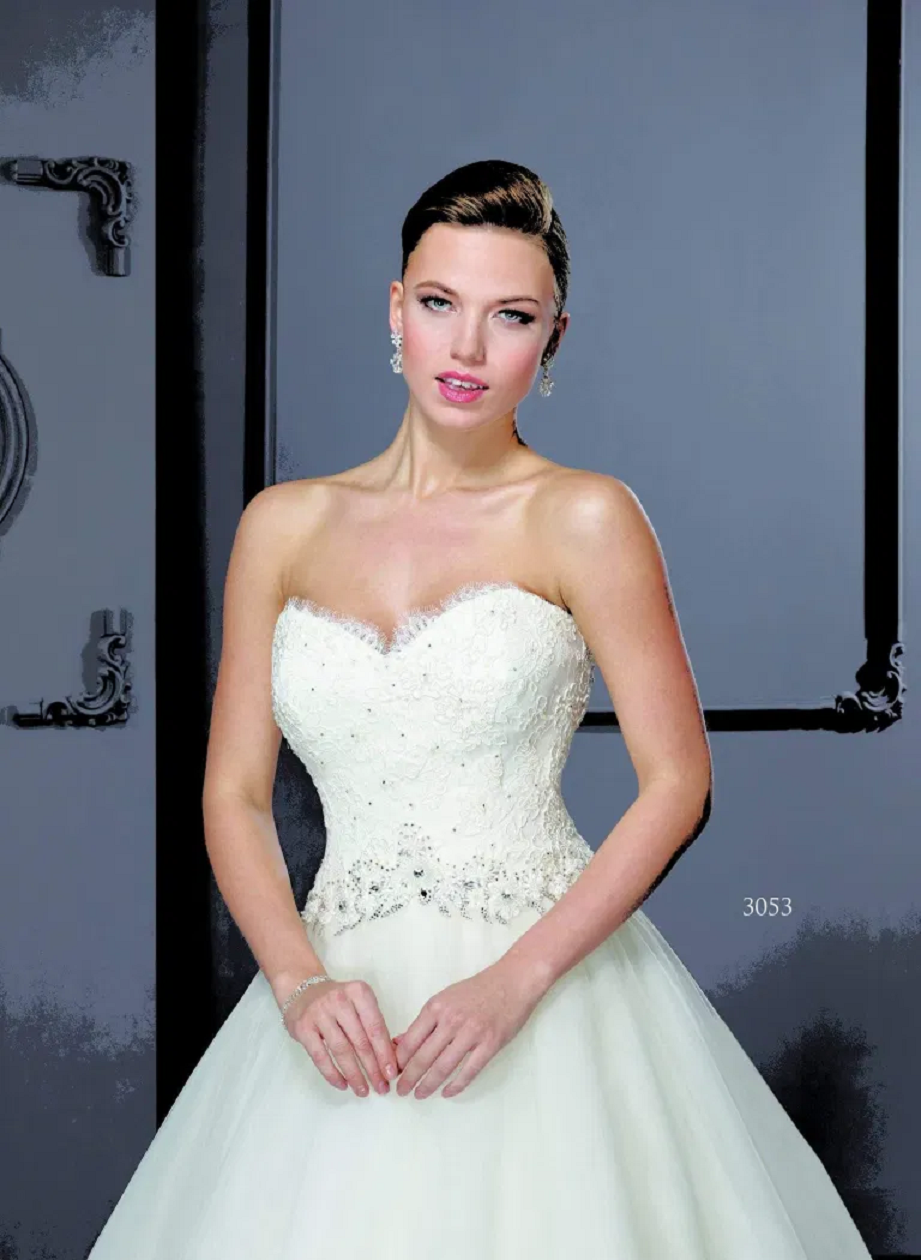 13. Heavily Beaded V-Neck, Long Sleeve Wedding Bridal Gown.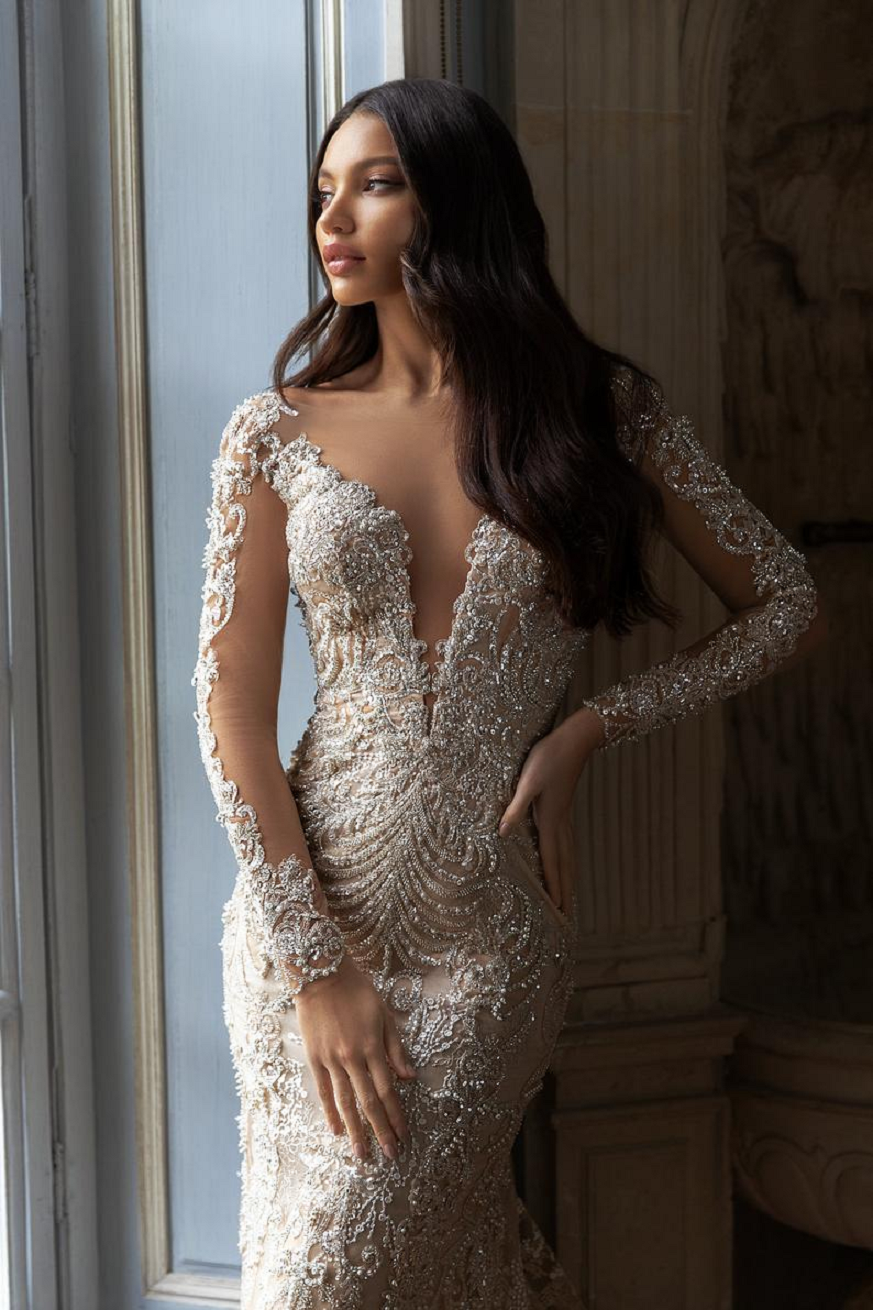 14. Fit and Flare Wedding Gown with Beaded Illusion Neckline and Detailed Sleeves.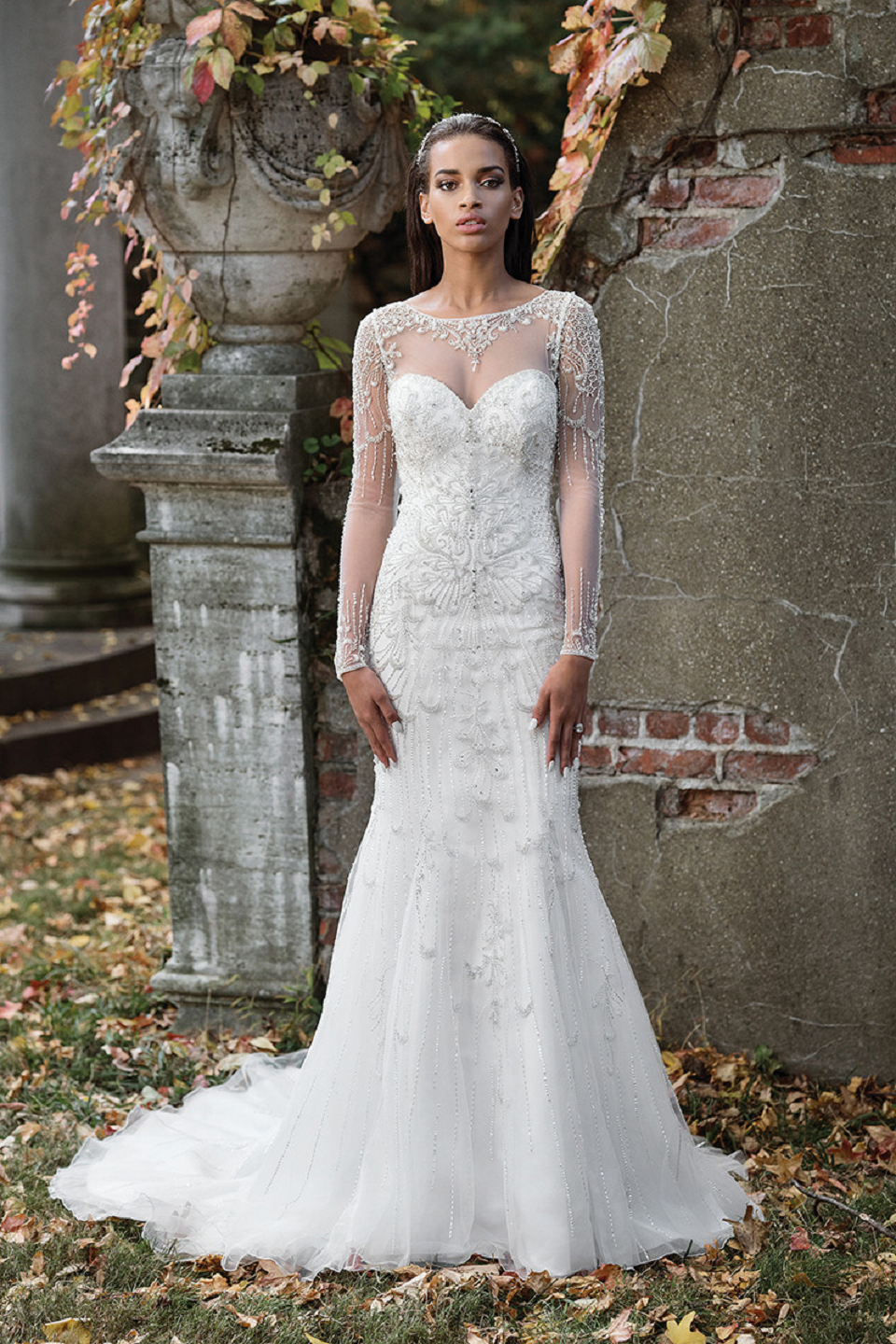 15. Sparkly Silver Sequin and Rhinestone Embellished Sleeveless Wedding Gown with a Deep V-Neck.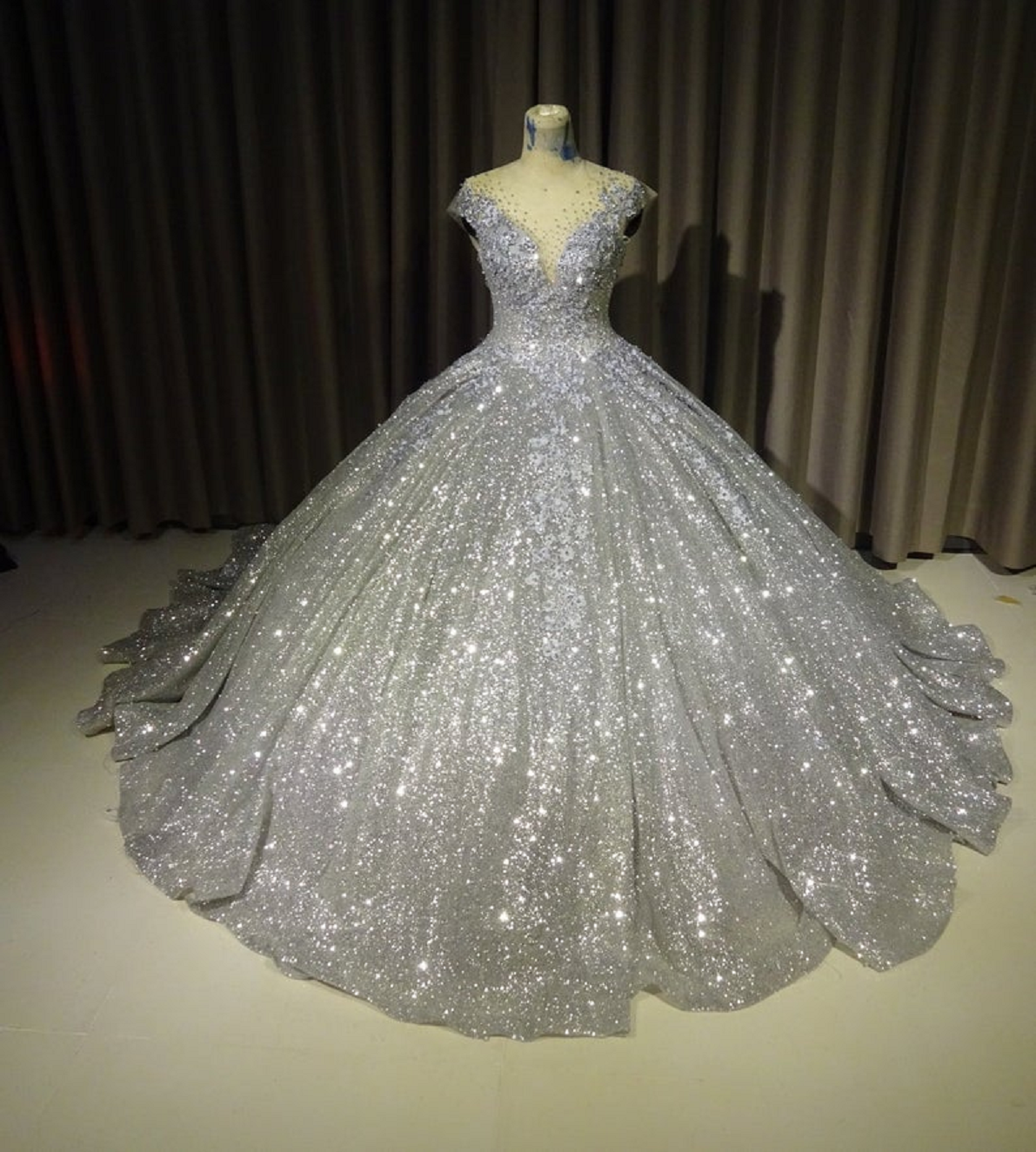 16. Long Sleeve Bridal Dresses in Lace Fabric Adorned with Crystals and Beads on the Bodice.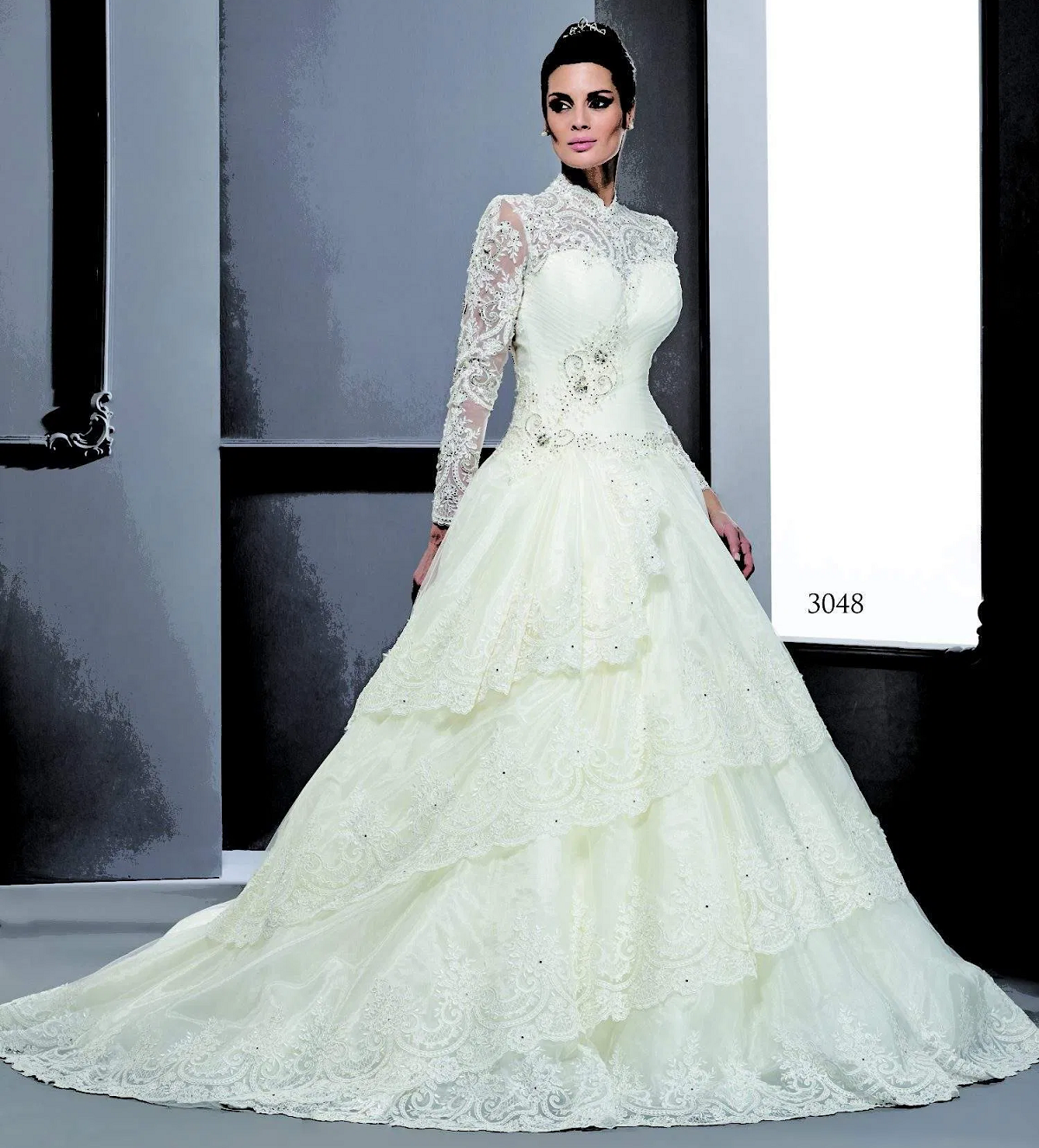 17. Baroque Lace with Thousands Of Hand-Embroidered Beads Bridal Gown.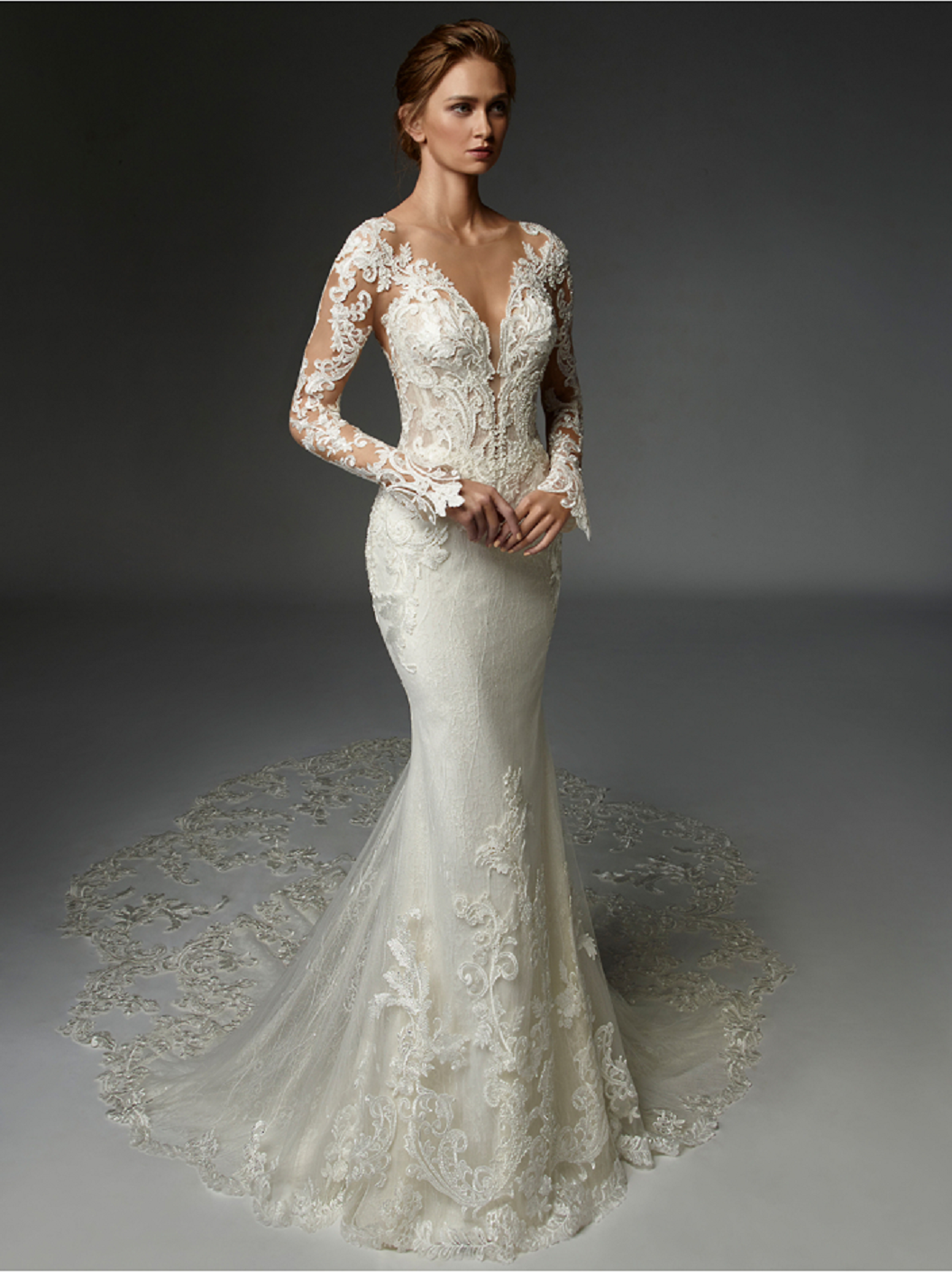 18. Beaded Applique on a Ruched Sweetheart Off The Shoulder Bodice Bridal Gown.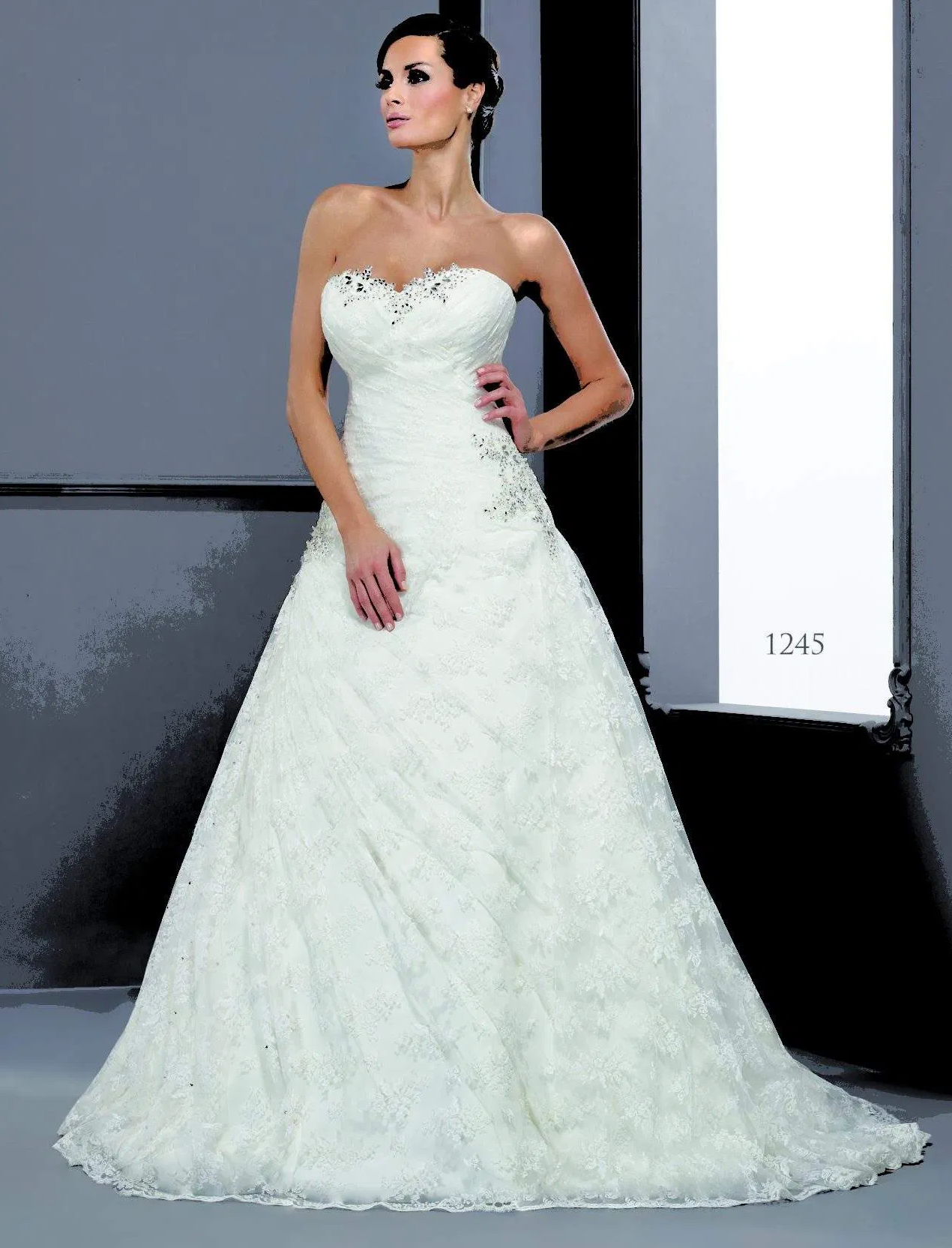 19. Gorgeous 3D Floral with Sequin and Bead Tulle Mermaid A-line Bridal Gown with a Detachable Train.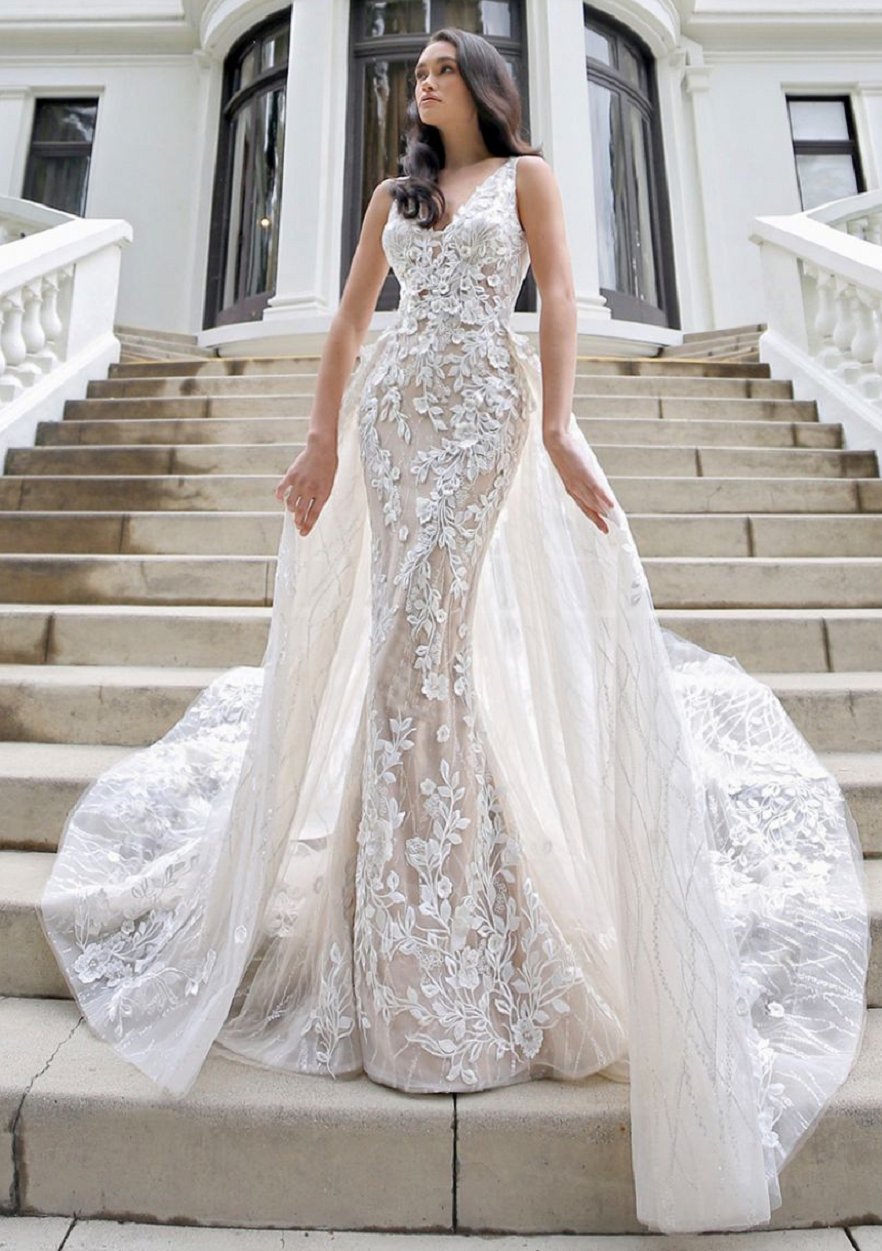 20. Organza Mermaid Wedding Dress with Ruffles and Embellished Rhinestone Waist Belt.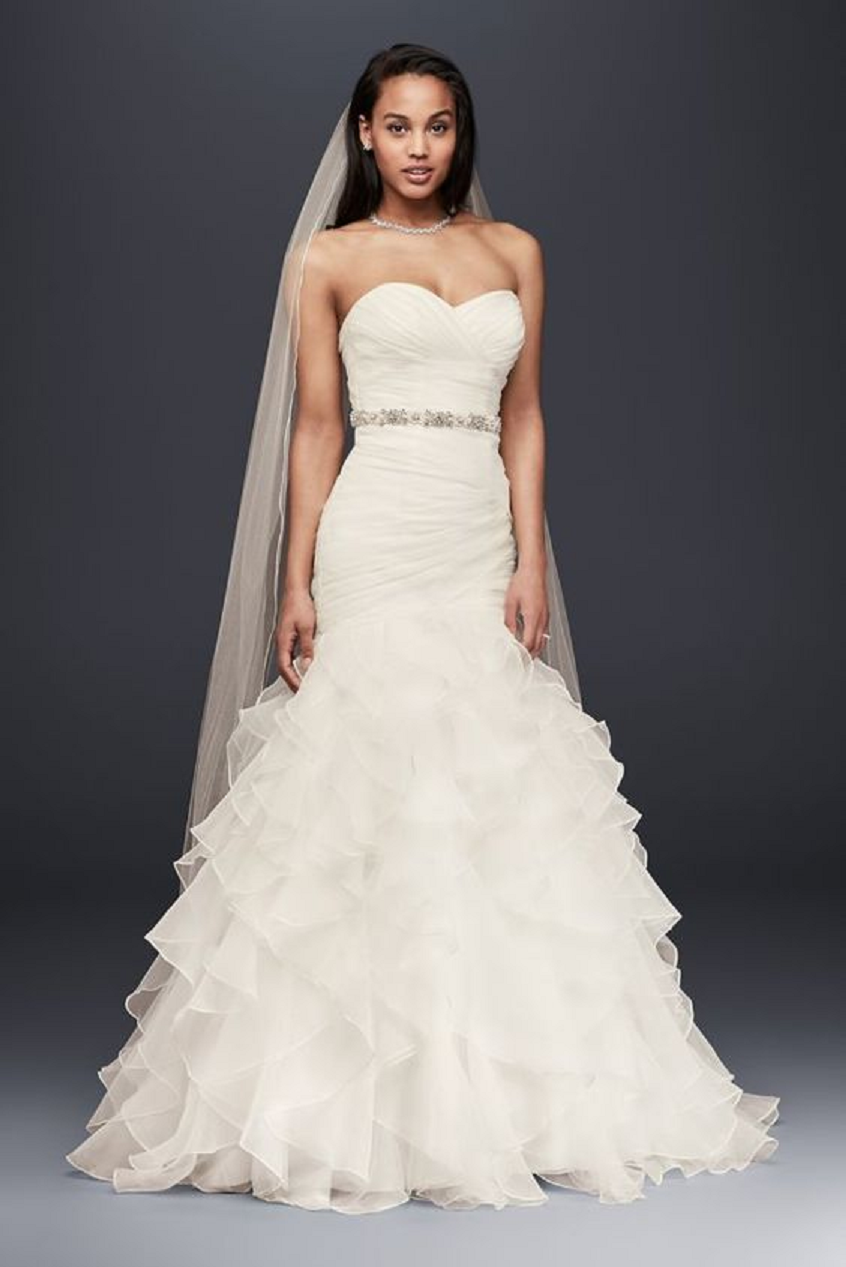 21. Ruffles and Lace Combine for a Classic Bridal Look with Glittering Rhinestones and Beads.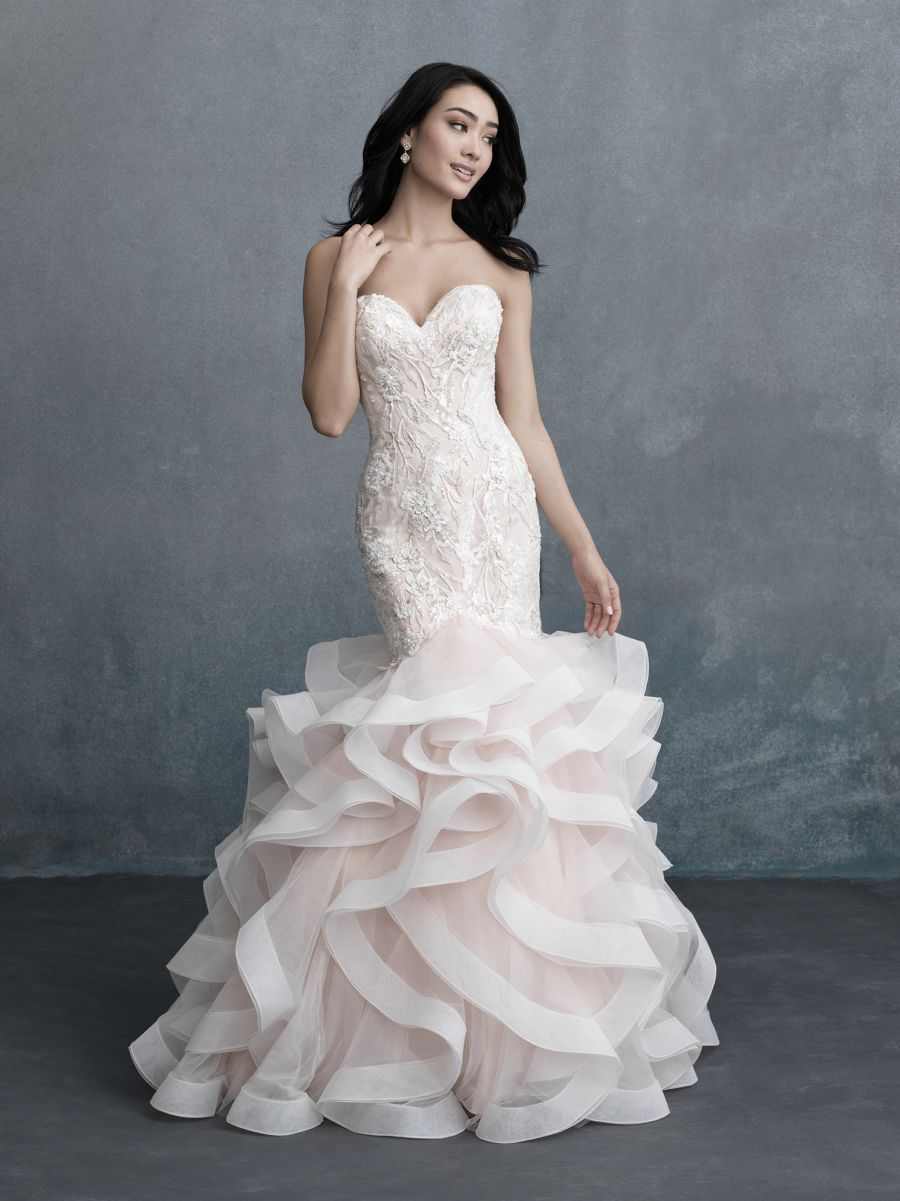 22. Silk Mermaid Strapless Sweetheart Neckline Wedding Gown with Crystal Embellishments.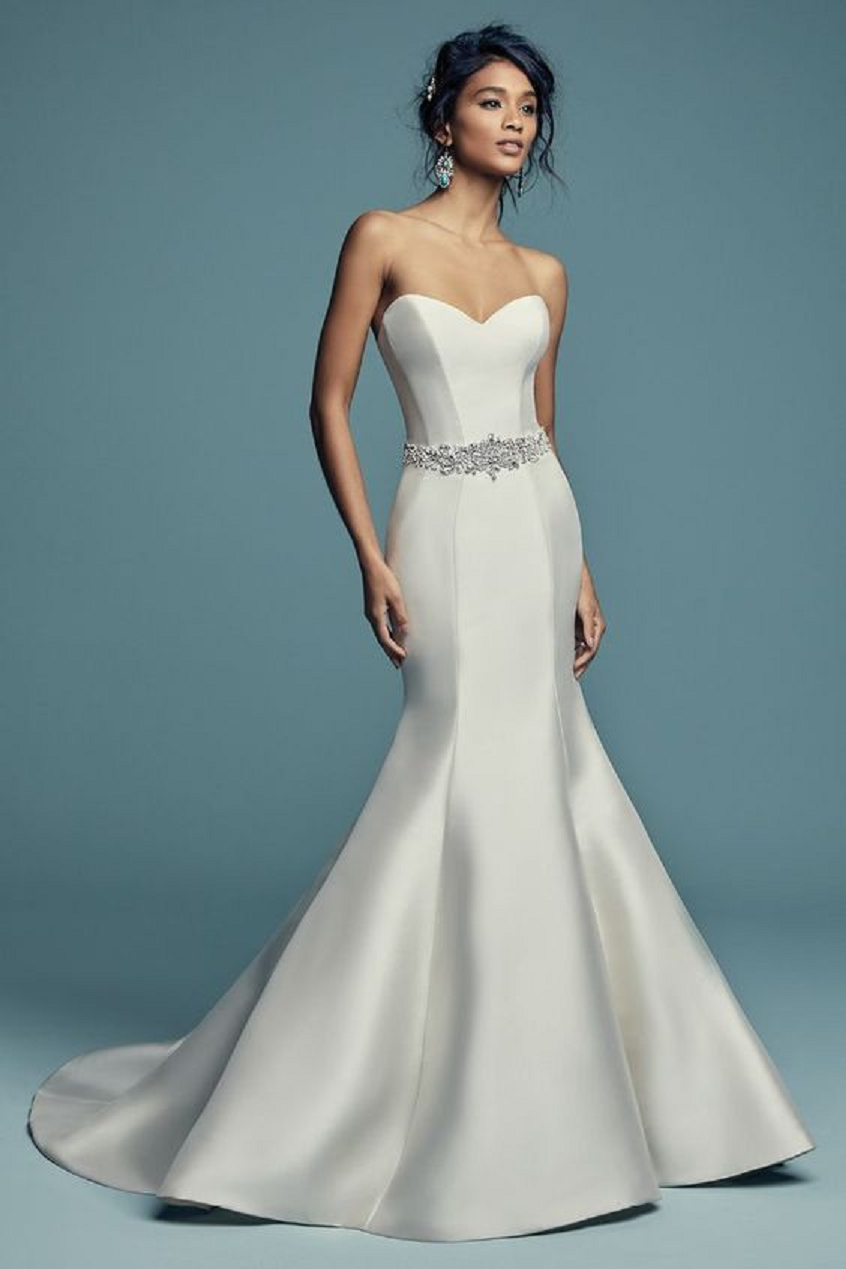 23. Ball Gown Vintage Wedding Dress with Lace Long Sleeve with Beads and Rhinestones.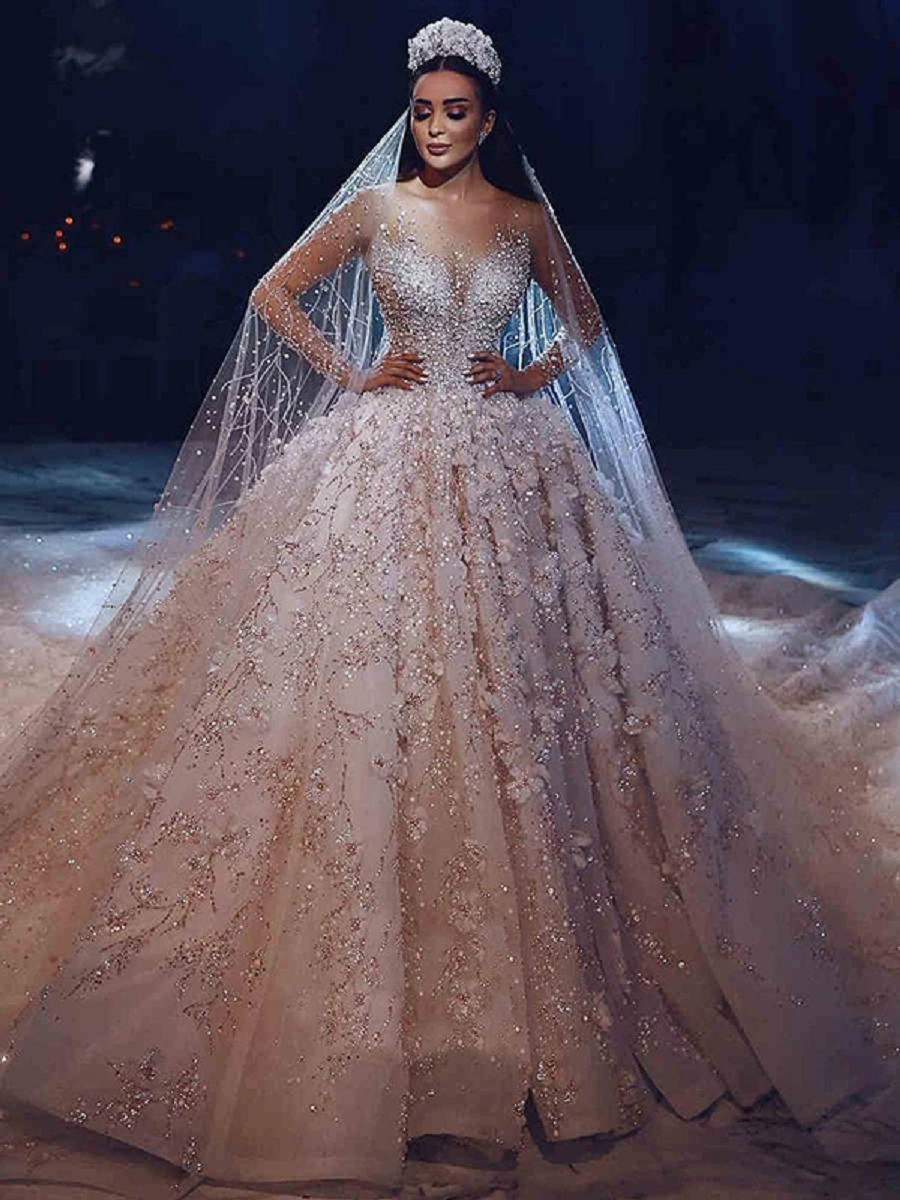 24. Strapless Sweetheart Neckline with Crystal Bead Work Long Wedding Gown with a Train Hemline.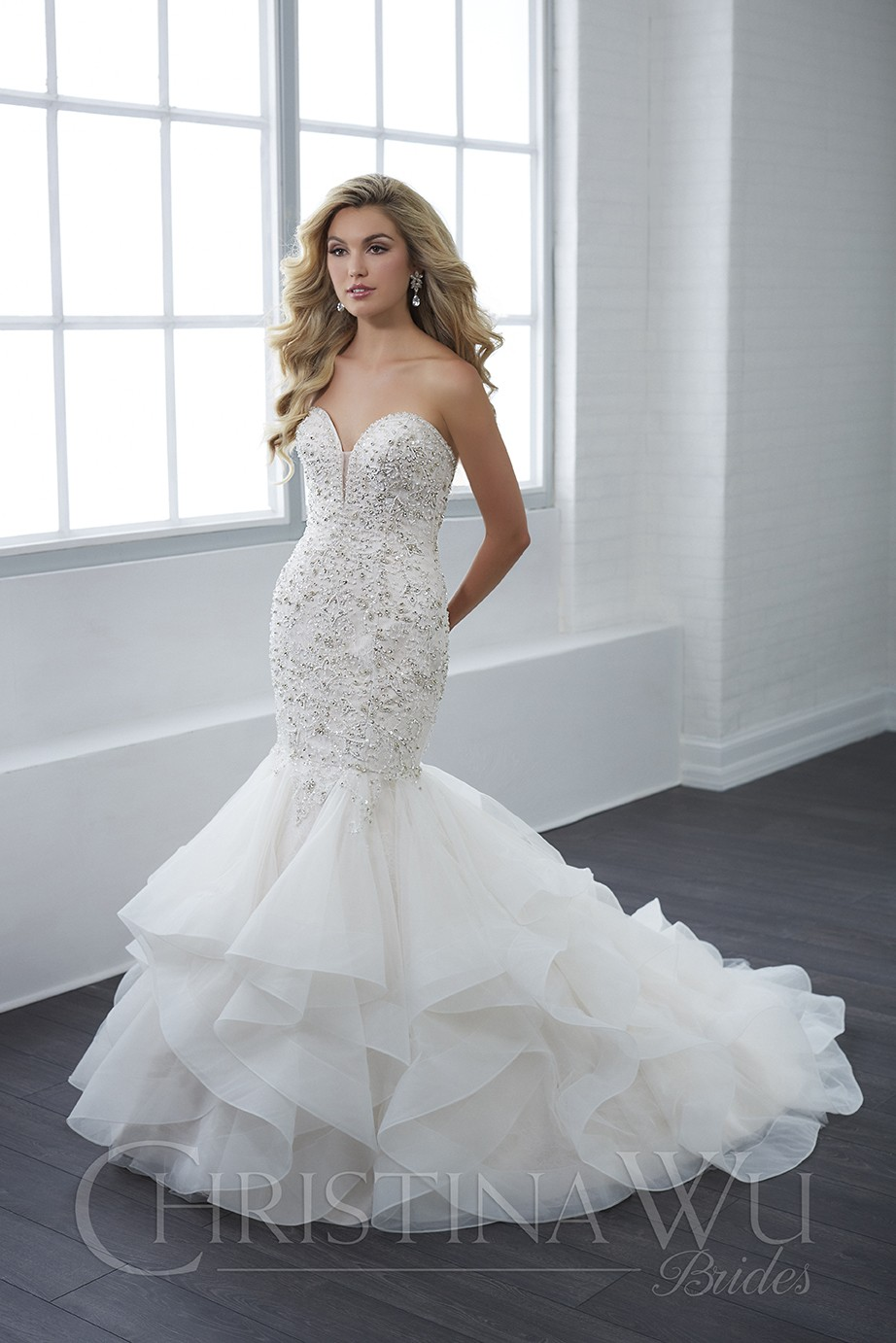 25. Long Sleeves, Scoop Neckline Glittering Sequin and Crystal Bridal Gown.