Best Bling Headband Videos on Instagram take hair styling to the next level.
Have you ever spent hours in the salon having your hair colored, cut and styled?
Did you feel like something was still missing at the end? Even though you were perfectly happy with the outcome?
At SequinQueen we've worked out what the missing element is.
A bling headband.
Also known as The Perfect Finishing Touch to Any Hairstyle.
Bling headbands are not just for weddings and brides. The sheer range and variety of hair bands means you'll find one to suit any occasion.
And any hair color or style.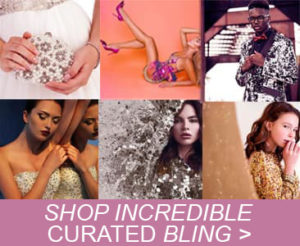 In fact you may be tempted to start your own hairband collection!
And if you're feeling a little nervous, follow our bling style rules to make sure you don't go too over the top with your bling accessories.
1. Headbands with Glittering Crystals.
2. Handmade Black Headband with Clear Rhinestones.
3. Bling Headbands. Which One Do You Love?
4. Handmade Headband with Clear Crystal Rhinestones.
5. Best Bling HEADBAND Videos: Handmade Pink Headband with Jelly Rhinestones for Kids.
6. Glittering Silver Headband with Rhinestones.
7. The Girl with Pearl Bling Headband in Pink.
8. A Knitted Headband with Rhinestones Can Add Bling to Your Outfit.
9. Glittering Silver Crystal Headband.
10. Glittering Rhinestones with Pearls Handmade Headband.
11. Custom Handmade Headbands with Sparkling Rhinestones.
12. Multi-Colour or Black Rhinestone Headband?
13. Handmade Glittering Multi-Colour Rhinestones Broad Headbands.
14. Hairbands Have Become the New Fashion Must-Have.
15. Gold or Multi-Colour Headband?
16. Green Handmade Headband Embellished with Crystals and Beads.
17. Choose The Best – Bling Headbands.
18. Complete Your Fashion Look with a Bling Headband.
19. Which is Your Favorite Multicolor Headband: Silver, or Black?
20. Silver and Gold Crystal Headband.
21. Rainbow Color Rhinestones Headband.
22. Handmade Purple and Clear Crystals Headband.
23. Glam Bands. Red or Silver?
24. Best Bling HEADBAND Videos: Pink, Green and Clear Crystal Bling Headband.
25. Ice Me Out, Elite, and Bling Headbands.