Belly Ring Bling – are you ready for a total throwback? The navel piercing trend is on the rise for 2021!
With crop tops on the up and up a little belly, bling is necessary.
However, 2021 belly button rings are not as sparkly as their early 2000s predecessors.
Instead, the trend is minimalistic and muted gold hoops.
Keep in mind that the fanciest belly ring bling piercings come with bling and fashion they are also the most fragile ones.
Make sure to keep them dry after coming into contact with water and sweat.

If you want to have a belly ring bling piercing take steps to prevent problems: As the name suggests these belly rings are a twisted spiral that you can insert into your piercing and secure carefully with a screw-on ball.
Furthermore, gold and rose gold belly bars might look nice and won't cost much; however, as they are not made of solid gold, they will discolour after a while.
There are so many incredible fashion-forward belly ring bling online now.
Here at the SequinQueen Sparkling Life Magazine, we've edited the best Belly Ring Bling into one post.
These rings offer a double-pierced look without you actually having to get a second piercing and serve as a great alternative to a curved or circular barbell.
These may not be the creations you end up buying but they will certainly whet your glitter's whistle.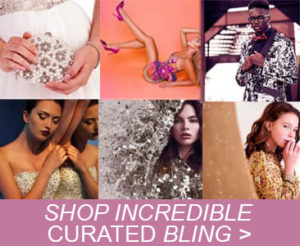 And if these are not enough take a look at our amazing Pinterest boards packed full of bling fashion and accessories.
Once you've got your Belly Ring, the next step is learning how to style and accessorize embellished fashion. Our handy style guides will make you a bling style expert!
Need some more sparkling fashion ideas? SequinQueen's curated range of Women's Bling Fashion and Women's Bling Accessories has got your back there too.
Here's SequinQueen's curated selection of the best Belly Ring Bling on Instagram, just for you.
1. Sterling Silver Belly Rings with Red Ruby Stones.
2. Leaping Frog Belly Ring with Pink Rhinestones.
3. Sterling Silver with Crystal CZ Belly Ring.
4. Cartoon Lovers – The Power Puff Girls Belly Ring with Rhinestones.
5. Belly Button Ring With The USA Flag and Embellished Rhinestones.
6. Sterling Silver Cross, Flower & Letter Belly Rings with Rhinestones.
7. Evil Eye Belly Ring Embellished with Rhinestones.
8. Sterling Silver Leopard Belly Ring with Embellished Rhinestones.
9. Hanging Butterfly With Rhinestones Non-Piercing Belly Clip.
10. Canna-Bliss CZ Dangle Belly Ring with Rhinestones.
11. Crystal Paved Colorful Butterfly Belly rings.
12. Play Boy Bunny Naval Piece with Embellished Rhinestones.
13. Shimmery Sterling Silver Butterfly Design Belly Ring with Pink Rhinestones.
14. Double Heart Belly Ring with Purple Rhinestones.
15. Best Mom To Be Sterling Silver Belly Ring with Rhinestones.